Moeru Oniisan Episode Guide -Studio Pierrot -English: The Burning Wild Man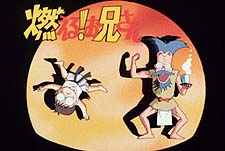 English Series Title: The Burning Wild Man
Kenichi Kokuho becomes lost in the mountains as a small child. A foster father raised Kenichi; when Kenichi was 15 the foster father told Kenichi about his background and the teenager returned to the civilized world at age 15.
Studio Pierrot
Rate This Anime Series:
BCDB Rating:
"Moeru! Oniisan" has not yet received enough votes to be rated.
Moeru Oniisan Anime Series Guide :
1 1 1 1 1 1 1 1 1 1 1 1 1 1 1 1 1 1 1 1 1 1 1 1