Ayashi no Ceres Episode Guide -Studio Pierrot -English: Ominous Ceres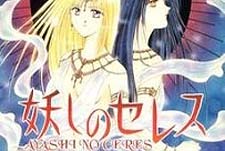 English Series Title: Ominous Ceres
Ceres was a tennyo (Celestial maiden) who came down from the heavens to bathe in a stream. She hung her hagoromo (robe) on a tree nearby, which was her key to returning to the heavens. But the robe was stolen and the man who had stolen it forced her to become his wife, thus producing a family full of human and tennyo blood mixed.
Studio Pierrot
Rate This Anime Series:
BCDB Rating:
"Ayashi no Ceres" has not yet received enough votes to be rated.
Ayashi no Ceres Anime Series Guide :
1 1 1 1 1 1 1 1 1 1 1 1 1 1 1 1 1 1 1 1 1 1 1 1