Spümcø Studio Directory -Alternate: Spumco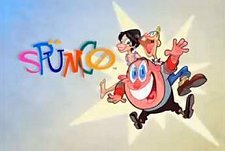 Alternate Studio Title: Spumco
Founded in 1988 in Los Angeles by John Kricfalusi, Jim Smith, Bob Camp and Lynne Naylor to produce "creator-driven cartoons." The studio had a big hit with their first series, The Ren & Stimpy Show, at least until Nickelodeon fired John K. and the studio a year into production. Sporadic productions following, including some very limited series, but nothing with the scope and fan base of Ren & Stimpy.
Spümcø
Rate This Studio:
BCDB Rating:
"Spümcø" has not yet received enough votes to be rated.
Spümcø Studio Directory Cartoon Series:
Spümcø Studio :
Ted Bakes One There have not yet been any votes for "Ted Bakes One". Vote Now! 23
Weekend Pussy Hunt
Spümcø
featuring Dirty Dog, Cigarettes the Cat.
Weekend Pussy Hunt BCDB Rating:

(5/5 stars from 2 users.)
featuring Jack Black, Kyle Gass (Tenacious D), She-Devil.
Fuck Her Gently There have not yet been any votes for "Fuck Her Gently". Vote Now! 23