The Toothbrush Family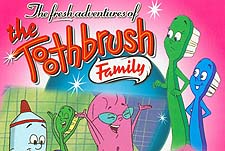 The bathroom world of the Toothbrush Family is full of surprises. The stars are imaginative young toothbrushes Molly and Max, who share each adventure with their friends Susie Sponge, Flash Fluoride, the toothpaste and the Countess de Comb. There is always a fresh adventure in store in each episode for these famous cartoon characters. Their world is full of secret places and unexpected visitors: a land of unusual terrains and weather conditions.
A sequel to the 1977 series
The Toothbrush Family
.
Southern Star
The Toothbrush Family :
The Toothbrush Family (Series) Southern Star Entertainment Pty. Ltd., Shanghai Animation Studio...

featuring Molly, Max, Susie Sponge, Flash Fluoride, Toothpaste, Countess de Comb, Tooth Fairy

The Toothbrush Family (Series) There have not yet been any votes for "The Toothbrush Family (Series)". Vote Now! 21