Natural Colour Kinematograph Company Studio Directory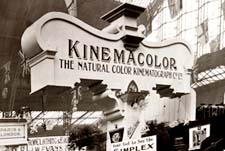 Charles Urban established Natural Color Kinematograph in London, in March 1909, to exploit the Kinemacolor process in Great Britain.

Kinemacolor was developed by George Albert Smith (1864-1959) and Charles Urban (1867-1942) and was the first 'natural color' cinema process. Alternate frames were shot on monochrome film through red and green filters and projected in the same way, giving the illusion of color.

Owing to the particular nature of its color process, the company mostly produced actualités, news films and travelogues, often of a spectacular nature, such as the coronation of George V or the subsequent Delhi Durbar ceremonies in India. Fiction film production, with F. Martin Thornton and Theo Bouwmeester as directors, was hampered by the difficulties of using Kinemacolor in a studio, but still more by poor filmmaking. The company went into voluntary liquidation in 1914, following a court case which invalidated the Kinemacolor patent, and its business for a short while was taken over by another Urban company, Colorfilms.
Natural Colour Kinematograph Co Natural Colour Kinematograph Company was based in United Kingdom.

Rate This Studio:
BCDB Rating:
"Natural Colour Kinematograph Company" has not yet received enough votes to be rated.
Natural Colour Kinematograph Company Studio :