Hothouse 10 Theatrical Series -National Film Board of Canada -Alternate: Found Sound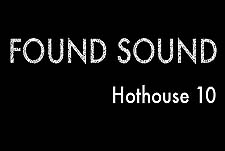 Alternate Series Title: Found Sound
This year, Hothouse is celebrating it's 10th anniversary by going back to it's roots – back to what makes animation such a unique form of expression, subversion, and satire. Hothouse trolled through a wealth of archives and discovered 20 audio clips that are intriguing, unusual, unnerving, or somehow full of subtext and hidden meaning. Hothouse put out a call for submissions that would re-interpret one of the chosen audio tracks to comment on or play with the original meaning. Needless to say, the range of expressions and approaches Hothouse saw was astonishing.

Hothouse continues to be about re-imagining ways of making animation, ways that are faster, more flexible, and which embrace the many possibilities in the animation process while maintaining creative and technical excellence.

This year's edition of Hothouse marks a partnership with the Mexican Film Institute, and we are welcoming two Mexican animators into the Hothouse fold to work alongside six emerging Canadian animators.
Rate This Theatrical Series:
BCDB Rating:
"Hothouse 10" has not yet received enough votes to be rated.
Hothouse 10 Theatrical Cartoon List :
10 10 10 10 10 10 10 10