Gorky Film Studio Directory -Russian: Киностудия имени Горького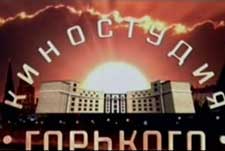 Russian Studio Title: Киностудия имени Горького
Founded in 1915 by Mikhail Semenovich Trofimov, a merchant from Kostroma as Киноателье «Русь». In 1924, the Rus' studio was renamed into the International Workers Relief agency (Russian: Международная рабочая помощь (Межрабпом)), abbreviated as Mezhrabpom-Rus' (Russian: Межрабпом-Русь). Four years later, the studio was renamed Mezhrabpomfilm (Russian: Межрабпомфильм), changing its name once again in 1936 to Soyuzdetfilm (Russian: Союздетфильм), the world's first film studio which specialized in films for children.
In 1941, Soyuzdetfilm merged with
Tadjikfilm
, only to split in 1943.
Between 1963 and 2004 its full name was Maxim Gorky Central Film Studio for Children and Youth (Russian: Центральная киностудия детских и юношеских фильмов им. М. Горького).
Rate This Studio:
BCDB Rating:
"Gorky Film Studio" has not yet received enough votes to be rated.
Gorky Film Studio Cartoon Series:
Gorky Film Studio :
Glyada Na Luch Polyarnogo Zakata
Soyuzdetfilm
Glyada Na Luch Polyarnogo Zakata There have not yet been any votes for "Glyada Na Luch Polyarnogo Zakata". Vote Now! 23