Where on Earth is Carmen Sandiego? Episode Guide -DiC Ent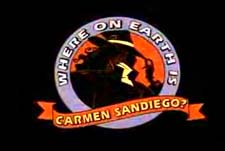 The mysterious and elusive Carmen Sandiego moved into animation in 1994, as she continued to baffle even the stealthiest detectives of the Acme detective agency.

Where on Earth is Carmen Sandiego? was a half-hour, Saturday morning animated series based on the success of the popular home computer game and television game show Where in the World is Carmen Sandiego? Like its predecessors, Where on Earth is Carmen Sandiego? told the story of world-class thief Carmen Sandiego and her pursuers, a pair of teen detectives.

The twist this time around, other than the characters' being animated and the gumshoe trio's being trimmed down to a duo, was that the story took place inside a home computer. The computer's player often provided them with helpful hints, steering them in the right direction.
DiC Ent
Rate This Cartoon Series:
Where on Earth is Carmen Sandiego? TV Episode Guide :
1 1 1 1 1 1 1 1 1 1 2 2 2 2 2 2 2 2 2 2 2 3 3 3 3