The Texas Toads Episode Guide -DePatie-Freleng Ent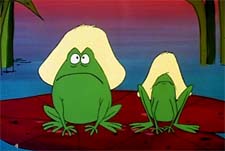 A re-dubbed and toned-down version of "
The Tijuana Toads
" theatrical series. In this series the characters have been renamed and revoiced... by the same voice actor from the original series. It seems that NBC felt "Pancho" and "Toro" were a bit too blatant Mexican stereotypes... so the name change for the characters and the show. The redubbing was to go from the Mexican accent to a Texas one. Some scenes were also rewritten or excised completely to remove excessive violence or overtly Mexican themes.
DePatie-Freleng Ent
Rate This Cartoon Series:
The Texas Toads Episode Guide Cartoon Series:
The Texas Toads TV Episode Guide :
The Texas Toads (Series) DePatie-Freleng Enterprises, Mirisch Films

featuring Fatso, Banjo

The Texas Toads (Series) BCDB Rating: (3.8/5 stars from 5 users.)
1