Amblimation Studio Directory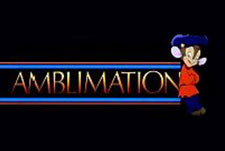 Founded by Steven Spielberg to be the production wing of his
Amblin Entertainment
production company.
The studio was spun down with Spielberg's change in focus to
DreamWorks SKG
(later, DreamWorks Animation). In the transition, many of the animators at Amblimation moved across to the new studio. One final film in development at Amblimation- an animated adaption of Andrew Lloyd Webbers' musical
Cats
- was not so lucky, and never made it to the light of day.
Amblimation was based in USA.

Rate This Studio:
BCDB Rating:
"Amblimation" has not yet received enough votes to be rated.
Amblimation Studio Listings:
Amblimation Studio :
An American Tail: Fievel Goes West Amblin Entertainment...

featuring Fievel Mousekewitz, Wylie Burp, Mama Mousekewitz, Tanya Mousekewitz, Papa Mousekewitz, Tiger, Miss Kitty; more Characters ...

An American Tail: Fievel Goes West BCDB Rating: (4.7/5 stars from 5 users.)
We're Back! A Dinosaur's Story Amblin Entertainment

featuring Buster, Dr. Bleeb, Captain Neweyes, Dweeb, Rex, Elsa, Woog, Vorb, Professor Screweyes, Mother Bird, Louie, Stubbs the Clown; more Characters ...

We're Back! A Dinosaur's Story BCDB Rating: (5/5 stars from 2 users.)