Valley of the Dinosaurs Episode Guide -Hanna-Barbera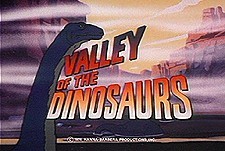 While rafting on the Amazon, John Butler, his wife Kim and their two children, Katie and Greg, were sucked into a whirlpool, only to emerge in a strange, prehistoric world.

The Butlers were taken under the wing of a Neanderthal family- Gorak, Gera, Tana and Lok- whose ages closely paralleled their own. Even the Butler's dog, Digger, found a counterpart in Lok's pet Stegosaurus, Glomb.

The episodes dealt largely with the relationship between the two clans. At first both families were reluctant to trust each other, but they finally came to accept and ultimately learn from one another.
Hanna-Barbera
Rate This Cartoon Series:
Valley of the Dinosaurs TV Episode Guide :
1 1 1 1 1 1 1 1 1 1 1 1 1 1 1 1