Super Friends Episode Guide -Hanna-Barbera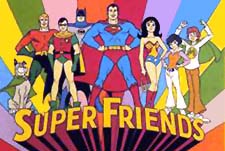 The most powerful heroes ever -- Superman, Wonder Woman, Spider-Man, Aquaman, Batman and Robin -- join forces with teenagers Wendy and Marvin and their dog, Marvel the Wonderdog, to defend justice and guard the innocent. Two teenagers, one wonderdog and five superheroes -- they're Super Friends to the rescue.
The first of many Super Friends series ran for sixteen one-hour episodes and then was canceled. The show reran for a few years and its popularity increased. When ABC saw this increase they asked Hanna-Barbera for more episodes. Hanna-Barbera responded with the
All-New Super Friends Hour
.
Hanna-Barbera
Rate This Cartoon Series:
Super Friends Episode Guide Cartoon Series:
Super Friends TV Episode Guide :
1 1 1 1 1 1 1 1 1 1 1 1 1 1 1 1