The Funtastic World of Hanna-Barbera Episode Guide -Hanna-Barbera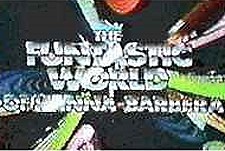 This compilation show began in 1985 in syndication with three segments,
Galtar and the Golden Lance
,
Paw Paws
and
Yogi's Treasure Hunt
.
In coming years, many other shows were added to the mix. The animated block combining older Hanna-Barbera shows and new, fresh cartoons. The show ran through 1994.
Hanna-Barbera
This page has been viewed 2 times this month, and 6,410 times total.
The Funtastic World of Hanna-Barbera Show Segments:
The Funtastic World of Hanna-Barbera TV Episode List :
The Funtastic World Of Hanna-Barbera (Series) Hanna-Barbera Studios

featuring Jonny Quest, Dr. Benton Quest, Roger 'Race' Bannon, Hadji, Bandit, Galtar, Goleeta, Tormack, Ither, Krimm, Otar; more Characters ...

The Funtastic World Of Hanna-Barbera (Series) There have not yet been any votes for "The Funtastic World Of Hanna-Barbera (Series)". Vote Now! 21