Devlin Episode Guide -Hanna-Barbera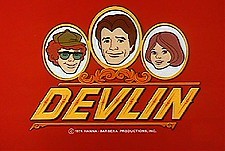 Based on the enormous popularity of daredevil Evel Knievel, Hanna-Barbera developed this cartoon about a stunt motorcyclist working in a traveling circus. Ernie Devlin was a popular attraction, and with the help of his brother Tod and his sister Sandy, they entertained the multitude of adoring fans (many of whom appeared to be following the circus from town to town to save on animation expenses).

In between shows, the small Devlin family would take it upon themselves to solve any mystery that might cross their path. Sometimes, the circus would be in danger of closing down, other times the town in which they had stopped would need their help catching a thief. Regardless, Ernie and his siblings would always solve the riddle before the show's end.
Hanna-Barbera
Rate This Cartoon Series:
Devlin TV Episode Guide :
1 1 1 1 1 1 1 1 1 1 1 1 1 1 1 1