C.B. Bears Episode Guide -Hanna-Barbera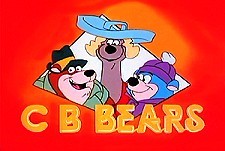 The C.B. Bears
featured a bevy of different segments lumped into a one hour program. The title characters appeared in a segment of their own, fighting crime from a dilapidated garbage truck that was chock-full of technical goodies. Hustle was the leader, a Moe Howard-like bully with a voice that sounded like Phil Silvers; Bump was the token idiot, with a garbage can lid for a hat and a slight resemblance to Scooby-Doo; and Boogie was a clone of Boo-Boo from the Yogi Bear cartoons. The trio's marching orders were dispatched over the C.B. in their truck by an unseen female named Charlie.
Among the other segments: "
Undercover Elephant
," who solved crimes with his partner Loud Mouse; "
Shake, Rattle, and Roll
," which had a trio of ghosts running a hotel against the wishes of its operator, Sidney Merciless; "
Heyyyyy, It's the King
," which had a city cat meet up with Big H the hippopotamus, Clyde the ape, Skids the alligator, Yukayuka the mole, Zelda the ostrich, and Sheena the lioness; "
Blastoff Buzzard and Crazy Legs
," a dialogue-free desert chase with a bird pursuing a snake; and finally, "
Posse Impossible
," about four bumbling cowboys (Sheriff, John Wayne soundalike Big Duke, a fat guy who cried a lot named Blubber, and Stick the Hillbilly), who defended justice in the old west town of Saddlesore.
Hanna-Barbera
This page has been viewed 3 times this month, and 7,997 times total.
C.B. Bears Show Segments:
C.B. Bears TV Episode List :
The C.B. Bears (Series) Hanna-Barbera Studios

featuring Hustle, Bump, Boogie, Charlie, Undercover Elephant, Loud Mouse, Chief, Skake, Rattle, Roll, Sidney Merciless; more Characters ...

The C.B. Bears (Series) BCDB Rating: (4.6/5 stars from 3 users.)