The New Adventures of Mighty Mouse and Heckle & Jeckle Episode Guide -Filmation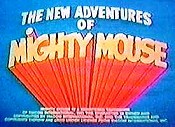 Mighty Mouse theatrical cartoons aired from 1955 to 1966, but it wasn't until 1979 that Mighty Mouse made his first appearance in a series created exclusively for television. His co-headliners, Heckle and Jeckle, were two inseparable magpies who sought to con free meals and shelter out of the upper class. The show also featured Quackula, a vampire duck who tried to frighten those who crossed his path, but who usually ended up tripping over his own webbed feet.
Filmation
This page has been viewed 3 times this month, and 7,709 times total.
The New Adventures of Mighty Mouse and Heckle & Jeckle Show Segments:
The New Adventures of Mighty Mouse and Heckle & Jeckle TV Episode List :
The New Adventures Of Mighty Mouse And Heckle & Jeckle (Series) Filmation Associates

featuring Mighty Mouse, Pearl, Oilcan Harry, Swifty, Heckle, Jeckle, Quacula, Igor

The New Adventures Of Mighty Mouse And Heckle & Jeckle (Series) There have not yet been any votes for "The New Adventures Of Mighty Mouse And Heckle & Jeckle (Series)". Vote Now! 21