Extreme Ghostbusters Episode Guide -Adelaide Prods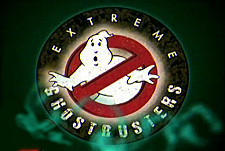 When a wave of ghosts terrorizes Manhattan, who ya gonna call? If you just shouted, "Ghostbusters!," give yourself a swift kick in the rump. No, not those old-timers! What this town needs is a new generation of Ghostbusters, a group of up-and-coming kids with the brains, guts, and proton-powered weapons to catch and contain those spooky spirits. What we need are... Extreme Ghostbusters!

In all fairness, the original Ghostbusters (or OGB, as the kids these days are calling them) weren't really that old on Extreme Ghostbusters. Egon Spengler, a veteran of the two Ghostbusters films and The Real Ghostbusters cartoon series, was the team's leader and official mentor. Training and operating under Egon's direction were slacker-type Eduardo, awkward genius Roland, paranormal aficionado Kylie, and wheelchair-riding adventurer Garrett. Janine was still the Ghostbusters' office manager and unofficial mother figure, and gluttonous ghost Slimer still hung around to "help" the crew.
Adelaide Prods
Rate This Cartoon Series:
BCDB Rating:
"Extreme Ghostbusters" has not yet received enough votes to be rated.
Extreme Ghostbusters TV Episode Guide :
1 1 1 1 1 1 1 1 1 1 1 1 1 1 1 1 1 1 1 1 1 1 1 1 1