Heckle and Jeckle Theatrical Series -20th Century Fox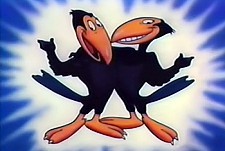 Heckle and Jeckle were two inseparable black magpies, identical in appearance but distinguishably different in personality. Though both were remarkably witty, Heckle spoke with a New York accent, while Jeckle's tone was much more refined.

The high point of any Heckle and Jeckle cartoon was always the witty banter between the feathered friends. Instead of resorting to violence, the birds bested their foes by outwitting them, and while doing so, indulged in wry commentary that made their adversaries appear even more foolish.
20th Century Fox
Rate This Theatrical Series:
Heckle and Jeckle Theatrical Cartoon Series Cartoon Series:
Heckle and Jeckle Theatrical Cartoon List :