American Dad! Episode Guide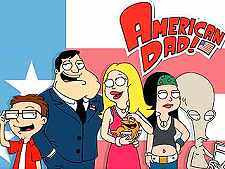 Set in the fictional town of Langley Falls, Virginia, this show follows the Smiths, a modern dysfunctional family. Stan a staunchly neoconservative Republican CIA agent and self-proclaimed heavy-handed American patriot. His wife is Francine, and they have two children, budding adolescent Steve and new-age hippie Hayley. They have two pets, Klaus– a man in a fish's body– and Roger, an alien who Stan has rescued from government capture and harbors in the family's attic.

The show was created by Seth MacFarlane, Mike Barker and Matt Weitzman, and origionally premiered after Fox's broadcast of the Super Bowl XXXIX on February 6, 2005, alongside The Simpsons.
Rate This Cartoon Series:
American Dad! TV Episode Guide :
1 1 1 1 1 1 1 2 2 2 2 2 2 2 2 2 2 2 2 2 2 2 2 3 3