Birdman And The Galaxy Trio
Birdman And The Galaxy Trio (Series)
Birdman And The Galaxy Trio (Series) (1967) - Birdman and the Galaxy Trio Cartoon Episode Guide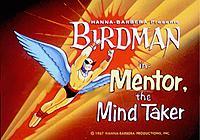 by Dave Koch
---
Post your Comments or Review
This page has been viewed 236 times this month, and 4808 times total.
Cartoon Comments:
Birdman
Reviewed by: Brent43,
This was a very good cartoon when I was 6 years old.I enjoyed watching it come on and see him flying up to the screen and saying birrrrd man.I liked watching the sun shine on him to restore his power when he ran out.I also liked watching him point his club toward the enemy to kill them.But unlike todays kids I knew the difference between cartoons and real life,I never wanted to go out and kill a person.
0 of 9 people found this review helpful
Birdman and the Galaxy Trio
His Tarzan Yell Was For The "Birds"
Reviewed by: toonguy85,
Back in the 1960s (when I was under age 9), this was my favorite superhero serving from H-B cartoons. I could tell when I was not far from a kindred spirit in the school lot, when I heard the familiar "BIRRRRRD-MAN" hollered aloud.

Birdman and his trusty falcon Avenger battled crime for some secret national security dude with an eyepatch, whose voice was the legendary Don Messick.
1 of 9 people found this review helpful
Birdman and the Galaxy Trio
Reviewed by: zskblotny,
I am not sure if the review is to be for the cartoon itself or this page devoted to the cartoon...
The cartoon remains to this day as one of my favorite ones from the TVSuper-Hero genre.
The page would do justice with some pictures of the characters involved in both shows.
2 of 11 people found this review helpful