Rabbit Of Seville
Rabbit Of Seville
Rabbit Of Seville (1950) - Looney Tunes Theatrical Cartoon Series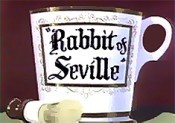 by Dave Koch
---
Post your Comments or Review
This page has been viewed 97 times this month, and 20780 times total.
Warner Bros. Cartoons, Inc.
Distributed by: Warner Bros.
Cartoon Characters: Bugs Bunny, Elmer Fudd.
Originally Released in 1950.
Color
Running Time: 7:31 minutes.
U.S.A.
&nbspAdd your own Review
Return To "Rabbit Of Seville"
Cartoon Comments:
Rabbit of Seville vs What's Opera, Doc?
Theoacme
Reviewed by: Theo Kamis,
First, I'd like to see why people who rated "Rabbit of Seville" rated it so low.

Second, comparing Chuck Jones' two classic Bugs Bunny musical masterpieces, most critics give "What's Opera, Doc?" the higher praise...while noting that Jones added two weeks of production time and resources (stealing it from other cartoons), allowing him seven weeks, instead of five, to do "What's Opera, Doc?"...

...and in animation under the strict budgets at Warner Brothers then, time is definitely money.

Yes, technically, "What's Opera, Doc?" is superior to "Rabbit of Seville"...but not two weeks' better.

Musically, Wagner and Rossini are like comparing Lady Gaga and Mary Hopkin...you really can't say one is better, you might like "You and I" better than "Those Were The Days", or not...same thing about the music between the two films...both were very well orchestrated, but if you prefer hearing Arthur Q. Bryan's chant to destroy Bugs, you probably liked Wagner...

...but I thought Carl Stalling did Rossini in "Rabbit of Seville" better than he did Wagner in "What's Opera, Doc?"

Both are top ten in my reckoning, but I'd put "Rabbit of Seville" somewhat ahead of "What's Opera, Doc?"
0 of 16 people found this review helpful
The Best Bug Bunny Cartoon EVER
Reviewed by: JohnnaCal,
I cannot get enough of this cartoon. Before DVD and Videos were invented I watched every week to get a glimpse of this one. Clearly they dont make them like this anymore.
7 of 64 people found this review helpful
Rabbit Of Seville
Reviewed by: damfine,
One of the best cartoons ever made. God has let Chuck Jones into Heaven ahead of the other riff-raff because of this cartoon.

Most people know this as simply the greatest Warner Bros. cartoon (or even cartoon in general) ever made. Jones, Bugs and Elmer are all at their peak of creativity here. The way the animation and the gags are set to music make this a tour de force all the way. In fact, one even wonders where the Acadamy was when this cartoon came to theatres. Could Gerald McBoing Boing effectively sing, "Welcome to my shop! Let me cut your mop! Let me shave your crop! Daintedly!"? But, that's entirely another matter. This essay is about Elmer.
There was one thing touched upon in this cartoon that for some reason was virtually ignored in previous cartoons. Finally, Bugs made fun of Elmer's baldness. Since they are rewriting the Barbar of Seville opera, it only makes sense that they use Barbar gags. With no hair to work with, Bugs first tosses a salad on Elmer's head. Then much later uses a shoe-shine stand to polish Elmer. And finally, as the coup-de-gras, Bugs uses some Hare Tonic to grow actual hair on Elmer's head. Elmer is elated at this site until each strand suddenly sprouts flowers.
Never before and not afterwards had Elmer's scalp been the source of so much comedy. But, then again, Elmer had other faults to accentuate. Something that Bugs is more than aware of.

10 of 77 people found this review helpful
Rabbit Of Seville
Chuck's Best? Bugs's Best? MY FAVORITE!
Reviewed by: CartoonistAaron,
RABBIT OF SEVILLE is absolutely my favorite Bugs Bunny, Warner Bros, Chuck Jones, heck I think it's my favorite cartoon! THIS is the cartoon that drove me to study animation. Everything about it is perfect - the timing, the voices, the music, the gags, the animation -- the sequence where Bugs pours concrete over Elmer's head, then sticks the sign in it til it dries, then chisels it -- classic stuff! "Dere -- you're nice an' clean -- altho' ya face looks like it might have gone t'rough a ma-chine...."
5 of 66 people found this review helpful
Rabbit Of Seville
Reviewed by: TonySimps,
I love this cartoon. Rabbit of Seville has got to be the funniest Bugs Bunny short. That suave smirk Bugs gives the camera while giving Elmer the works. The happy face on Elmer when his hair grows back, and his reaction when flowers pop up on the ends! "Eeehhhh, next?" Bugs trivia: The only time you see Bugs Bunny with five fingers on each hand is in Rabbit of Seville. It's when he's using his own fingers as piano keys. Check it out sometime!
5 of 48 people found this review helpful