The Tell-Tale Heart
The Tell-Tale Heart
The Tell-Tale Heart (1953) Theatrical Cartoon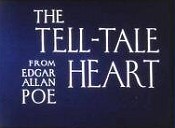 ---
Post your Comments or Review
This page has been viewed 3590 times this month, and 15940 times total.
Cartoon Comments:
The Tell-Tale Heart
Scared witless!
Reviewed by: ajperrin,
I saw this film at a news-theatre cinema in the west end of London in 1955 and it has been engraved on memory ever since. I was 17 at the time and it scared me witless! The cinema had a good sound system, and that combined with a heady perfume in the airconditioning made for a memorable experience. James Mason's voice combined with that thudding soundtrack was brilliant at creating the menacing atmosphere. Can a cartoon be art? Definitely in this case. A "must-see" for all cartoon connoisseurs.
1 of 32 people found this review helpful
The Tell-Tale Heart
Jasc
Reviewed by: JasC,
Several art schools dot the Hollywood/Los Angeles area, and the UPA movement attracted many students to any of the films they produced during the fifties.

UPA's "Tell-Tale Heart" was an animated short (not considered a cartoon in the usual sense) which opened December 27th 1953 in Hollywood, along with the B/W feature film; "From Here to Eternity", not exactly an upbeat movie. (Remember; The film depicted the invasion of Pearl Harbor by the Japanese as well as Frank Sinatra being beaten to death by Ernest Borgnine.)
That particular UPA short definitely put the movie goer into the correct frame of mind. I know, I was there as a nineteen year old art student.
1 of 43 people found this review helpful
The Tell-Tale Heart
Reviewed by: damfine,
One of UPA's best and most terrifying films.
3 of 47 people found this review helpful
The Tell-Tale Heart
Truly Terrifying
Reviewed by: slc2466,
I saw this film when I was ten, and it still ranks as the five most frightening minutes I've ever spent in a movie theater- I had nightmares for years afterwards envisioning the scene wherein the old man jumps up in bed and crys out "NO!" just before he's murdered. I can see why the film was rated "X" by the British censors, as it is definitely NOT for children or the faint-hearted (I can only imagine how much the horror would increase if the cartoon was shown in its original 3-D version). I finally was able to see the film again recently on a Columbia cartoon complilation video; as an adult, I still find the short deeply disturbing, but now I can appreciate the masterful direction (by Ted Parmalee, design and color by Paul Julian), the vividly effective animation by Pat Matthews, the unnerving musical score by Boris Kremenliev and, of course, the haunting, unforgettable narration by James Mason. If you can handle the very large suspense factor, I'd highly recommend watching this brilliant, Oscar-nominated 1953 UPA cartoon- just don't watch it alone or with an unbalanced boarder or roommate.
1 of 29 people found this review helpful
The Tell-Tale Heart
Paul Julian director?
Reviewed by: sandma1half,
I believe this film may have been directed by Paul Julian. That's what I was told by teachers at USC.
0 of 28 people found this review helpful