Sinbad: Legend Of The Seven Seas
Sinbad: Legend Of The Seven Seas
Sinbad: Legend Of The Seven Seas (2003) Feature Length Theatrical Animated Film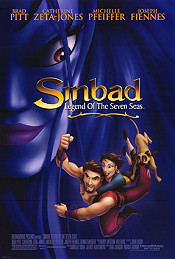 ---
Post your Comments or Review
This page has been viewed 1617 times this month, and 7665 times total.
Feature Length Animated Film
Dreamworks SKG
Distributed by: Dreamworks
Cartoon Characters: Sinbad the Sailor, Marina, Proteus, Eris, Kale, Spike.
Originally Released in 2003.
Color
Running Time: 85 minutes.
U.S.A.
&nbspAdd your own Review
Return To "Sinbad: Legend Of The Seven Seas"
Cartoon Comments:
Sinbad: Legend of the Seven Seas
wow no
Reviewed by: John Sinbadan,
When Sinbad gives birth to a book, he needs to go to the end of the world with a ghost-lady who would have been his child. He has to find out why he gave birth to a book, and how it happened - but then his book starts to come alive with writing predicting the future, and it's bleaker than anything Sinbad has ever experienced. His crew is assembled; the ghost-lady, his faithful dog named Parku, a sea creature named Owven and Matey, a thief. He and his would-have-been daughter, Saluja, reach the end of the world only to lose a prized possession on the edge. They find Saluja injured on Owven and they find out the hidden truth; Saluja, who's actually a runaway princess, has been in love with Matey.
0 of 18 people found this review helpful
Sinbad: Legend of the Seven Seas
Not bad Sinbad
Reviewed by: StevenBailey,
<b>Sinbad: Legend of the Seven Seas</b> never stops coming up with rich, elaborate imagery, like an imaginative pop-up book. Like the same year's other animated wonder, <b>Finding Nemo</b>, the moviemakers seem determined to depict every otherworldly sea adventure they ever imagined.
And where Disney's <b>Treasure Planet</b> was sullen and earthbound, <b>Sinbad</b> zips and soars. The rogue titular pirate (voiced by Brad Pitt) is out to capture The Book of Peace, basically an elaborate atlas that keeps the universe in check. As it turns out, Sinbad's former childhood buddy Proteus (Joseph Fiennes) is out for the same book, but to return it to the safety of his father-king, not to steal it for ransom like Sinbad.
The third party interested in this particular book--and in fleecing Sinbad--is a Goddess of Chaos named Eris (Michelle Pfeiffer at her most Catwoman-feline), who trumps up Sinbad's evil quota considerably. Slithering around elaborate architecture like an ethereal snake, Eris makes <b>The Little Mermaid</b>'s villainess Ursula look like Mother Teresa.
As if that wasn't enough, the otherwise ironhearted Sinbad has one weak spot: Proteus' beau Marina (Catherine Zeta-Jones) who, in an elaborate gnarl of plotting that I won't reveal here, ends up sailing with Sinbad while Proteus is left behind, possibly to die.
Unlike some other recent cartoons, one gets the satisfying sense that the screenplay was well fretted over before the animation began. It goes without saying that conflict is at the heart of any pirate adventure, and Sinbad has a multitude of conflicts. Cowardice versus death? Good versus evil? Lesser evil versus more evil? The story, as wild as it often gets, is so genuinely concerned with Sinbad's outcome that by the time he reaches his final, very outre destination, the audience has a stake in the final outcome as well. On its own terms, <b>Sinbad</b> is more satisfying and less cartoony than <b>Charlie's Angels: Full Throttle</b>.
3 of 21 people found this review helpful