One Froggy Evening
One Froggy Evening
One Froggy Evening (1955) - Merrie Melodies Theatrical Cartoon Series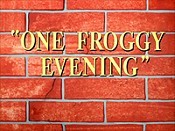 by Dave Koch
---
Post your Comments or Review
This page has been viewed 5054 times this month, and 29115 times total.
Warner Bros. Cartoons, Inc.
Distributed by: Warner Bros.
Cartoon Characters: Michigan J. Frog, Construction Worker, Talent Agent, Audience Members, Future Construction Worker.
Originally Released in 1955.
TechniColor
Running Time: 6:51 minutes.
U.S.A.
&nbspAdd your own Review
Return To "One Froggy Evening"
Cartoon Comments:
One Froggy Evening
Chuck Jones was a maestro at his art
Reviewed by: CamrioKid,
I remember seeing this cartoon as a kid, and I watched a LOT of cartoons. This one stuck with me though. Powerful because there is no spoken dialogue, memorable because of the soundtrack and the ingenious expressions that were created for each of the characters. It taught me that sometimes in life, there will be times that you and only you will get to enjoy something special and unique -- and you should not worry that no one else can experience it. Sometimes, a special moment is just for you. It should be treasured and appreciated for what it is. So, the meaning this cartoon has grown for me...from seeing it as a six-year-old and enjoying it for it's pure humor value, and now as an adult enjoying and apppreciating the deeper meaning that I have found in it. Simply drawn and executed with style, this is the best that Looney Tunes has to offer. You can have Porky and Bugs and Tweety all day long...just give me Michigan J. Frog!
6 of 82 people found this review helpful
One Froggy Evening
Genuine classic!
Reviewed by: Kiddman,
Here's one great and unusual cartoon, possibly the highest form of this great art EVER!
Man finds singing frog, man tries to get rich due to singing frog, can't do so cuz the frog sings for HIM and him only, man gets rid of frog for someone ELSE to find.
Elegantly simple but amazingly funny and touching story.
5 of 83 people found this review helpful
One Froggy Evening
A timeless fable...
Reviewed by: ohnoitsjim,
One of the true masterpieces of animation. Chuck Jones at his absolute peak. The timing is dead-on from start to finish. The frog is brilliantly animated, and the man is probably the most...well, HUMAN character ever created by the geniuses at Warners. This cartoon is as funny and relevant the 50th time you watch it as it is the first.
5 of 84 people found this review helpful
One Froggy Evening
Possible explanation of the source of the story
Reviewed by: MightyForum,
In 1897, a horned toad was placed in the cornerstone of the courthouse in Eastland, TX, as it was being sealed. People remembered the event, but no one thought much of it until 1928, when the courthouse was demolished to make way for a new, Jazz Age model. Three thousand people were on hand to watch the opening of the old cornerstone. Inside lay the horned toad, all right - flat and covered with dust - and ALIVE! After 31 years!
The toad was christened "Old Rip" and became a national sensation. He toured the US He met President Coolidge. Local gas stations gave away complimentary toads to customers.
Eleven months after his resurrection, Old Rip croaked. His body was embalmed and placed in a tiny, open casket - velvet lined - in the lobby of the new courthouse.
A horned toad in the velvet-lined casket can still be seen there today, though there is some controversy over just who is being exhibited. In 1973, Old Rip was stolen. An anonymous kidnapper wrote a letter explaining that his conscience would not let him remain silent any longer. He claimed to be part of a larger conspiracy that had hoaxed the nation with Old Rip. He demanded that his accomplices join him in a full confession.
When no accomplices came forward, another letter arrived, saying that Old Rip could be found in his coffin at the county fairgrounds. The coffin and a toad were recovered - though some believe that this Old Rip is an impostor. Eastland County Judge Scott Bailey has been quoted as saying: "This toad is fairly well-preserved. The other was more ... mummified."
Whether the current Old Rip is real or fake, he is on display in his coffin in Eastland. And Old Rip has been immortalized in another way - as the original inspiration for the Warner Bros. cartoon character "Michigan J. Frog," who serves as the WB television network mascot.
In 2002, Rip left Eastland temporarily for a gig at Six Flags over Texas in Arlington.

6 of 47 people found this review helpful
One Froggy Evening
Jones's Ultimate Masterpiece
Reviewed by: olympian,
One Froggy Night was Chuck Jones's Sistine Chapel. This was the highest peak of his art, and I have actually seen *serious* adult discussion groups debate it's "deeper meanings".
C'mon, folks - it's a cartoon! The themes are universal (a fast buck, and you can't get something for nothing) but true to Warner Brother's form, it's strictly for laughs. The new character of Michigan J. Frog was genius in itself, and certainly more effective than the Mynah bird holding up a card with "5" on it, but the mynah got several shorts - why not poor M.J. Frog?
The only real voice is the beautiful rolling baritone of the frog (animated in singing brilliantly)
and a few extraneous sound effects, plus the underscore music. The genius of simplicity.
One key scene is now removed from TV showings, going back to when cartoons began to be "sanitized" for impressionable children in the 1970's (funny, they never hurt us growing up).
The hapless construction worker, having spent his last cent to rent a hall, is trying every way imaginable to get a crowd in. Nothing works. Finally, in desperation, he puts up a sign that says "Free Beer" - and is immediately stampeded into the ground. Very funny! - and missing from most TV versions today (I wonder what the boys from Termite Heaven think when they run across these butchered cartoons on TV now?)
Simple. Straighforward. No real dialouge. Very funny, and dramatic at the same time.
In short, see the byline - and see this cartoon, no matter what you have to do!
4 of 52 people found this review helpful