The Pebble And The Penguin
The Pebble And The Penguin
The Pebble And The Penguin (1995) Feature Length Theatrical Animated Film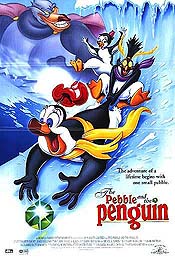 by Dave Koch
---
Post your Comments or Review
This page has been viewed 989 times this month, and 8380 times total.
Feature Length Animated Film
Don Bluth Ireland, Premier Films Ltd.
Distributed by: Metro-Goldwyn-Mayer
Cartoon Characters: Hubie, Chubby, Gentoo, Marina, Priscilla, Chinstrap, Pola, Chinstrup, Gwynne, Chinstrap, Timmy, Petra, Beany, Drake, Scrawny, King, Megellenic, Royal, Tika, McCallister, Rocko.
Originally Released in 1995.
Color
Running Time: 74 minutes.
U.S.A. / Ireland
&nbspAdd your own Review
Return To "The Pebble And The Penguin"
Cartoon Comments:
Excellent film - A must-see for any age
Reviewed by: Mark Latham,
This is an excellent film because it is hand-drawn, hand-painted, and the story concept is absolutely perfect. It actually is accurate with regard to penguin biology, too.

The attraction to this film is the artistry of Don Bluth and his capable team. The character design is superb, as always, and the story was specifically written for both children AND adults.

The only thing I dislike about this movie is all the senseless negative critiques people give this film as if a contagious fad. Seems those critics don't even take the time to actually WATCH the film entirely before ripping it apart, nor even get the plot or characters right many times. This is one of Don Bluth's BEST films. Who cares if the background flickers a bit - it's HAND-PAINTED, not computer-animated.
1 of 20 people found this review helpful
The Pebble and the Penguin rocks all ages
Reviewed by: Mark Latham,
Perplexing about all the low ratings. This is a kids film as well as an adult film. My kids were transfixed during the whole show when I played the DVD for the first time (now they want to see it over and over).

It is so interesting that major critics label Hubie as the hero, and proceed to call him a stuttering or dumb character. (Now if the critics would just WATCH the film before ripping it apart), note that the hero of the movie is actually Rocko, who instilled courage and training into Hubie to allow him (alone by himself) to eventually rescue Marina from Drake's lair. Hubie could not have done this without Rocko, so Rocko is the actual hero, while Hubie is a secondary hero.

The musical invokes deep emotion even as an adult, and my wife and I love watching it together and enjoying it on an adult comprehension level.

This is one of Don Bluth's best-ever films, and I wish it would be re-released with all the cut scenes and replayed in theatres again.


0 of 14 people found this review helpful
Outstanding Don Bluth Creation
Reviewed by: D Long,
This is a TRULY AMAZING film for anyone of any age wanting to laugh, shed a few tears, and end up smiling by the end credits.

As an ornithologist studying penguins and displaying them at our local aquarium, I critically examined the character design in this movie, as well as the natural history aspects of the story. The characters in The Pebble and the Penguin are anatomically accurate while combining human-like traits (like teeth and clothing), and are probably one of Don Bluth's most creative cast. I have many of the original production celluloids and drawings from The Pebble and the Penguin displayed on the walls of my home and office because of how endearing and personable these characters are. The female characters in particular have the same sexy daintiness and feminine flair as characters from Bluth's other films and video game animations, and the story development is well-balanced to envelop both adult and youth viewers while providing them with positive messages of personal enrichment.

The music is outstanding, and it is sad none of the tracks ever received measurable airplay in 1995-96. Certainly the song "Now And Forever" is every bit as good as "Beauty and the Beast" and other love songs from other animated fantasy features. (Take a peek at what the soundtrack for The Pebble and the Penguin is going for - so many people want it that it is now a high-dollar collector's item).

This film is one of the few hand-drawn, hand-painted animated features released in the last two decades, and is an art form dying out because of computer animation. It is a labor of love to create these types of animated films. Every facet of the film is human created with paint, celluloid, and drawings. Play this movie frame-by-frame on some of the scenes, and you're going to find lots of hidden characters and activities you'd never notice just playing straight through.

It is reprehensible that so many negative reviews were initially given to the film at release and keep being hurled at the film today, or for suggesting that shading of the villain versus the main characters had something to do with race. Most negative reviews are only of superficial or surface value without considering the true underlying story or the immense amount of artistic effort that went into creating the film (over 1.6 million hand-painted cels with no computer animation and live orchestration). You can't treat a hand-drawn musical like The Pebble and the Penguin in the same way as a movie such as Avatar in a review (that's apples and oranges), yet so many negative reviewers unfairly insist the film has to exceed films of such caliber, such that it became "the fad" for reviewers to simply puppet the same set of false review points and low ratings in order to not look different from their fellow reviewer peers. This is a love-story musical, not a flashy "bang-whiz" action flick, so don't knock it for being "boring" or "slow" or "predictable". Problems with the film were directly due to MGM forcing Don Bluth to have the film recolored and several scenes deleted their way rather than the way it was actually written (and the contractor did a sloppy job with all of this, incorrectly zooming out on cels creating "floating characters, mistakes in coloring and contrasting, and mis-aligned audio). Some of these issues were eventually corrected in the 2007 and later DVD /Blu-Ray releases, but these are by far NOT the faults of Don Bluth nor Gary Goldman: they so disapproved of the changes to their movie that they didn't want credit as directors due to the end result. It is a shame we will never get to see the ORIGINAL product that Don Bluth intended to go to the Big Screen in all its glory. If one looks carefully, though, this is one of Don Bluth's most brilliant creations.

This is a Must-See film with the mindset that you are watching 15 actual hand-drawn and hand-colored paintings per second whiz by your eyes. Grab someone you love, or your children, and a box of popcorn. You'll enjoy The Pebble and the Penguin over and over for years to come.
2 of 18 people found this review helpful
The Pebble and the Penguin
A Musical Fun Filled Journey!
Reviewed by: STARFOX,
It's another animated magical musical tale from the creator that gave us "THE SECRET of N-I-M-H!" That Kids of all ages will love --It will bring the kid out in you!

This 1995 Don Bluth Production of a shy, love sick penguin named Hubie that has a crush on Marina, a gorgeous and most sought after female penguin and because of that, Hubie (our Hero) will have considerable competition for her hand (flipper) in marriage.

One of Hubie's competitor is Drak, (our Villain) a large bully type that has his sights set on Marina's hand in marriage and with the Full Moon Mating Ceremony fast approaching, Hubie learns that it's not the pebble but it's the penguin that always gets the females. (Girls)

Get ready for enormous fun filled musicsl adventure by one of animations greatest Animators!
9 of 26 people found this review helpful
The Pebble and the Penguin
Reviewed by: StevenBell,
A great concept, with very good music, that was sabataged by a very weak story. The talents of Don Bluth were wasted on this one.
2 of 30 people found this review helpful