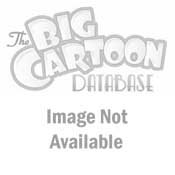 Cartoon Comments:
The Better of the Two "Latin American" Films
Reviewed by: BDS,
This film really needs to be viewed along with "Saludos Amigos" as it is really the second part of a single "Latin American" film (and as they are both so short, it really doesn't make for a long "double feature". The animated sequences in this are much more satisfying than in "Saludos" ("Bahia" I think is a true gem, frequently forgotten, and the frequently televised "Three Caballeros" musical number holds up to anything that Disney did in the 40s). NONE of the sequences equal the best of the Disney features or shorts, but considering that these were assembled during a period of time when the studio was turning out literally hundreds of DoD training and propaganda films, it's amazing that the quality is as high as it is. Anyone who claims to be a fan or student of Disney owes themselves at least one look at these two films!
1 of 22 people found this review helpful
The Three Caballeros
good film
Reviewed by: bd3,
I really love this movie and the music and the songs are nicely well done.

2 of 18 people found this review helpful