Babar: The Movie
Babar: The Movie
Babar: The Movie (1989) Feature Length Theatrical Animated Film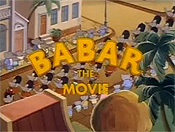 by Dave Koch
---
Post your Comments or Review
This page has been viewed 278 times this month, and 3389 times total.
Feature Length Animated Film
Nelvana-Ellipse Productions, The Ontario Film Development Corporation, Téléfilm Canada, Odessa Films.
In Association With: The Clifford Ross Company
Distributed by: 2001 Audiovisuel, Forum Distribution
Cartoon Characters: Old Tusk, Pom, Alexander, Celeste, Rataxes, Babar, Flora, Pompadour, Zephir, Arthur, Cornelius, Isabelle, Rhinoceri.
Originally Released in 1989.
Color
Running Time: 70 minutes.
Canada / France
&nbspAdd your own Review
Return To "Babar: The Movie"
Cartoon Comments:
Babar the Movie
Babar on the BIG screen, his first movie.
Reviewed by: Lion55,
This film opens with a ceremony victory parade that opens the film, where the semi credits take place, and then it's night and the parade is over in which the fireworks end it, the kids have to go to sleep and then Babar tells him a story of how he fought over the rhinos and was able to beat the rhinos using intelligence (out-smarting them) and courage.

Well what attracted me to it was that while it had more or less the same character animation from the show (i think the movie in production, later fully completed and was actually made earlier before the Babar TV series went in even pre-production), the background painting techinque was extremely jarring and pretty stark in comparison to the TV series, the TV series BG painting technique was extremely successful and flawless in capturing the exact technique (and therefore also capturing the charm as well) from the Jean and Laurent De Brunhoff Babar books, the BG technique here was extremely a different story here, although the design was somewhat the same, the painting technique was actually pretty much more in tune to that of Studio Ghilbi's output such as Princess Mononoke and also much MORE closer in tune to the usual 1980s Saturday Morning stuff, specifically that of 1980s Hanna Barbera, as for what i thought of the BG painting technique in this film, i actually found it myself to be pretty gaudy and really amateur (SHEESH LOUISE, it looks like a kid specifically a 10 year old painted it) and also rather bland.
anyway background painting technique aside, the animation, well it alternates between Hanho Heung-Up Co.Ltd from Korea and Brizzi Films from Paris, France (it should be noted that they were later reorganized as Walt Disney France) and also Gordon Stanfield Animation Productions of Vancouver, BC was involved as well (i think it was only bits and pieces such as effects animation, inbetweens and a little bit of the ink and paint), it's actually pretty easy to tell which scenes were done by Brizzi Films, which scenes were possibly done by Gordon Stanfield's studio in Vancouver B.C and also which scenes were done by Hanho Heung-Up in Korea.

OK, what i liked about it was we still have the great Gordon Pinsent as Babar as well as Chris Wiggins' wise geezer voice as Cornelious, the voice casting and stuff is still the same as in the series, but different actors played the respective roles of Zephir (John Stocker) and Lord Rataxes (Charles Kerr) because their personalities and character are extremely different and also the part where this movie being made before the TV series does not seem really far fetched at all.

OK, this is more what i found even starker and weirder than the TV series and later stuff, i think this movie is much much more darker and even more traumatizing and scary than the episodes which featured encounters with the Hunter, i mean the extreme burning of the elephant village, the rhinos cuffing and capturing the elephants and taking them in the rhino area to turn them into slaves, i mean, look imagine if you take the elephants and rhinos and put humans in their place, specifically barbarians (specifically from Europe places) - innocent people.

I mean look at Rataxes himself in this film, it's not really Rataxes at all, the voice is similar to that of Cyril Sneer (who was voiced by Michael Magee) from the Christmas Raccoons special and his personality here comes of a as overbearing, lacking in empathy, shame and really ruthless barbarian who comes off as an extremely different character which is more suited to that of Bowser (from Mario) than Rataxes, and eventually everything in this film is extremely OFF and really out of character, i mean, look at Queen Celeste as a grown elephant, shouldn't she have tusks already?, the art direction and even elements of the story (hint: psst, Babar as King for the first time and the rhinos) in this also comes off as rather lousy and unpleasant, compared to the TV series which was produced afterwards which followed the books on every aspect and at least was more successful in capturing a little bit, here in this film they didn't even try to follow or capture the books at all and just went astray, you can't just get the license to something and then not follow their original roots and forms, it does not work that way at all, but all in all though, on the inside this actually isn't a bad film and it's cool and neat, instead of Babar, for the story, they could have got and used the Nintendo Mario license instead, won't that have be something?


0 of 24 people found this review helpful