Previous Cartoon | Next Cartoon
Shrek Forever After
Shrek Forever After
Alternate Title: Shrek: The Final Chapter
Shrek Forever After (Shrek: The Final Chapter, Shrek Goes Fourth) (2010) Feature Length Theatrical Animated Film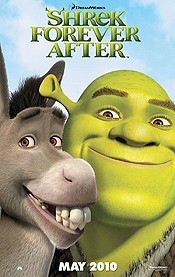 ---
Post your Comments or Review
This page has been viewed 1525 times this month, and 8545 times total.
Unknown Tag: 'short_stud_crew'
Unknown Tag: 'short_voice_crew'
Unknown Tag: 'short_dir_crew'
Unknown Tag: 'short_prod_crew'
Unknown Tag: 'short_write_crew'
Unknown Tag: 'short_edit_crew'
Unknown Tag: 'short_music_crew'
2010
DreamWorks SKG
Paramount Pictures, IMAX
Feature Length Theatrical Animated Film
Cartoon Characters: Shrek, Donkey, Princess Fiona, Puss in Boots, Queen, Brogan, King Harold, Cookie, Rumpelstiltskin, Priest, Krekraw Ogre, Gretched, Patrol Witch, Dancing Witch, Guard Witch, Pumpkin Witch, Palace Witch, Broomsy Witch, Father of Butter Pants, Pinocchio, Three Pigs, Doris, Mabel, Blind Mice, Gingerbread Man, Wolf, Miles Villager Kid, Nina Tourist Girl, Villager Girl, Cackling Witch, Ogre Gnimrach, Royal Messenger, Magic Mirror, Geppetto, Tour Guide, Camp Ogre, Ogre Naysayer, Baba Witch, Melty Witch, Butter Pants, Ogre Babies, Wagon Witches, Villager Fans, Witch Guards.
Vocal Talent: Mike Myers (Shrek), Eddie Murphy (Donkey), Cameron Diaz (Princess Fiona), Antonio Banderas (Puss in Boots), Julie Andrews (Queen), Jon Hamm (Brogan), John Cleese (King Harold), Craig Robinson (Cookie), Walt Dohrn (Rumpelstiltskin, Priest, Krekraw Ogre), Jane Lynch (Gretched), Lake Bell (Patrol Witch, Wagon Witch #2), Kathy Griffin (Dancing Witch, Wagon Witch #1), Mary Kay Place (Guard Witch), Kristen Schaal (Pumpkin Witch, Palace Witch), Meredith Vieira (Broomsy Witch), Ryan Seacrest (Father of Butter Pants), Cody Cameron (Pinocchio, Three Pigs), Larry King (Doris), Regis Philbin (Mabel), Christopher Knights (Blind Mice), Conrad Vernon (Gingerbread Man), Aron Warner (Wolf), Jasper Johannes Andrews (Ogre Baby), Ollie Mitchell (Ogre Baby), Miles Christopher Bakshi (Ogre Baby, Villager Kid), Nina Zoe Bakshi (Ogre Baby, Tourist Girl, Villager Girl), Billie Hayes (Cackling Witch), Jeremy Hollingworth (Villager Fan #1), Brian Hopkins (Villager Fan #3, Ogre Gnimrach), Chris Miller (Royal Messenger, Magic Mirror, Geppetto), Mike Mitchell (Tour Guide, Camp Ogre, Ogre Naysayer, Baba Witch, Melty Witch, Witch Guard #2, Butter Pants), James Ryan (Villager Fan #2), Ashley Boettcher, Danielle Soibelman.
Produced By Teresa Cheng, Gina Shay.
Executive Producers: Aron Warner, Andrew Adamson, John H. Williams.
Animated By Manuel Almela, Chris Capel, Alberto Corral, Steve Cunningham, W. Jacob Gardner, Willy Harber, Martin Hopkins, David Hubert, Anthea Kerou, Stephen Melagrano, Pierre Perifel, Luke Randall, Ben Rush, Jeremy Shaw, Theodore Ty, Onur Yeldan.
Music By Harry Gregson-Williams.
Edited By David Teller.
Associate Editor: Lynn Hobson.
Art Director: Max Boas.
Production Supervisors: Tracey Michelle Arnold, Kelly Matthews, Peter McCown, April Struebing.
Production Manager: Tony Cosanella.
Story Supervisor: Ryan Harris.
Story Artists: Joel Crawford, Ryan Crego, Spyros Tsiounis.
Story Department Assistant: Daniel Inkeles.
Art Coordinator: Christopher Vigil.
Visual Development Artist: Peter Maynez.
Visual Development Artist: J. J. Villard.
Art Researcher: Caprice Ann Ridgeway.
Research Assistant: Jonathan B. Lee.
Art Production Assistant: Brandon Holmes.
Storyboard Artists: Paul Fisher, Chris Reccardi, Anthony Zierhut.
Animator: Manuel Almela, Chris Capel, Alberto Corral, Steve Cunningham, W. Jacob Gardner, Willy Harber, Martin Hopkins, David Hubert, Anthea Kerou, Stephen Melagrano, Pierre Perifel, Luke Randall, Ben Rush, Jeremy Shaw, Theodore Ty, Onur Yeldan.
Animator: Cycles: Rodrigo Huerta.
Head Of Character Animation: Jason Reisig.
Character Effects Animator: Noah Peterson, Jason Doss.
Head Of Layout: Yong Duk Jhun.
Rough Layout Artists: John W. McInnis, Matthew Schmidt.
Layout Artists: Jason Carter, Josh LaBrot, Steven Sorensen, Rhiannon Leffanta Wilhelmi, Dan Pilgrim, Kenneth H. Wiatrak.
Final Layout Artist: Christopher Ell, Joseph Thomas.
Modelers: Manuel Almela, Angela Ensele Firebaugh, Paul Schoeni, Armando Sepulveda, Min-Yu Chang.
Layout Production Assistant: Andrew Richmond.
Previs Artist: Aaron Weldon.
Technical Director: Shaila Haque.
Technical Director: Tannaz Sassooni.
Animation Engineer: David I. White.
Head Of Effects: Alex Ongaro.
CG Supervisor: Greg Lev, Marc Scott.
Head Of Character Effects: Oliver Finkelde.
Character Modeler: Ardie Johnson.
Character Technical Director Supervisors: Jeffrey 'J.J.' Jay, Sandy Kao.
Character Technical Directors: Mitch Cockerham, Christina N. de Juan, Valentina Ercolani, Gaurav Shenai, Javier Solsona, Michael Leon Ware.
Global Character Technical Director: Gilbert Davoud.
Lead Character Effects Artist: David V. Fedele.
Character Effects Artists: Hock Wong, Yiqun Chen, Navin Pinto.
Character Effects Animators: Mariana Galindo, Joe Hughes, Jason P. Weber, Ron Williams.
Character Effects Developer: Rob Nitsch.
Character Effects Technical Director: Ilia Standish.
Media Tools & Post-Production Technology Engineer: Ori Neidich.
Visual Effects: Evrim Akyilmaz, Shinsaku Arima, Jeff Budsberg, Wes Chilton, Domin Lee, Michael Losure, Zeki Melek, Nikita Pavlov, Zhang Xiao, Can Yuksel.
Visual Effects Artists: Andy Hayes, Gustav Melich, John Hughes.
Effects Animators: Aaron James McComas, Andrew Young Kim, Luca Pataracchia.
Effects Developer: Lucas Janin.
Effects Engineer: Mark T. Carlson.
Effects Technical Director: T. J. Jackson.
FX Engineer: Abhik Pramanik.
Digital Artists: Cassandra Fanning, Loren Van Wiel.
Digital Effects Artists: Erin Lehmkühl, Andrew Pungprakearti, Britton Taylor.
Paint Fix Artists: Matthew Beightol, Bill Gumina, Marc Machuca, Melissa D. Moss, Jasper M. Baltzersen, Michael Baula, Craig Cannon.
Lighting And Compositing Artists: Jeff Ranasinghe, Farid Khadiri-Yazami, Soo Kyung Kim.
Lead Lighters: David C. Lawson, Benjamin Lishka.
Lead Lighter: Dreamworks Animation: Michael Manza, Kurt Kaminski, Brock J. Stearn, Osamu Takehiro, Doug Yoshida, Robert Holder, Caine Dickinson.
Lead Lighting Artists: M. Scott McKee, Ozgur Ustundag.
Lighting Artists: Christian Cunningham, Lei Han, Lok Ming Hwa, Marc Miller, Benjamin Venancie, Avedis Ekmekjian.
Lighting Technical Artist: Christopher Lynn Edwards.
Lighting Technical Directors: Pranay Patel, Steve Petterborg.
Lighting Technical Assistants: Justin Dobies, Eugene Wen.
Lead Lighting And Compositing Artist: Dreamworks Animation: Shaun Collaco.
Surfacing Artists: Ricky Baba, Jessica Canter, Taylor Moll, Cesar Alejandro Montero Orozco, Tsun-Hui Andrea Pun, Brian Ratchford.
Surfacing Technical Directors: Crystal Fong, Mark Sandell, Nigel W. Tierney.
Crowds Supervisor: Allen Stetson.
Crowd Animator: Scott Raymond.
Crowds Artists: David Bazelon, Erin J. Elliott, Curt Stewart, Daniel Warom.
Stereo Paint Fix Artist: Mauricio Valderrama.
Stereoscopic Supervisor: Phil 'Captain 3D' McNally.
Surfacing/Lighting Technical Director: Barry Dempsey.
Lead Technical Directors: Dan Golembeski, Stephen Krauth.
Technical Director: Herve Bizira.
Technical Lead: Gene Ragan.
Associate Editors: Lynn Hobson, Christopher Knights, Joseph R. Thygesen.
Editorial Production Assistant: Daniel Inkeles.
Colorist: Jeff Olm.
Music Manager: Charlene Ann Huang.
Music Technical Engineer: Costa Kotselas.
Musician, Guitar: Anthony Lledo.
Orchestration Coordinator: Esther McIntosh.
Lead Orchestrator: Ladd McIntosh.
Orchestrators: Jennifer Hammond, Kevin Kliesch, Geoff Stradling.
Composers, Additional Music: Halli Cauthery, Christopher Willis.
Dialogue Editor: Ulrika Akander.
Original Dialogue Mixers: Carlos Sotolongo, Larry Winer.
Foley Mixer: James Ashwill.
Supervising ADR Editor: Susan Dudeck.
ADR Recordists: Brian Bracken, Benny Mouthon.
Sound Effects Editor: John Marquis.
Sound Re-Recording Mixer: Anna Behlmer.
Alliance Manager: Hans Ku.
Choreographer: Michael Rooney.
Lighting Production Coordinator: Jason Evaristo.
Manager Of Digital Resources: Mark M. Tokunaga.
Operations System Administration: DJ Downey, Alireza Estakhrian, Todd Maugh.
Production Accountant: Liza Breuninger.
Production Assistant: Xavier Vanegas.
Production Coordinator: Alex J. Levine.
Production Engineering Supervisor: Holly Allen.
Production Engineers: Jayson DeLancey, Mark Jackels.
Production Supervisors: Jessie Carbonaro, Kelly Matthews.
Director Of Reseach And Development: Andrew Pearce.
Research And Development: Steve Baker, Will Bilton, Reid Gershbein, Terence Kuederle.
Systems Administrator: Rain Angeles.
Engineering System Administrators: Balaji Alahari, Daniel Rich, Richard Williamson, Nicholas Bencriscutto, Jorge Heredia, Jon Leibowitz, Shaun Potts, Paul Replicon, Gemma Ross, Cathy Sitzes, Casey Sword.
Technical Resource Supervisor: Juli Gumbiner.
Hardware Engineers: Alain Banas, Michael Coronado, Jason Lloyd.
Network Engineer: Sean Ellis.
Production Engineers: Kwesi Davis, Michael J. Pan, Laura Wood.
Animation Rig Engineers: Ron Griswold, Pia Miniati, Colin T. Smith.
Infrastructure Engineers: Jason Kankiewicz, Drew Perttula.
Chief Technology Officer: Ed Leonard.
Technology Coordinator: Morgan J. Steele.
Unit Publicist: David Hail.
Submit Additional Information:
Do you have anything to add to this page? Have we made any mistakes... or do you have any additional information about Shrek Forever After? If so, we would love to hear from you. Please send us a quick note with your additions or corrections to this page, and we will make the corrections as soon as possible!
Report Errors / Submit Additional Information
Cartoon Summary:
Shrek has become a domesticated family man. Instead of scaring villagers away like he used to, the now-reluctant ogre agrees to autograph pitchforks. Longing for the days when he felt like a "real ogre," Shrek is tricked into signing a pact with smooth-talking... (more)