Previous Cartoon | Next Cartoon
Gake No Ue No Ponyo
Gake No Ue No Ponyo
English Title: Ponyo On The Cliff
Gake No Ue No Ponyo (Ponyo On The Cliff, Ponyo on the Cliff by the Sea) (2008) Feature Length Theatrical Animated Film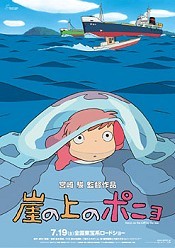 ---
Post your Comments or Review
This page has been viewed 213 times this month, and 3405 times total.
Unknown Tag: 'short_stud_crew'
Unknown Tag: 'short_voice_crew'
Unknown Tag: 'short_dir_crew'
Unknown Tag: 'short_prod_crew'
Unknown Tag: 'short_write_crew'
Unknown Tag: 'short_edit_crew'
Unknown Tag: 'short_music_crew'
2008
Studio Ghibli, Nihon Telebi [Nippon Television Network Corporation], Dentsu [DENTSU Music And Entertainment], Hakuhodo DYMP [Hakuhodo DY Media Partners], Dizunţ [The Walt Disney Company], Mitsubishi Shouji [Mitsubishi], Toho [Toho Company]
Toho Company
Feature Length Theatrical Animated Film
Cartoon Characters: Ponyo, Ponyo No Ky˘dai, S˘suke, Fujimoto, Risa, Guranmamare, K˘ichi, Anchorman, Kayo, Kumiko, Mother, Yoshie, Karen, Toki.
English Version: Gran Mamare, Ponyo, Koichi, Lisa, Sosuke, The Newscaster, Yoshie, Fujimoto, Kumiko, Toki, Noriko, Old Woman on Boat.
Vocal Talent: Yuria Nara (Ponyo), Akiko Yano (Ponyo No Ky˘dai), Hiroki Doi (S˘suke), J˘ji Tokoro (Fujimoto), Tomoko Yamaguchi (Risa), Yuki Amami (Guranmamare), Kazushige Nagashima (K˘ichi), Shinichi Hatori (Anchorman), Tokie Hidari (Kayo), Eimi Hiraoka (Kumiko), Rumi Hţragi (Mother), Tomoko Naraoka (Yoshie), Nozomi Ohashi (Karen), Kazuko Yoshiyuki (Toki), Akihiko Ishizumi, Eiko Kanazawa, Tomie Kataoka, Shiro Saito, Mutsumi Sasaki, Akiko Takeguchi, Yusuke Tezuka, Keiko Tsukamoto, Ikuko Yamamoto, Michiko Yamamoto, Yoshie Yamamoto.
English Voice Cast: Cate Blanchett (Gran Mamare), Noah Cyrus [Noah Lindsey Cyrus] (Ponyo), Matt Damon (Koichi), Tina Fey (Lisa), Frankie Jonas (Sosuke), Kurt Knutsson (The Newscaster), Cloris Leachman (Yoshie), Liam Neeson (Fujimoto), Jennessa Rose (Kumiko), Lily Tomlin (Toki), Betty White (Noriko), Katelin C. Holloway (Old Woman on Boat [uncredited]), Carlos Alazraqui, Bob Bergen, Johanna Braddy, Marsha Clark, John Cygan, Jennifer Darling, Madison Davenport, Courtnee Draper, Crispin Freeman, Jess Harnell, Ella Dale Lewis, Sherry Lynn, Danny Mann, Mona Marshall, Mickie McGowan, Laraine Newman, Colleen O'Shaughnessey, Jan Rabson.
Produced By Toshio Suzuki.
Executive Producers: Hayao Miyazaki, Koji Hoshino.
Co-Executive Producers: Naoya Fujimaki, Ryoichi Fukuyama, Seiji Okuda.
English Producers: Steve Alpert, Kathleen Kennedy, Frank Marshall.
English Executive Producer: John Lasseter.
Music By Joe Hisaishi.
Musicians: FujiokaFujimaki [Naoya Fujimaki, Takaaki Fujioka].
Musician (Soprano): Masako Hayashi.
Orchestrator: Joe Hisaishi.
Orchestra: New Japan Philharmonic Orchestra.
Theme Song: Yamaha Music Communications.
Music Score Recorded At: Sumida Triphony Hall.
Edited By Hayao Miyazaki, Takeshi Seyama.
Art Direction: Noboru Yoshida.
Assistant Art Director: Naomi Kasugai, Naoya Tanaka, Takashi Omori.
Color Design: Michiyo Yasuda.
Color Design Assistant: Akane Kumakura, Kazuko Yamada, Yukie Tamura.
Backgrounds: Kaichi Fukudome, Kazuo Oga, Kikuyo Yano, Masako Nagata, Mitsuo Yoshino, Osamu Masuyama, Ryoko Ina, Sayaka Hirahara, Shiho Sato, Yohei Takamatsu, Youichi Nishikawa, Youichi Watanabe, Youji Takeshige.
Assistant Animation Director: Ai Kagawa, Akihiko Yamashita, Kitaro Kousaka, Takeshi Inamura.
Key Animation: Atsuko Tanaka, Atsushi Tamura, Eiji Yamamori, Fumie Konno, Hideaki Yoshio, Hideki Hamasu, HIroko Minowa, Hiromasa Yonebayashi, Hiroomi Yamakawa, Kazuyoshi Onoda, Ken'ichi Yamada, Kenichi Konishi, Makiko Futaki, Makiko Suzuki, Mariko Matsuo, Masafumi Yokota, Masako Sato, Nobuyuki Takeuchi, Sachiko Sugino, Shinji Otsuka, Shougo Furuya, Shunsuke Hirota, Takashi Hashimoto, Takeshi Honda, Tsutomu Awada, Yuichiro Sueyoshi.
In-Between Animation: Akiko Teshima, Alexandra Weihrauch, Asami Ishikado, Atsuko Matsushita, Emiko Iwayanagi, Hiroko Azuma, Hisako Yaji, Katsutoshi Nakamura, Kazuhiro Takamura, Keiko Tomizawa, Keiko Watanabe, Kiyoko Makita, Kumiko Ohta, Kumiko Ohtani, Kumiko Tanihira, Mai Nakazato, Maiko Matsumura, Mariko Suzuki, Masako Azuma, Masako Terada, Masami Nakanishi, Masaya Saito, Maya Fujimori, Mayumi Ohmura, Megumi Higaki, Minoru Ohashi, Moyo Takahashi, Seiko Azuma, Setsuya Tanabe, Shinichiro Yamada, Sumie Nishido, Suzuko Mano, Takahito Sugawara, Tomoko Miura, Tomoko Miyata, Yasuko Ohtomo, Yayoi Toki, Yohei Nakano, Yukari Umebayashi, Yukari Yamaura, Yukie Kaneko.
Animation Check: Hitomi Tateno.
Assistant Animation Check: Kaori Fujii, Rie Nakagome.
Digital Paint: Akiko Shimizu, Eiko Matsushima, Fumie Kawamata, Haruna Kiryu, Hiroaki Ishii, Hiromi Takahashi, Hiromi Takeno, Junya Saito, Kaori Tani, Kasumi Wada, Kiyoko Saitou, Kumi Nanjo, Makiko Doi, Naomi Mori, Natsumi Watanabe, Rie Kojou, Yoshimi Shibata, Yukiko Kakita.
Digital Special Effects: Keiko Itogawa.
Production Manager: Naoya Fujimaki, Ryoichi Fukuyama, Seiji Okuda.
Production Desk: Kyohei Ito, Yuichiro Mochizuki.
Programming: Masafumi Inoue, Shun Iwasawa.
Sound Engineer: Shuji Inoue.
Assistant Sound Engineer: Takeshi Imaizumi, Yumiko Shibusawa.
Sound Effects: Koji Kasamatsu.
Sound Effects Assistant: Yoshiki Matsunaga.
Foley: Mika Yamaguchi.
Theme Song Arrangement: Joe Hisaishi.
Theme Song Composition: Joe Hisaishi.
Theme Song Lyrics: Katsuya Kondo, Hayao Miyazaki.
Theme Song Performance: Naoya Fujimaki, Nozomi ďhashi, Takaaki Fujioka.
Director of Photography: Atsushi Okui.
Digital Photography: Atsushi Tamura, Hidenori Shibahara, Junji Yabuta, Miki Sato, Norihiko Miyoshi.
Color Timer: Jim Passon.
Film Preview Production: Keiichi Itagaki.
Digital Film Recording: Imagica.
Production Committee: Buena Vista Home Entertainment (Japan), d-rights, Dentsu Inc., Hakuhodo DY Media Partners, NTV, TOHO.
Production Studio: Studio Ghibli.
Animation Cooperation: Anime Torotoro, Brains Base, Dogakobo, Gonzo, Nakamura Production, Studio Cockpit, Studio Khara, Studio Takuranke, Tatsunoko Production.
Digital Paint: T2 Studio.
Distributor: TOHO.
Film Developing: Imagica.
Music Performance: New Japan Philharmonic.
Music Production Management: Wonder City.
Music Recording: Sumida Triphony Hall.
Sound Production Cooperation: Continental Far East Inc., Digital Circus, Nihon Automobile College, Pug Point, Tohokushinsha Film Corporation, Tokyo TV Center.
Assistant Dialogue Editor: Frank Clary.
Post-Production Sound Services (U.S. Version): Skywalker Sound.
Sound Recordist (Skywalker): Clint Smith.
ADR Mixer: Bobby Johanson.
Foley Artist: Mika Yamaguchi.
Dolby Consultant: Continental Far East.
Sound Recording Studio: Tokyo TV Center.
Casting: Natalie Lyon.
Casting Coordination: Pug Point.
Storyline Consultant (English-Dubbed Version): Melissa Mathison.
Special Support: Katelin C. Holloway, Asahi Soft Drinks Company.
Thanks: LAWSON, The Yomiuri Shimbun.
Submit Additional Information:
Do you have anything to add to this page? Have we made any mistakes... or do you have any additional information about Gake No Ue No Ponyo? If so, we would love to hear from you. Please send us a quick note with your additions or corrections to this page, and we will make the corrections as soon as possible!
Report Errors / Submit Additional Information
Cartoon Summary:
A small town by the sea. Five-year-old Sosuke lives high on a cliff overlooking the Inland Sea. One morning, while playing on the rocky beach below his house, he discovers a goldfish named Ponyo with her head stuck fast in a jam jar. Sosuke rescues her and keeps... (more)