Previous Cartoon | Next Cartoon
Monsters vs. Aliens
Monsters vs. Aliens
Alternate Title: Rex Havoc And The Atomic 8
Monsters vs. Aliens (Rex Havoc And The Atomic 8 , Monsters vs Aliens: A Monstrous IMAX 3D Experience) (2009) Feature Length Theatrical Animated Film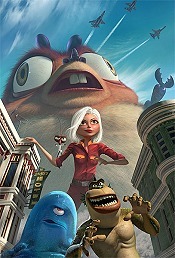 ---
Post your Comments or Review
This page has been viewed 1273 times this month, and 7395 times total.
Unknown Tag: 'short_stud_crew'
Unknown Tag: 'short_voice_crew'
Unknown Tag: 'short_dir_crew'
Unknown Tag: 'short_prod_crew'
Unknown Tag: 'short_write_crew'
Unknown Tag: 'short_edit_crew'
Unknown Tag: 'short_music_crew'
2009
DreamWorks Animation
DreamWorks Distribution, Paramount Pictures
Feature Length Theatrical Animated Film
Cartoon Characters: Susan Murphy/Ginormica, B.O.B., Dr. Cockroach Ph.D., The Missing Link, General W.R. Monger, Gallaxhar, President Hathaway, Derek Dietl, Wendy Murphy, Carl Murphy, Computer, News Reporter, Katie, Cuthbert, Private Bullhorn, Helicopter Pilot, Advisor Ortega, Commander, Advisor Smith, Technician Ben, Lieutenant, Wilson, Advisor Cole, Army Commander Jones, Advisor Wedgie, Technician Jerry, Advisor Ouaou, Mrs. Ronson, Panicked Guest, Pilot, News Technician, Advisor Jackson, Bridesmaid Candy, Advisor Hawk, Advisor Dither, Minister, Mama Dietl, Reporter, Secret Service Men, Female Advisors, Soldiers.
Vocal Talent: Reese Witherspoon (Susan Murphy/Ginormica), Seth Rogen (B.O.B.), Hugh Laurie (Dr. Cockroach Ph.D.), Will Arnett (The Missing Link), Kiefer Sutherland (General W.R. Monger), Rainn Wilson (Gallaxhar), Stephen Colbert (President Hathaway), Paul Rudd (Derek Dietl), Julie White (Wendy Murphy), Jeffrey Tambor (Carl Murphy), Amy Poehler (Computer), Ed Helms (News Reporter), Renée Zellweger (Katie), John Krasinski (Cuthbert), Sean Bishop (Private Bullhorn, Helicopter Pilot, Advisor Ortega), Rich B. Dietl [Rich Dietl] (Commander, Advisor Smith), Stephen Kearin (Technician Ben), Rob Letterman (Secret Service Man #1, Lieutenant), Tom McGrath (Wilson), Chris Miller (Advisor Cole, Army Commander Jones), Mike Mitchell (Advisor Wedgie), Kent Osborne (Technician Jerry), Latifa Ouaou (Advisor Ouaou, Mrs. Ronson, Female Advisor #2, Panicked Guest), Geoffrey Pomeroy (Soldier #4, Pilot, Soldier #3, News Technician), David P. Smith (Soldier #1, Advisor Jackson), Lisa Stewart (Bridesmaid Candy), Conrad Vernon (Advisor Hawk, Advisor Dither, Minister, Secret Service Man #2, Mama Dietl), David Koch (Reporter [uncredited]).
Animated By Manuel Almela, Kevin Andrus, James Baxter, Jeremy Bernstein, Wee Brian, Deter Brown, Chris Capel, Steve Cunningham, Eric Deuel, Ares Deveaux, Bill Diaz, Raffaella Filipponi, Willy Harber, Alexandre Heboyan, Martin Hopkins, Morgan R. Kelly, Marek Kochout, Kevin MacLean, Mary Ann Malcomb, Stephen Melagrano, Pierre Perifel, Ben Rush, Sean Sexton, Jeremy Shaw, Mike Stern, Bill Tessier, Philip To, Theodore Ty, David Weatherly, Scott Wright, Onur Yeldan, Kathy Zielinski.
Supervising Animators: Line Korsgaard Andersen, William Salazar.
Additional Animators: Mariko Hoshi, David Spivack.
Crowd Animators: Brad Herman, Geoffrey Jarrett.
Senior Effects Animator: Joanne Thiel.
Visual Effects Animator: Stephen Wood.
Effects Animators: Markus Burki, Ashraf Ghoniem, Lucas Janin, Ji Hyun Yoon.
Effects Animator (PDI/Dreamworks: Cosku Ozdemir.
Head of Character Animation: Dave Burgess.
Senior Character Animator: Carlos M. Rosas.
Character Effects Animators: Philip K. Livingston Jr., Mariana Galindo, Joe Hughes, In Soo Lee, Noah Peterson, Joe Ark Sun, Ron Williams.
Character Effects Artist: Kemer Stevenson.
Animation Rig Engineers: Ron Griswold, Pia Miniati.
Animation Research and Development: Anna Newman.
Rough Layout Artists: Dorian Bustamante, David Hofmann.
Rough Layout Artist (Dreamworks Animation): Corey Hels.
Final Layout Artist: Stan R. Haptas.
Layout Artists: Jason Carter, Yong Duk Jhun, Rachel Lagdao, Hezekiah McMurray, Bernard Mendiburu, Dan Pilgrim, Matthew Schmidt, Shane L. Wapskineh.
Story Artists: Jed Diffenderfer, Mike Mitchell, Robert Porter.
Additional Story Artists: Alfred Gimeno, Jordan Reichek.
Character Designer: Craig Kellman.
Cloth Developer: Kavita Khosla.
Written By Maya Forbes, Wallace Wolodarsky, Rob Letterman, Jonathan Aibel, Glenn Berger.
Story: Rob Letterman, Conrad Vernon.
Music By Henry Jackman.
Composer (Additional Music): Ryeland Allison.
Composer (Stock Music): Hal Oppenheim.
Executive Music Producer: Hans Zimmer.
Music Editor: Adam Smalley [Adam Milo Smalley].
Assistant Music Editor: Peter Oso Snell.
Preview Music Editor: Tom Kramer.
Music Coordinators: Jennifer Schiller, Roger Tang.
Music Executive: Sunny Park.
Music Manager: Charlene Ann Huang.
Music Clearances: Julie Butchko.
Music Business Affairs: Dan Butler, Liz McNicoll.
Music Consultant: Chris Douridas.
Music Production Services: Steven Kofsky.
Additional Music Arranger: Matthew Margeson.
Additional Arrangements: Michael A. Levine.
Music Scoring Mixer: Alan Meyerson.
Music Preparation: Tim Rodier.
Music Studio Manager (Remote Control Productions): Czarina Russell.
Score Engineer and Mixer: Nick Wollage.
Score Assistant Engineers: Tom Bailey, Chris Barrett.
Score Technical Engineer: Jack Dolman.
Score Mixing Assistants: Braden Kimball, Greg Vines.
Score Recordist: Nick Wollage.
Orchestra Leader: Perry Montague Mason.
Conductor (Orchestra): Gavin Greenaway.
Orchestra Contractor: Isobel Griffiths.
Assistant Orchestra Contractor: Lucy Whalley.
Choir Leader: Jenny O'Grady.
Choir Conductor: Gavin Greenaway.
Edited By Joyce Arrastia, Eric Dapkewicz.
Associate Editors: Rich Dietl, Lynn Hobson, Marcus Taylor.
First Assistant Editor: Joe Monteleone.
Assistant Editors: Daniel Fort, Maurissa Horwitz, Vivek "Vic" Sharma.
Editor (High Definition): Paul Neal.
Assistant Editor (High Definition): David Teller.
Digital Colorist Production Coordinators: T. Patrick Johnson, Brendan O'Connor, Jon Eric Schmidt.
Digital Colorists: Gregory Creaser, Jeff Olm.
Film and Color Technician: Baron C. Northrop [Baron Northrop].
Color Timer: Jim Passon.
Production Design: David James.
Art Direction: Scott Wills.
Visual Development Artists: Richard Daskas, Peter Maynez, Brett Nystul, Rachel Tiep-Daniels, J.J. Villard, Michael Yamada.
Visual Development: Kevin Conran.
Storyboard Artists: Alfred Gimeno, Athanassios Vakalis, Anthony Zierhut.
Art Researcher: Caprice Ann Ridgeway.
Sculptor: Damon Bard.
Production Supervisors: Jeff Chasin, Philip M. Cohen, Alison Fedrick Donahue, Robyn Mesher, Matt Pomeroy, Craig Rittenbaum.
Supervising Sound Editors: Erik Aadahl, Ethan Van der Ryn.
Sound Recordists: Courtney Bishop, Blake R. Cornett, Dante Fazio, Chad Roucroft.
Sound Re-Recording Mixers: Anna Behlmer, Cory Mandel, Andy Nelson.
Sound Effects Editors: P.K. Hooker, John Marquis.
Foley Editor: Jonathan Klein.
Foley Artist: Dan O'Connell.
Foley Mixer: James Ashwill.
Supervising ADR Editor: Susan Dudeck.
ADR Editors: Wayne Lemmer, Morten Folmer Nielsen.
ADR Recordist: Morten Folmer Nielsen.
Original Dialogue Mixers: Roy Latham, Michael Miller, Carlos Sotolongo, Larry Winer.
Supervising Technical Director: Michael J. Henderson.
Lead Technical Directors: Matt Johnson, Stephen Krauth.
Character Technical Director Supervisors: Kevin Ochs, Kevin Rodgers.
Character Technical Directors: Terran Boylan, Gilbert Davoud, Daniel Dawson, Christina N. de Juan, Jeffrey "JJ" Jay, Tom Molet, Sven Pohle.
Effects Technical Directors: Michael Brainerd, Kolja Erman, Bert Laonipon.
Head of Character Effects: Nathan Fok.
Character Effects Technical Directors: Matthew Leishman, Amy Taylor, Anthony Tyler.
Character Effects Artists: Joong-ryang Choi, Daniel Khin Lay, Bryan Poon.
Character Effects Artists (DreamWorks): David V. Fedele, Oliver Finkelde.
Lighting Technical Directors: Russell Dumornay, Adam Gaige, Katy Harrison, Lok Ming Hwa, Steve Petterborg, Jon Shih, Ruhi Sinha, Ilia Standish, Matthew Wang.
Surfacing Lead: Andy Harbeck.
Surfacing Technical Director: Bonnie Tai.
Surfacing Artists: Ricky Baba, Jessica Canter, Paolo deGuzman, David Doepp, Robbin Huntingdale, Sully Jacome-Wilkes, Brandi Johnson, Soo Jin King, Travis Price.
Surfacer (Dreamworks Feature Animation): Edwin Fong.
Layout Technical Director: Grant Viklund.
Technical Directors: Robert Armstrong, Dan Golembeski, Josiah Larson, Madhavi Marigold Muppala, Tannaz Sassooni.
Lead Lighters: Gianni Aliotti, Mike Hamler [Michael P. Hamler], Cindy Hong, David C. Lawson, Igor Lodeiro, Gabriel Portnof, Milton E. Rodriguez-Rios, Frank Sabia Jr., Christa Starr, Don Taylor, Joanna Wu.
Lead Lighter (DreamWorks Animation): Jeff Kasunic, Michael Manza.
Lead Lighting and Compositing Artist (DreamWorks Animation): Shaun Collaco.
Lighting and Compositing: Farid Khadiri-Yazami
Sequence Lighter: M. Derbedrossian.
Lighters: William E. Arias, Jorge Bobadilla Jr., Avedis Ekmekjian, Edward Helmers, Kurt Kaminski, Takumi Kimura, Pietro Materossi, Doug Yoshida.
Lighters (DreamWorks Animation SKG ): Caine Dickinson, Robert Holder, John J.S. Lee.
Additional Lighter: Eli Rod.
Lead Lighting Artists: Lisa Kim, Ozgur Ustundag.
Key Lighting Artist: Ronman Yiu Yan Ng.
Lighting Artists: Cathy E. Blanco, Sebastien Chort, D. Wallace Colvard, Christian Cunningham, Mark A. Decker, Lei Han, David Jordan, Kurt Kaminski, Soo Kyung Kim, Michel Kinfoussia, Dan Levy, Amber Stewart Lunderville, Kevin McDonald, Marc Miller, Rupali Parekh, Hannah Sherman, Ka Yaw Tan, Benjamin Venancie, Emily Yi, Alfred Young.
Matte Painting Supervisor: Scott Brisbane.
Matte Painting Technical Directors: Daniel J. Brick, Sameer Shah.
Matte Painting Compositors: Jason Arold, Louis Katz.
Matte Painters: Eric Bouffard, Patrick Jensen, Mark Nonnenmacher.
Paint Fix Artists: Craig Cannon, Chris Doerhoff, Marc Machuca, Mauricio Valderrama.
Crowds Artists: David Bazelon, Erin J. Elliott, James Thornton.
Visual Effects Coordinators: Liska Ostojic, Jon Eric Schmidt.
Visual Effects Supervisor: Ken Bielenberg.
Visual Effects Leads: Dave Tidgwell, Koen Vroeijenstijn.
Visual Effects Artists: Alan Cheney, Andy Hayes, Matt Head, Jaemin Lee.
Visual Effects: Wes Chilton, Andre LeBlanc, Domin Lee, Zeki Melek, William Opdyke, Alex Patanjo, Nikita Pavlov, Scott Singer, Francois Sugny, Osamu Takehiro, Zhang Xiao, Masahito Yoshioka, Can Yuksel.
Modeling Lead: Tony K. Williams.
Modelers: Nadja Bonacina, Angela Ensele Firebaugh, Jaewon Lee.
CG Modeler (PDI DreamWorks): Min-Yu Chang.
Lead Effects Artist: Jason Mayer.
Effects Leads: Christian A. Hatfield [Christian Hatfield], David Lipton, Dagan Potter.
Effects Artist: Curt Stewart.
Senior Effects R&D Engineer: Silviu Borac.
R&D Engineer: Satheesh Subramanian.
Effects Developers: Julie Anne Brame, Scott Cegielski.
Effects Engineers: Mark T. Carlson, Jim Leuper, Abhik Pramanik.
Digital Effects Supervisor: Mahesh Ramasubramanian.
Digital Effects Artists: Louis Flores, Gokhan Kisacikoglu, Erin Lehmkuhl [Erin Lehmkühl], Andrew Pungprakearti, Alan Rosenfeld, David Schoneveld, Scott C. Sells.
Chief Effects Architect: Jonathan Gibbs.
Stereo Effects and Color (Dreamworks Animation): Jeff Olm.
Additional Effects: Devon Penney.
DMR Editor (IMAX Version): Drew Solodzuk.
Assistant DMR Editor (IMAX Version): Wendell Bruno.
Second Assistant DMR Editor (IMAX Version): George Vajna.
Third Assistant DMR Editor (IMAX Version): Kirk Lilwall.
Software Engineer: Gregg Carrier.
Software Engineer (Media Tools Supervisor): Marty Sixkiller.
Software Quality Assurance: Peter C. Miller.
Stereoscopic Software: Paul Newell.
Digital Intermediate Colorist: Gregory Creaser.
Digital Artists: Cassandra Fanning, Quentin Frost, George Ho, Jennifer Leigh King, John McGee, Chris Simmons, Hector Tantoco, Lori Williams.
Digital Paint Artist: Dax Siplin.
CG Supervisors: Mark Fattibene, Susan Hayden, Robert Lurye, Gaku Nakatani, Marc Scott, Aaron Smith.
Head of Production Technology: Darin K. Grant.
Stereoscopic Supervisor: Phil "Captain 3D" McNally.
Media Tools and Post-Production Technology Engineer: Ori Neidich.
Training and Technical Development: Adam Agardy, Adam Hall.
Technical Resource Supervisor: Juli Gumbiner.
Technical Resource Administrators: Jon Leibowitz, Shaun Potts, Paul Replicon, Cathy Sitzes, Casey Sword, Nicholas Bencriscutto (uncredited), Jorge Heredia (uncredited).
Technical Design Director: Victor S. Mercieca.
Technical Lead: Nicholas Long.
Systems Administrators: Rain Angeles, Scott Kilty, John O'Sullivan.
Engineering Systems Administrators: Rich Marco, Stephen E. Ross.
Director of Research and Development: Andrew Pearce.
Research and Development: Steve Baker, Will Bilton, Bryan Cline, Reid Gershbein, Joshua F. Richards, Donald Schmidt, Satheesh Subramanian, Michael Svihura, Mackenzie Thompson.
Hardware Engineers: Alain Banas, Mauricio Brenes, Michael Coronado, Jason Lloyd, Ernesto Quiroz.
Technology Coordinator: Joe Bauman.
Technology Production Manager: Sarah Counnas.
Chief Technology Officer: Ed Leonard.
Office Manager (Technology): Harbor Peoples.
Media Coordinators: Allison Bernardi, Jon Young.
Production Assistants: Matthew C. Campbell, Zachary Gold, Alex J. Levine, Jacquelyn "Jac" Piette, Drew Puchalski.
Post-Production Assistant: Natalia Cronembold.
Post-Production Executive Assistant: Gustav Lindquist.
Post-Production Office Supervisor: Wayne Hellinger.
Manager of Systems Operations: Brian Chacon.
Title Designers (End Titles): Ariandy Chandra, David James.
Network Engineer: Sean Ellis.
Production Coordinators: Jason Evaristo, G. Mark Fitzgerald, Clint W. Heidorn, Stephanie Huber, David Isetta, T. Patrick Johnson, Andrea Montana Knoll, Kelly Matthews, Derek McClurg, Eric Michael Miller, Shane Mulholland, Brendan O'Connor, Ryan Genji Thomas, Kara Ulseth.
Production Coordinator (Hans Zimmer): Andrew Zack.
Production Engineers: Holly Allen, Kwesi Davis, Jayson DeLancey, Mark Jackels, Jesse Montrose, Michael J. Pan, Drew Perttula, Selim Tuvi, Brent Villalobos, Laura Wood.
Stereo Coordinator: John T. Grod.
Unit Publicist: David Hail.
System Architect: Sean Kamath.
Infrastructure Engineer: Jason Kankiewicz.
Legal Clearance Coordinator: Ashley Kravitz.
Alliance Manager: Hans Ku.
Head of Production Development: Jim Mainard.
Editorial Systems Engineer: Paul Parmer.
Global Development: Devon Penney.
Engineering System Administrators: Daniel Rich, Richard Williamson.
Script Supervisor: Christian Roedel.
Administrative Assistants: Mandy Sechrist, Morgan J. Steele.
Manager of Digital Resource: Mark M. Tokunaga.
International Adaptation Manager: Charley Walters.
Special Thanks: John Bruno.
Thanks: Debbie L. O'Keeffe.
Submit Additional Information:
Do you have anything to add to this page? Have we made any mistakes... or do you have any additional information about Monsters vs. Aliens? If so, we would love to hear from you. Please send us a quick note with your additions or corrections to this page, and we will make the corrections as soon as possible!
Report Errors / Submit Additional Information
Cartoon Summary:
When California girl Susan Murphy is unwittingly clobbered by a meteor full of outer space gunk on her wedding day, she mysteriously grows to 49 feet, 11 inches tall. The military jumps into action, and Susan is captured and secreted away to a covert government... (more)