Previous Cartoon | Next Cartoon
Dinosaur
Dinosaur
Dinosaur (2000) Feature Length Theatrical Animated Film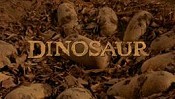 by Dave Koch
---
Post your Comments or Review
This page has been viewed 589 times this month, and 7236 times total.
Unknown Tag: 'short_stud_crew'
Unknown Tag: 'short_voice_crew'
Unknown Tag: 'short_dir_crew'
Unknown Tag: 'short_prod_crew'
Unknown Tag: 'short_write_crew'
Unknown Tag: 'short_edit_crew'
Unknown Tag: 'short_music_crew'
2000
Walt Disney Studios
Buena Vista Pictures Distribution
Feature Length Theatrical Animated Film
Vocal Talent: D.B. Sweeney (Aladar), Alfre Woodard (Plio), Ossie Davis (Yar), Max Casella (Zini), Hayden Panettiere (Suri), Samuel E. Wright (Kron), Julianna Margulies (Neera), Peter Siragusa (Bruton), Joan Plowright (Baylene), Della Reese (Eema), Linda Harmon (Singer [uncredited]), Jeff Wolverton (Scratch Voice [Kron] [uncredited]), Matt Adler, Sandina Bailo-Lape, Edie Lehmann Boddicker, Zachary Bostrom, Catherine Cavadini, Holly Dorff, Greg Finley, Jeff Fischer, Barbara Iley, David Allen Kramer, Susan Stevens Logan, David McCharen, Tracy Metro, Daran Norris, Bobbi Page, Noreen Reardon, Chelsea Russo, Evan Sabara, Aaron Spann, Melanie Spore, Andrea Taylor, John Walcutt, Camille Winbush, Billy West.
Directed By Eric Leighton, Ralph Zondag.
First Assistant Directors: Gerard Dinardi, Sam Hill, Tom Milo, Don Poquette.
Second Assistant Director: Kaelee Brown.
Animated By Bobby Beck, Darrin Butts, Owen Klatte, Greg Maguire, Lisa Mullins, Christopher Oakley.
Supervising Character Animators: Mark Anthony Austin, Mike Belzer, Eamonn Butler, Bill Fletcher, Gregory William Griffith, Tom Roth, Atsushi Sato, Trey Thomas, Larry White.
Character Animators: Jay N. Davis, Brian Wesley Green.
Written By John Harrison, Robert Nelson Jacobs.
Story: Thom Enriquez, John Harrison, Robert Nelson Jacobs, Ralph Zondag.
Additional Written Material: Shirley Pierce.
Additional Story Material : Rhett Reese.
Music By James Newton Howard.
Edited By H. Lee Peterson.
Assistant Editors: Robert Brakey, Anna Solorio-Catalano, Don Thompson.
Associate Editor: Mark A. Hester.
Cinematography: David R. Hardberger, S. Douglas Smith.
Camera Operator: Dwayne McClintock.
Camera Loader: Peter Vander Pluym.
Camera Operator, Exotic Unit: Timothy Housel.
Camera Operator, Stage Unit: Kenneth H. Wiatrak.
Casting: Mary Hidalgo, Ruth Lambert.
Production Design: Walter P. Martishius.
Art Director: Cristy Maltese.
Production Managers: Tamara Boutcher, Gerard Dinardi, Carolyn Soper.
Production Manager: Vision Crew Unlimited: Wendy Mashburn.
Assistant Production Manager: Brian Behling, Kim Boyle, Stephen R. Craig, Jeff Deckman, Liane Abel Dietz, Stacey Ernst-Campbell, Patrick Golier, Larry Heidel, Fred Hermann, Barbara T. Labounta, Kristina Long, Tony Matthews, Heather Moriarty Hobbs, Stephen J. Shea, Timothy Jason Smith, Jason I. Strahs, Seth C. Walsh, Suzi Watson-Jaeger, Fred Weinberg.
Sequence Artist: Fred Lucky.
Story Artists: Dick Zondag, Darryl Kidder, Roy Meurin, Frank Nissen, Ray Shenusay.
Story Director: Thom Enriquez.
Storyboard Artist: Pete Von Sholly.
Texture Painter: Darren Bedwell.
Special Effects Coordinator: Al Broussard.
Special Effects Technician: Thomas Rasada.
Special Effects, Dive Tank: Kenneth Vanorder.
Survey Engineer: Kirk Scott.
Technical Director, Character: Michael Kuehn.
Assistant Scene Setup Administrator: Jessica Dara Westbrook.
Associate Visual Effects Editor: Eric Whitfield.
CG Lighting, Digital Compositing And Effects Animation: Wally Schaab.
CGI Lead Character Modeler: Bruce D. Buckley.
CGI Lighting: Juniko Moody, Jim Aupperle.
Compositing Developer: Eric Larsen.
Compositor, Artics And Paint Department: Lucy Taylor.
Computer Graphics Technical Director: Sergi Sagas.
Digital 2D Paint And Rotoscoping Supervisor: Sandy Houston.
Digital Animators: Don Waller, Kent Burton.
Digital Artists: Floyd Casey, Christine Cram, Doug Cram, Michael Ramirez.
Digital Background Painter And Visual Design: Allen Gonzales.
Digital Compositors: Katie Tucker, Winston Quitasol.
Digital Effects Supervisor: Neil Eskuri.
Digital Image Planners: Gregg Lukomski, Kama Moiha.
Digital Image Planning Supervisor, Disney Feature Animation: Kevin Willmering.
Digital Systems Designers: Steven L. Groom, Mark Kimball, Brad Lowman, Skottie Miller, Neil Okamoto.
Digital Systems Designers, Network: Sandy Sunseri, Doug White.
Effects Compositing Supervisor: Jim Hillin.
Effects Technical Director: Chris Hummel.
Exotic Second Unit Coordinator: Mark G. Soper.
Miniatures Designer, Vision Crew: Douglas Miller.
Miniatures Effects Rigger, Vision Crew: Jon Warren.
Miniatures Producer, Vision Crew: Evan Jacobs.
Model Shop Supervisor: Michael Joyce.
Motion Control Camera Operator: Chris Dawson.
Scene Setup: Kenneth Gimpelson.
Software & Character Finaling: Stewart Dickson.
Supervising Animator, Neera: Joel Fletcher.
Supervising Effects Animator: Patrick Roberts.
Animator: Peter Lepeniotis.
Systems Developer: Dale Drummond.
Technical Directors: Christian Cunningham, Zsolt Krajcsik, Michael Levine, Dave Remba, David Tesch.
Technical Director, Lighting, Compositing And Effects: D. Wallace Colvard.
Herd Technical Directors: Glen Claybrook, Peter Megow.
Character Motion Technical Director: James Polk.
Visual Effects: John Joyce.
Visual Effects, Technical Director: Kenji Sweeney.
Visual Effects Engineer: Dwayne McClintock.
Visual Effects Gaffer: Dennis Mchugh.
Visual Effects Miniature Pyrotechnics: J. D. Streett.
Visual Effects Supervisor: Neil Krepela.
Visual Effects Editor: Thomas R. Bryant.
Animation Associate: Eric Algren.
Assistant Animator, 3-D Workbook: Sean Mathiesen.
Craft Service: Rhonda Wheelan.
Film Loader: Michelle Zajic.
Grip: Matthew G. Gordy.
Key Assistant Animator: Yancy Calzada.
Location Manager: Dow Griffith.
Manager, Media Group: Thomas Moore Jr..
Motion Technical Director: Craig Caton.
Conductor: Pete Anthony.
Orchestrators: James Newton Howard, Jeff Atmajian, Brad Dechter.
Sound Designer: Christopher Boyes.
Supervising Sound Editor: Frank E. Eulner.
Sound Design Assistant: Beau Borders.
Foley Editor: Joanna Laurent.
Supervising Music Editor: Jim Weidman.
Music Editor: Jennifer Nash.
Score Mixer: Shawn Murphy.
Sound Effects Editor: Ethan Van Der Ryn.
Sound Re-Recording Mixers: Terry Porter, Dean A. Zupancic.
Production Coordinator: Bonnie Foley.
Assistant Production Coordinator: Peter Dress.
Production Coordinator, Live Action Unit: Lisa Greenspan.
Assistant Production Coordinators, Live Action Unit: Lori Korngiebel, Brett Boydstun.
Assistant Production Office Coordinator: Jennifer Blair.
Render I/O Technical Lead: Mark M. Tokunaga.
Render I/O: James Colby Bette, Toby Gallo, Alan A. Patel, Andrew R. Ramos, Bradley L. Smith, Lorenzo Russell Bambino, Delleon Weins.
Senior Production Coordinator: Christopher A. Debiec.
Software Development: Michael S. Blum.
Staff Assistant: Emmanuelle-Claude Heroux.
Staff Assistant, Live Action Unit: Brian Read.
Systems Administrators: Steve Carpenter, Marc Fleury, Jason Hilkey, Bill James, Ken Sandberg.
Systems Developers: Ben Croy, David Patrick Flynn, Thomas Greer, Susanna Leng, Kevin P. Nolte, Geoff W. Thomas.
Systems Developers, Network Administration: Marc Jordan, James MacBurney.
Technical Director, Animation: Eric Gervais-Despres.
Technical Supporter: Lyly Do, Amindra Jayasinghe, Elizabeth Meyer, Jim Meyer, Matthew F. Schnittker.
Technical Supporter, Hardware: Bobby L. Fowler Jr., Marc Francouer, Chris Johnson.
Technical Supporter, Hardware Lead: Scott Garrett.
Application Software Developers: Mark Wilkins, Michael R. King.
Technology Crew: Norbert Faerstain, Paul Hildebrandt, Danny Jewell, Hans Ku, John Michael Larkin, Kevin A. McGuire, Michael Zarembski.
Administrative Manager: Tanja Knoblich.
Administrative Assistants: Karen Faust, Melissa McVicker Freeman, Pauli Moss, Robert James Mostacci, Dana L. Southerland.
Assistant To Producer: Saja Kristine Sokol.
Assistant To Co-Producer: Dina Hardy.
Production Accountant: Susan Royal.
Assistant Accountant: Kevin Bowe.
Production Assistants: Eric Alvarez, H. Leah Amir, Jennifer Blechschmid, Iyan Michael Bruce, Jennifer Cho, Audrey Ellen Clark, Dwayne Colbert, Jason Cosler, Dawnie Desantis, Kimberly Gordon, Bryce Hall, Nicole P. Hearon, Heather Elisa Hill, John R. Hughes, Jeannine Jones, Kevin Kennard, L. Rhiannon Leffanta, Cindy Leggett-Ford, Dara McGarry, Mary Jo Miller, Patrick G. Ramos, Marion Kay Shoaff, Todd Stringfield, John Trosko, Tracy Watada, Lisa Marie Webster, Heather Wolfe.
Animation Production Assistant: Jeremy Kendall.
Submit Additional Information:
Do you have anything to add to this page? Have we made any mistakes... or do you have any additional information about Dinosaur? If so, we would love to hear from you. Please send us a quick note with your additions or corrections to this page, and we will make the corrections as soon as possible!
Report Errors / Submit Additional Information
Cartoon Summary:
A family of Lemurs rescues an orphaned iguanadon and name the hatchling Aladar. Years later, when a meteor collides with Earth (destroying Lemur Island), Aladar and his adopted family must begin a journey of courage, survival and hope with a herd of dinosaurs on... (more)