Previous Cartoon | Next Cartoon
Joseph: King Of Dreams
Joseph: King Of Dreams
Joseph: King Of Dreams (2000) Feature Length Direct-To-Video Animated Film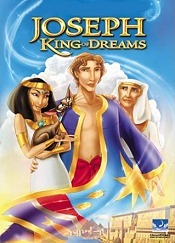 ---
Post your Comments or Review
This page has been viewed 19 times this month, and 3824 times total.
Unknown Tag: 'short_stud_crew'
Unknown Tag: 'short_voice_crew'
Unknown Tag: 'short_dir_crew'
Unknown Tag: 'short_prod_crew'
Unknown Tag: 'short_write_crew'
Unknown Tag: 'short_edit_crew'
Unknown Tag: 'short_music_crew'
2000
DreamWorks Home Entertainment, Universal Home Video
DreamWorks Pictures
Feature Length Direct-To-Video Animated Film
Cartoon Characters: Joseph, Judah, Jacob, Rachel, Asenath, Zuleika, Potiphar, Pharaoh, Simeon, Slave Trader, Auctioneer, Horse Trader, Butler, Baker, Reuben, Levi, Issachar, Lead Trader, Benjamin, Zuleika's Servant.
Vocal Talent: Ben Affleck (Joseph), Mark Hamill (Judah), Richard Herd (Jacob), Maureen McGovern (Rachel), Jodi Benson (Asenath), Judith Light (Zuleika), James Eckhouse (Potiphar), Richard McGonagle (Pharaoh), David Campbell (Joseph [Singing Voice]), Steven Weber (Simeon, Slave Trader), Dan Castellaneta (Auctioneer, Horse Trader), Rene Auberjonois (Butler), Ken Hudson Campbell (as Ken Campbell) (Baker), Tom Virtue (Reuben), Jeff Bennett (Levi), Jess Harnell (Issachar, Lead Trader), Matt Levin (Benjamin), Piera Coppola (Zuleika's Servant [uncredited]).
Directed By Rob LaDuca, Robert C. Ramirez (as Robert Ramirez).
Studio Director (Spaff Animation): Dave Spafford.
Produced By Ken Tsumura.
Executive Producers: Penney Finkelman Cox, Steve Hickner, Jeffrey Katzenberg.
Associate Producers: Traci Tolman Mars (as Traci M. Mars), Mitch Watson.
Associate Producer (Bardel Animation): Cathy Schoch.
Line Producer (Red Rover Studios): Randi Yaffa.
Line Producer (Bardel Animation): Michael Algar.
Studio Producer (Heart of Texas Productions): R. Don Smith (uncredited).
Studio Producer (Spaff Animation): Debbie Spafford.
Animated By Monica Alfreds, Line Korsgaard Andersen, Jacob Biberdorf, Sean Branigan, Younsik Choi, Samuel Chou, Deborah Copeland, Dennis Crawford, Paul Dedi, Dennis de Koning, Cory Evans, Ignacio Ferreras (as Ignacio Ferreras De Zumarrga), Juan Francisco González (as Juan F.G. Sanchez), Joanna Hayden, Tom Heimann, Gabe Hordos, Rasmus Jensen, Charlie Lee, Justin Lee, Young-Mee Lee (as Young-Mee Cecilia Lee), Mario Macarayan, Dave Mah, Paul McKeown, Jacob Medjuck (as Jacob J. Medjuck), Stephen Pearce, Stephen Perry, Mariusz Popieluch, Morten Riisberg Hansen, Craig Roberts, Ishi Rudell, Erich Salloch, Bill Schwarz (as William C. Schwarz), Kevin Spruce, Paul Stone, Jocelyn Sy, Andy Tougas, Donald Walker, Simon Ward-Horner, Shane Welbourn.
Animators (Character Builders): Tod Carter, Todd Cronin, Brian Fee, Hugo Giraud, Daryl Pyle, Tom Riggin, Dan Root, Dan Scanlon, Brad Sherman.
Animators (Dynomight Cartoons): Al Jeffery, Eloise Lennox (as Holly Lennox), Dev Ramsaran, Tony Salvati, Tavis Silbernagel.
Animators (DreamWorks Animation): Catherine Feraday, Antony Gray, Steve Horrocks, Brad Kuha, Philippe Le Brun, Fabio Lignini, Teresa Martin, Robert Milne, Ken Morrissey, Gary Perkovac, Erik Chr. Schmidt (as Erik Schmidt), Bob Scott, Andrea Simonti, Athanassios Vakalis (as Nassos Vakalis).
Animators (Red Rover Studios): Adam Beck, Josée Bellemare, Ian Blum, Scott Collie, Greg Court, Morgan Ginsberg, Hong Kim, Rouja Koleva, Wonpil Lee, Greg Manwaring, John Morgan, Panayot Panayotov, Jens Pindal, Andy Powell, Jeffrey Size (as Jeff Sizes).
Key Assistant Animator: Steve Smith.
Animation Director: Luc Chamberland.
Animation Director (Dynomight Cartoons): Shivan Ramsaran.
Animation Director (Red Rover Studios): Andrew Knight (as Andy Knight).
Animation Coordinator: Rob Costigan.
Animation Supervisor (Red Rover Studios): Keith Oliver.
Final Line Supervisor: J.C. Little.
Final Line Supervisor (Bardel Richards Street): Scott Kiborn.
Final Line Supervisor (Canuck Creations): Rowena Cruz.
Final Line Supervisor (Fil-Cartoons): Butch Orosa.
Final Line Supervisor (Red Rover Studios): Royston Robinson.
Final Line Animators (Bardel Richards Street): Chito Ang, Dowson Ha, Gord Heath, Edith Isidro, Youngsik Kong, Byron Leboe, Marilyn Mahilum, Paul McLennan, Gilbert Ngo, Richard Panholzer, Martina Rossmann, Sheila Smart, Ellery Van Dooyeweert (as Ellery Vandooyeweert), Angela Wong, Lawrence Wong, Ping Zhang.
Final Line Animators (Canuck Creations): Elsie Chen, Suzanne Chen, Ulysses Esguerra, Lui Francisco, Alejandro Gutierrez, Ella Malesevic, Alon Margold, Wilfred Marual, Greg McCann, Domingo Nasayao (as Domingo Nasayao Jr.), Patrick Palanca, Lin Qui, Cilbur Rocha.
Final Line Animators (Fil-Cartoons): Gavin Olarte, Joel Pangilinan, Jerry Sarmiento.
Final Line Animators (Heart of Texas Productions): Deborah Abbott, Doug Beck, Eddy Carrasco, Frank Gabriel.
Final Line Animators (Red Rover Studios): Yeon-Tae Choi, Scott Collie, Gina Ferreira, Mike Helmer, Myung Hee Heo, Paul Mota, Mike Tymochko.
Inbetween Artists: Dan Abraham, Arlyn Bantog, Linda Best, Felix Betschart, Gina Bowick, Lisa Bozzetto, Meagan Browne, Izabela Byzmek, Mario Carmel, Vanig Davidson, Todd Demong, Nathalie Dignard, Des Forde, Marisol Gagnon, Jason Godding, Jennifer Gustavsen (as Jenifer Gustavsen), Eun Sook Han, Brian Hayes, Felix Joyce, Ian Judson, Byung-do Kang, Veronique Langdon, Marianne Lebel, Mee Kyung Lee, Sungmoon Lee, Conille Macarayan, John Marinakis, Shane McCormack, Catherine McNeil, Joel Miere, Sophia Lee Moon, Kathy Moyou, Lorraine O'Connell, Othmar Putzer, Monica Rho, Kim Stubbs-Law.
Inbetween Checker (Fil-Cartoons): Norly Meimban.
Character Designers: Carter Goodrich, Nina Haley, Cathy Jones.
Additional Character Designers: Pascal Alixe, Marc Bascougnano.
Lead Key Clean-Up Animators: Phil Anderson, Antonio Fialho de Sousa, Fiona Gomez, Elio Lischetti, Peter Mays, Karen Narramore, Mathew Taylor (as Mat Taylor).
Background Supervisor: Nizou Yamamoto (as Nizo Yamamoto).
Background Supervisor (Dynomight Cartoons): Philip Craig.
Background Designer: Paul Duncan.
Background Artists: Kazuhiro Hattori, Shu Honda (as Siiu Honda), Hiroshi Kato (as Hiroshi Katoh), Tadao Kubota, Tatsuya Kushida, Toshiharu Mizutani, Atsushi Morikawa, Mitsuki Nakamura, Kazuo Oga, Morihito Ohara (as Morihiro Ouhara), Jun Okabe, Seiki Tamura, Junichi Taniguchi (as Junich Taniguchi), Noboru Tatsuike, Hiroshi Washizaki.
Background Artists (DreamWorks Animation): Desmond Downes, Wade Huntsman.
Background Artists (Dynomight Cartoons): Martin Butler (as Marty Butler), Stephen Cheyne, Peter Cunningham, Wotjek Kulikowski, Jay Li, Collin MacGill, Taira Priaulx, Pei Yang.
Layout Supervisor: Tapani Knuutila.
Assistant Layout Supervisor: Ryan Heshka.
Layout Designer: Dan McHugh.
Layout Artists: Mario Cabrera, Oliver Domenchini, Warren Flanagan, Larry Hall, Bob Herd, George Juhasz, Bernard Lizon, Steve C. Meyers (as Steve Meyers), Tri Nguyen.
Animation Checkers: Tess Carbrera, Pete McMaster, Andy Pye.
Color Modeler: Marianne Cheng.
Sheet Timer: Don Judge.
Edited By Michael Andrews, Greg Snyder, John Venzon.
First Assistant Editor: Michelle Mendenhall.
Assistant Editor: Cynthia Ludwig.
Additional Editors: Don Briggs, Greg Snyder, John Venzon.
Color Corrector: Joe Finley.
Scanners: Ryan Klaschinsky, Jackie Vo.
Casting: Leslee Feldman, Sara Getzkin.
ADR Voice Casting: Sandy Holt.
Art Direction: Chris Aguirre, Fred Warter.
Storyboard Artists: Francisco Avalos, Becky Cassady (Rebecca Cassady), Emanuela Cozzi, Leon Joosen, Athanassios Vakalis (as Nassos Vakalis).
Additional Storyboard Artists: Bryan Andrews, Patrick Archibald, Denys Cowan, Matt Sullivan (as Matthew Sullivan), Kuni Tomita.
Workbook Designers: Norman Cabral, Marc Christenson, Michael Isaak, Ben Metcalf, Kyushik Shin.
Workbook Artist: Brendan Houghton.
Digital Painting: Virtualmagic Animation Inc.
Production Supervisor: Brian Behling.
Supervising Sound Editor: Paul Timothy Carden.
First Assistant Sound Editor: Thomas O'Neil Younkman.
Sound Recordist: Eric Flickinger.
Sound Re-Recording Mixers: Patrick Cyccone Jr., Michael Keller.
Sound Designer: Peter J. Lehman.
Digital Sound Assistants: Paul Flinchbaugh, Lee W. Lebaigue (as Lee LeBaigue).
ADR Recordist: Brian Basham.
ADR Mixer : Ron Bedrosian.
ADR Assistant: Tony Negrete (as Tony R. Negrete).
Foley Editor: Nancy MacLeod.
Foley Artists: James Moriana (as James M. Moriana), Jeffrey Wilhoit (as Jeffrey B. Wilhoit).
Foley Recordist: Greg Zimmerman.
Foley Mixer: Nerses Gezalyan.
Original Dialogue Mixer: Carlos Sotolongo.
Post-Production Sound: Soundelux.
Effects Supervisor: Steven Burch.
Senior Effects Animators: James M. Clow (as James Clow), Marc Ellis, David Pritchard.
Effects Animators: Ulysses Esguerra, Gary Lambeth, Mike Luney, Trevor Murphy, David Ian Philp.
Effects Animators (Big Fish Animation): Todd Cronin, Andy Friz, Daryl Pyle, Brad Sherman, Charles Warren (as Charlie Warren).
Effects Animators (Blue Sunflower Animation): Paulina Cassamitis, Chris Clarke (as Christopher Clarke), Helen Ingham, Sean Leaning, Tim Sagar, Tim Walton.
Effects Animators (Canuck Creations): Khai Nguyen, Angi Palanca.
Effects Animators (Giant Productions): Marc Arnull (as Marcus Arnull), Graham Bebbington, Debbie Dryland (as Deborah Dryland), Barry Goff, Ron McRay, Joe Mulligan, Antonio Palermo (as Tony Palermo), Mike Smith, Paul Smith, David Tuffnell (as Dave Tuffnell), Nicolette van Gendt, Martin Wansborough, Lorraine Ward.
Effects Animator (Heart of Texas Productions): R. Don Smith.
Effects Animators (Hits for Less): Miae Ausbrooks, John Bermudes, Adam Blaser, Gregory Navarro Bumatay, Carl Canga (as Carl A. Canga), Felipe Cerdán, John Dillon, Jane Doyle, Ricardo Echevarria, Eduardo G. Gomez, Terence R. Kester, Rodd Miller, Kevin M. O'Neil (as Kevin O'Neil), Robert T. Pope Jr., Jane Smethurst, Jeffrey Lawrence Van Tuyl (as Jeffrey L. Van Tuyl).
Effects Animators (Ray Pang Effects): Ron Chevarie, Raymond Pang.
Effects Animators (Spaff Animation): Harry Moreau, Nate Pacheco.
Effects Animators (Tama Productions): Fumio Kôda (as Fumio Kouta), Shinnosuke Kusama, Yoko Ono, Anthony Pohl, Asuka Tsubaki (as Asuka Tsubuki), Mikie Yagihara, Sugako Yamazaki.
Effects Assistant Animators: Ryan Bianco, Gavin Cavanaugh, Brent McNeil, Jason Poulis, Seigo Tanaka.
Senior Effects Assistant: Chad Van De Keere.
Effects Assistants: Tony Acworth, Janice Blaine, Jeremy Blumel, Sean Branigan, Jason Campbell, Nancy Chivers, Mike Gauss, David Gill, Luke Gustafson, David Ibarreta, Kiyoshi Kohatsu, David Lee, Steve Lemky, Charlie McKenna (as Charles McKenna), Logan McNeil, Rose Robertson, Mike Sargent, Gilbert Serrano, Joseph Strub, Paula Swanson, Mark Symmers, John Wong, Marie Wyatt.
Effects Assistants (Blue Sunflower Animation): Sally Burden, Linda Cross, Kate Fortune Jones, Ed Foster, Joanna Migodzinska (as Jo Migodzinska), David Parle, Abby Wilkinson.
Effects Assistants (Giant Productions): Christine Anders, Simon Bancroft, Sky Bone (as Sky Bones), Lloyd Ellis, Nick Large, Kamye Miessen, Jem Mirza, James Pyott, Sunny Ye.
Effects Assistant (Ray Pang Effects): Ed Krahn.
3D Animators (DKP Effects): Paul Dobson, Kyran Kelly, Yi Zhao.
Digital Compositors: Andy Jolliff, Dave Scarpitti.
Additional Digital Artists (DKP Effects): Craig Barr, Mike Chaffe, Ron Crown, Juliette Mourez, Caesar Niculescu (as Cezar Niculescu), Chad Nixon.
Effects Inbetween Artists (Tama Productions): Kaori Ito, Hiroko Yamamoto, Kuniko Yano .... effects inbetween artist: Tama Productions.
Visual Effects Designer: Bob Simmons.
Visual Effects: Rob Meyers.
Special Effects: Blue Sunflower Animation, DKP Effects, Mercury Filmworks, Ray Pang Effects.
Production Assistants: Jonathan Dabuyan, France Daigle, Brian Damitz, Omar Davocal, Rodger Grodan, Diane Ikemiyashiro, John Laakso, Kenny Ma, Andrew Morrow, Sean Michael Murphy, Dallas Parker, Erik Pope, Kristen Rasmussen, Megan Sleightholme, Jayson Thiessen, Mike Thorpe, Dale Yeryk.
Production Assistant (Character Builders): Nicole Ankowski.
Ink Supervisor: Charlotte S. Barlis.
Senior Technical Director: Lajos Kamocsay.
Lead Technical Directors: Kurt Reinholtz, Kate Roach.
Technical Directors: Andy Jolliff, Kelsey Kirvan.
Assistant Technical Directors: Tania Dokter, Damien Labonte.
Hardware Engineer: Anthony Domingo.
Production Supporter: Anthony Domingo.
Sequence Director (Character Builders): Martin Fuller.
Layout Coordinators: Krista Hallam, Kevin Pavlovic.
U.S. Accountant: Maureen Higgins.
Production Accountant: Sherna Udwadia.
Assistant Production Accountant: Danielle Lindholm.
Scene Planning Coordinator: Lorne Jee.
Scene Planning Supervisor: Ken Mimura.
Scene Planner: Dominic Tremblay.
Senior Production Coordinator: Anna Lord.
Production Coordinator: Maria Welch.
Production Coordinator (Story): Tiffany Powell.
Story Coordinator: Deanne Koehn.
Voice Director: Paul Lazarus.
Assistant to Directors: Camille Leganza.
Thanks: David L. Simon.
Loop Group: LoopEase.
Digital Film Mastering: Post Logic Studios.
Submit Additional Information:
Do you have anything to add to this page? Have we made any mistakes... or do you have any additional information about Joseph: King Of Dreams? If so, we would love to hear from you. Please send us a quick note with your additions or corrections to this page, and we will make the corrections as soon as possible!
Report Errors / Submit Additional Information
Cartoon Summary:
Based on a classic tale known the world over, Joseph: King Of Dreams is a stirring story of family and forgiveness. An inspiring musical adventure, Joseph: King Of Dreams retells the fascinating story of a boy whose extraordinary gift of seeing the future in his... (more)