Previous Cartoon | Next Cartoon
Tim Burton's Corpse Bride
Tim Burton's Corpse Bride
Alternate Title: The Corpse Bride
Tim Burton's Corpse Bride (The Corpse Bride) (2005) Feature Length Theatrical Animated Film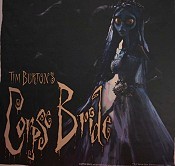 ---
Post your Comments or Review
This page has been viewed 1938 times this month, and 7045 times total.
Unknown Tag: 'short_stud_crew'
Unknown Tag: 'short_voice_crew'
Unknown Tag: 'short_dir_crew'
Unknown Tag: 'short_prod_crew'
Unknown Tag: 'short_write_crew'
Unknown Tag: 'short_edit_crew'
Unknown Tag: 'short_music_crew'
2005
Warner Bros. Pictures, Tim Burton Productions, Laika Entertainment, Patalex Productions, Will Vinton Studios
Warner Bros.
Feature Length Theatrical Animated Film
Cartoon Characters: Victor Van Dort, Corpse Bride, Victoria Everglot, Maudeline Everglot, Finnis Everglot, Nell Van Dort, William Van Dort, Hildegarde, Mayhew, Paul, Barkis Bittern, Paster Galswells, Elder Gutknecht, Black Widow Spider, Mrs. Plum.
Vocal Talent: Johnny Depp (Victor Van Dort), Helena Bonham Carter (Corpse Bride), Emily Watson (Victoria Everglot), Tracy Ullman (Nell Van Dort, Hildegarde), Paul Whitehouse (William Van Dort, Mayhew, Paul), Joanna Lumley (Maudeline Everglot), Albert Finney (Finnis Everglot), Richard E. Grant (Barkis Bittern), Christopher Lee (Paster Galswells), Michael Gough (Elder Gutknecht), Jane Horrocks (Black Widow Spider, Mrs. Plum).
Animated By Tim Allen, Stefano Cassini, Mike Cottee, Phil Dale, Brian Demoskoff, Anthony Elworthy, Anthony Farquhar-Smith, Tobias Fouracre, Jens Jonathan Gulliksen, Malcolm Lamont, Drew Lightfoot, Matt Palmer, Brad Schiff, Jason Stalman, Chris Stenner, Trey Thomas, Chris Tichborne, Chris Tootell, Mark Waring, Tim Watts, Charlotte Worsaae, Brian Leif Hansen, Joanne Chalkley, Peter Dodd.
Music By Danny Elfman.
Edited By Jonathan Lucas, Chris Lebenzon.
Director of Photography: Peter Kozachik.
Production Designer: Alex McDowell.
Original Characters Created By: Tim Burton, Carlos Grangel.
Casting: Michelle Guish.
Casting Associate: Gaby Kester.
Casting Consultant: Ruth Lambert.
Production Design: Alex McDowell.
Art Direction: Nelson Lowry.
Production Manager: Harry Linden.
Post-Production Supervisor: Jessie Thiele.
First Assistant Director: Ezra J. Sumner.
Second Assistant Director: Mike Colley.
Third Assistant Director: Joe Barlow.
Head Of Story: Jeffrey Lynch.
Art DepartmentConceptual Design: Chris Baker.
Graphic Designer: Paul McBride.
Visual Development Artists: Luc Desmarchelier, Sean Mathiesen, Simón Valdimir Varela.
Art Department Supervisor: Roddy Macdonald.
Art Staff Assistants: Katy Moore-Kozachik, Conor O'Gorman, Sam Page.
Art Department Researcher: Priscilla Elliott.
Draughtsman: Poppy Luard, Hannah Moseley.
Illustrators: Chris Baker, Neil Ross.
Lead Painters: Katy Clarke, Francesca Berlingieri Maxwell, Stephen Bettles, Penny Howarth, Barry Jones, Thecla Mallinson, Terry Whitehouse.
Painters: Danielle Mullins, Tony Travis, Laura Treen.
Set Construction Production Manager: Jon Minchin.
Storyboard Artists: Chris Butler, Dean Roberts, Sharon Smith, David Stoten, Tim Watts, Patrick Collins.
Storyboard Staff Assistant: Emily Mantell.
Additional Storyboard Artists: Mike Cachuela, Brendan Houghton, Matt Jones, Kaz, Alberto Mielgo, Andreas Von Andrian, Alex Hillkurtz.
Character Designers: Jordi Grangel, Huy Vu, Carles Burgès.
Character Colorist: Annie Elvin.
Animators: Tim Allen, Stefano Cassini, Mike Cottee, Phil Dale, Brian Demoskoff, Anthony Elworthy, Anthony Farquhar-Smith, Tobias Fouracre, Jens Jonathan Gulliksen, Malcolm Lamont, Drew Lightfoot, Matt Palmer, Brad Schiff, Jason Stalman, Chris Stenner, Trey Thomas, Chris Tichborne, Chris Tootell, Mark Waring, Tim Watts, Charlotte Worsaae, Brian Leif Hansen, Joanne Chalkley, Peter Dodd.
2-D Animators: Michael Schlingmann, Joris van Hulzen.
Animation Supervisor: Anthony Scott.
Animation Coordinator: Portia Wilson.
Animation Staff Assistants: Caroline Hamann, Oliver Smyth.
Armatures: Merrick Cheney.
Project Supervisor, Mackinnon And Saunders: Kat Alioshin.
Puppet Fabrication Supervisor: Graham Maiden.
Lead Mould Maker, Mackinnon And Saunders: Bridget Smith.
Lead Painter, Mackinnon And Saunders: Nick Roberson.
Lead Sculptor, Mackinnon And Saunders: Noel Baker.
Armature Lead, Mackinnon And Saunders: Georgina Hayns.
Costumes Lead, Mackinnon And Saunders: Michelle Scattergood.
Fabrication Lead, Mackinnon And Saunders: Christine Keogh.
Foam Lead, Mackinnon And Saunders: Bethan Jones.
Puppets, Mackinnon And Saunders: Ian Mackinnon, Peter Saunders.
Silicone Lead, Mackinnon And Saunders: Mark Thompson.
Puppet Coordinator: Libby Watson.
Puppet Modeller: Emily Austen, Fiona Barty, Colin Batty, Richard Blakey, Chris Booth, Fiona Bunting, Carrie Clarke, Deborah Cook, Nigel Cornford, Ruth Curtis, Mark Evans, Georgie Everard, Anthony Fallows, Angela Frankham, Michele Gelormini, Ben Greenwood, Jonathan Grimshaw, Maggie Haden, Anne Hall, Graeme Hall, Joe Holman, Rebecca Hunt, Clare Jones, Janet Knechtel, Thalia Lane, Andy Lee, Yee-Mee Li, Lara Lodato, Colin Mackinnon, Robbie Manning, Spencer Marsden, Richard Miles, Sara Mullock, Megumi Ogo, Cordelia O'Neill, Shannon O'Neill, Richard Pickersgill, Nick Smalley Ramsdale, Rebecca Redhead, Gareth Richards, Susan Robson, Jeremy Ryder, Neil Sutcliffe, Stuart Sutcliffe, Amanda Thomas, Emma Trimble, John Turnbull, Justin Virdi, Christine Walker, Caroline Wallace, Simon White, David Whiting, Adam Wright, Kevin Scillitoc, Michael J. Asquith.
Puppet Painter: Astrig Akseralian, Jamie Carruthers, Lucy Grannon, Richard Jeffers, Angela Kiely.
Modellers: Andy Baker, James Barr, Mick Chippington, Mark Cordory, Charles Fletcher, Mike Gould, Andrew Howard Green, Mark Gunning, Nicola Hatch, Chris Hepple, Valma Hiblen, Oliver Jones, Clare Kinross, Amy Mabire, Ian Maccabe, Martin Mattingley, Cathy Maze, Steve Mcclure, Cormac Mckee, Angela Pang, Gavin Richards, Steven Riley, Will Sumpter, Hilary Utting, Sarah Wells, Dan Wright, Wendy Anne Payne.
Junior Puppet Modellers: Gary Cherrington, Joseph Nowakowski, Trevor Poulsum.
Puppet Wrangler: Dan Pascall.
Lead Model Rigger: Andy Gent.
Model Riggers: Gary Faulkner, Denis Russo.
Roto/Prep Team, MPC: Qian Han, Kay Hoddy, Serena Lam, Giuseppe Tagliavini, Scott Taylor.
CG Team, MPC: Philip Borg, Isabel Cody, Andy Fraser, Roxanne Newsham, Neil Roche, Alexander Seaman, Nicolas Seck.
CG Team, MPC: Penn Stevens, Joern Weisspfennig, Mohamed 'Mo' Sobhy, Andre De Camargo De Souza.
Compositing Supervisors, MPC: Douglas Larmour, Sheila Gorman.
Compositing Team, MPC: Murray Barber, Judy Barr, Andre Brizard, Delphine Buratti, Kim Gordon, Nic Hodgkinson, Tom Kimberley, Kirsty Lamb, Natalie Macdonald, Phil Man, Jolene Mccaffrey, Salima Needham, Dylan Owen, Scott Pritchard, Norbert Ruf, David Scott, Kim Stevenson, Miquel Ubeda, Loraine 'Lolly' Cooper, James Russell, Vincent Goodsell.
Computer Graphics Supervisor, MPC: Peter Muyzers.
Digital Conform Editor: Thomas Urbye.
Digital Systems Administrator: Joshua McAbban.
Digital Systems Supervisor: Martin Pelham.
IT Staff Assistant: Caroline Rowlands.
Motion Control Supervisor: Andy Bowman.
Motion Control Technician: Roberta Trouton.
Render Wrangler: Alan McCabe.
Data Operator: Dan Warder.
Data Wranglers: Rupert Davies, Martin Pengelly-Phillips, Sarah Thompson.
Technical Support: Stewart Anderson, Nick Cannon, David Lloyd, Roland Watson, Martin Weaver, Martyn George Siddiqui.
Visual Effects Coordinator: James Prosser.
Visual Effects Consultant: Chris Watts.
Visual Effects Executive Producers: Michael Elson, Martin Hobbs.
Visual Effects Producers: Lorea Hoye, Gilbert James.
Visual Effects Supervisor: Pete Kozachik.
Visual Effects Supervisor, MPC: Jessica Norman.
Visual Effects Editor: William Billy A. Campbell.
Assistant Visual Effects Editor: Aled Robinson.
Digital Film Grading Supervisor, MPC: Begoña Lopez.
Colorist: Max Horton.
Lighting Camera: Melissa Byers, Jamie Daniels, Stuart Galloway, Malcolm Hadley, Simon Jacobs, James Lewis, Simon Paul, Graham Pettit, Peter Sorg, Mark Stewart.
Assistant Camera: Rupert Davies, Matt Day, Christophe Leignel, Beth Macdonald, Mark Nutkins, Geoff Robbins, Mark Swaffield, Caroline Wilson.
Chief Lighting Technician: Clive Scott.
Assistant Chief Lighting Technician: Edgar Alberto, David Genge, Andy Green, Tom Guy, Adam Maslowski, Aaron Walters, Gary Welch, Dean Foard, Rob Collins.
Post-Production Coordinator: Katie Reynolds.
Assistant Post-Production Coordinator: Holly Thornton.
Post-Production Staff Assistant: Natasha Westlake.
Assistant Editors: Carlos Domeque, Richard Overall.
First Assistant Editors: Ralph Foster, Emma Gaffney, Claus Wehlisch.
Second Assistant Editor: Claire Dodgson.
Conductors: Nick Ingman, Rick Wentworth.
Supervising Orchestrator: Steve Bartek.
Orchestra Contractor: Isobel Griffiths.
Orchestrators: Edgardo Simone, David Slonaker.
Music Editors: Shie Rozow, Michael Higham.
Music Preparation: Steven L. Smith.
Score Producer: Danny Elfman.
Score Mixer: Dennis S. Sands.
Supervising Music Programmer: Marc Mann.
Score Programmer: Jake Jackson.
Assistant Music Editor: Sam Southwick.
Auricle Control Systems: Chris Cozens.
Foley Supervisor: Harry Barnes.
Foley Artists: Ian Waggott, Paul Hanks.
Foley Editor: Simon Chase.
Foley Mixer: Phillip Barrett.
ADR Recordists: Alexander Beddow, Nick Foley, Pip Norton.
ADR Mixers: Colin Cooper, Peter Gleaves, Michael Miller, Ted Swanscott.
ADR Voice Casting: Vanessa Baker.
Assistant Sound Editor: David Mackie.
Dialogue Editors: Tony Currie, Colin Ritchie.
Supervising Sound Editor: Eddy Joseph.
Production Sound Mixers: Sandy Buchanan, Rupert Coulson, Paul Langwade.
Sound Designers: Steve Boeddeker, Martin Cantwell.
Sound Dubbing Mixer: Alfonso Calvo.
Sound Editor: Martin Cantwell.
Sound Mix Technicians: Doug Cooper, Vincent Cosson, Phillip Mark Freudenfeld, Steve Hancock.
Track Reader: Jane Hodge.
Sound Consultant, SDDS: Les Brock.
Sound Re-Recording Mixers: Chris Burdon, Mike Prestwood Smith, Michael Semanick.
Production Accountant: Jeffrey Broom.
Assistant Production Accountants: James Broom, Jeffrey Bruce.
Assistant Production Coordinators: Michelle Fraser, Charlotte Owen.
Assistant To Director: Mark J. Miller.
Assistant To Producer: Jules Collings.
Production Coordinators: Fleur Jago, Victoria "Bugs" Hartley, Sarah Feeley, Dale A. Smith.
Staff Assistants: Lucy Braithwaite, Andrea Carter, Sherry Collins, Molly Gilbert, Joanne Hughes, Tim Hutton, Melanie Jones, Nathan Kerry, Emma Lo Gatto, Ben Mantle, Charlotte Patten, Karyna Sander, Paul Spicer, Simon Tatum, Joanne Evans.




In Memory Of Joe Ranft
Submit Additional Information:
Do you have anything to add to this page? Have we made any mistakes... or do you have any additional information about Tim Burton's Corpse Bride? If so, we would love to hear from you. Please send us a quick note with your additions or corrections to this page, and we will make the corrections as soon as possible!
Report Errors / Submit Additional Information
Cartoon Summary:
In a 19th-century European village, Victor, a young man, is whisked away to the underworld and wed to a mysterious Corpse Bride. His real bride, Victoria, waits bereft in the land of the living. Though life in the Land of the Dead proves to be a lot more colorful... (more)