Previous Cartoon | Next Cartoon
Chicken Little
Chicken Little
Chicken Little (2005) Feature Length Theatrical Animated Film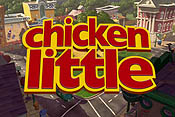 ---
Post your Comments or Review
This page has been viewed 1799 times this month, and 12310 times total.
Unknown Tag: 'short_stud_crew'
Unknown Tag: 'short_voice_crew'
Unknown Tag: 'short_dir_crew'
Unknown Tag: 'short_prod_crew'
Unknown Tag: 'short_write_crew'
Unknown Tag: 'short_edit_crew'
Unknown Tag: 'short_music_crew'
2005
Walt Disney Pictures, Walt Disney Feature Animation
Buena Vista Pictures Distribution
Feature Length Theatrical Animated Film
Cartoon Characters: Chicken Little, Buck Cluck, Mayor Turkey Lurkey, Mr. Woolensworth, Foxy Loxy, Runt of the Litter, Abby Mallard, Principal Fetchit, Dog Announcer, Melvin (Alien Dad), Tina (Alien Mom), Alien Cop, Ace (Hollywood Chicken Little), Goosey Loosey, Morkubine Porcupine, Coach, Fish Out of Water, Rodriguez, Acorn Mascot, Umpire, Kirby (Alien Kid), Mama Runt, Hollywood Fish, Hollywood Abby, Hollywood Runt.
Vocal Talent: Zach Braff (Chicken Little), Garry Marshall (Buck Cluck), Don Knotts (Mayor Turkey Lurkey), Patrick Stewart (Mr. Woolensworth), Amy Sedaris (Foxy Loxy), Steve Zahn (Runt of the Litter), Joan Cusack (Abby Mallard), Wallace Shawn (Principal Fetchit), Harry Shearer (Dog Announcer), Fred Willard (Melvin [Alien Dad]), Catherine O'Hara (Tina [Alien Mom)], Patrick Warburton (Alien Cop), Adam West (Ace [Hollywood Chicken Little]), Mark Walton (Goosey Loosey), Mark Dindal (Morkubine Porcupine, Coach), Dan Molina (Fish Out of Water), Joe Whyte (Rodriguez, Acorn Mascot, Umpire), Sean Elmore (Kirby [Alien Kid]), Evan Dunn (Kirby [Alien Kid]), Matthew Josten (Kirby [Alien Kid]), Kelly Hoover (Mama Runt), Will Finn (Hollywood Fish), Dara McGarry (Hollywood Abby), Mark Kennedy (Hollywood Runt), Brad Abrell, Tom Amundsen, Steve Bencich, Greg Berg, Julianne Buescher, David Cowgill, Terri Douglas, Chris Edgerly, Amanda Fein, Caitlin Fein, Patrick Fraley, Eddie Frierson, Jackie Gonneau, Archie Hahn, Jason Harris, Brittney Lee Harvey, Brian Herskowitz, Amanda (Mandy) Kaplan, Nathan Kress, Anne Lockhart, Connor Matheus, Mona Marshall, Scott Menville, Rene Mujica, Jonathan Nichols, Paul Pape, Aaron Spann, Pepper Sweeney, Scott Conrad, Ivan 'Flipz' Velez (Chicken Little [Dance]).
Animated By Tim Allen, Dale Baer, Darrin Butters, Jerry Yu Ching, Bob Davies, Lino DiSalvo, Mark R.R. Farquhar, Brian Ferguson, Ralph Fernan, Chadd Ferron, Randy Haycock, Leland J. Hepler, Jason Herschaft, Darrell W. Johnson, Alex Kupershmidt, Holger Leihe, James Lopez, Joe Mandia, Alexander Mark, Scott Robideau, Yuriko Senoo, Mike Show, Eric Strand, Dougg Williams, Rebecca Wilson Breese, Ellen Woodbury.
Animator ("Buck Cluck"): Clay Kaytis.
Supervising Animator: Doug Bennett.
Digital Effects Animators: Ian J. Coony, Ted Kierscey.
Visual Effects Animators: Peter DeMund, Kevin Lee.
CGI Animator: Mike 'Moe' Merell.
Effects Animator (Technical Director): Robert Rosenblum.
Supervising Animators: Mark Anthony Austin, Dick Zondag.
Animation Supervisor: Eamonn Butler.
Supervising Animator ("Chicken Little"): Byron Howard.
Supervising Animator ("Foxy Loxy" and "Goosey Loosey"): Mark Anthony Austin.
Supervising Animator ("Runt of the Litter" and "Fish out of Water"): Doug Bennett.
Supervising Animator ("Abby Mallard"): Chris Buck.
Supervising Animator ("Buck Cluck"): Nik Ranieri.
Written By Steve Bencich, Ron J. Friedman, Ron Anderson.
Story: Mark Dindal, Mark Kennedy.
Additional Story Material: Robert L. Baird, Daniel Gerson.
Additional Screenplay Material: Sara Parriott, Josann McGibbon.
Additional Dialogue: David Reynolds, Sandra Tsing Loh.
Music By John Debney.
Supervising Orchestrator: Brad Dechter.
Orchestrators: Frank Bennett, Don Nemitz, Mike Watts.
Additional Orchestrators: Jeff Atmajian, Kevin Kaska, Andrew Kinney.
Conductor: John Debney.
Edited By Dan Molina.
Associate Editors: Catherine Apple, Mark A. Hester.
Assistant Editor: Carol Folgate.
Casting: Matthew Jon Beck, Jen Rudin.
Production Manager: Paul D. Lanum.
Assistant Production Managers: Bill Barry, Lesley Addario Bentivegna, Philip M. Cohen, Nicole P. Hearon, Katherine A. Irwin, Monica Lago-Kaytis, Tracy I. Miller-Zarneke, Jason I. Strahs, Fred Weinberg.
Production Design: David Womersley.
Art Direction: Dan Cooper, Ian Gooding.
Supervising Sound Editor: Robert L. Sephton.
First Assistant Sound Editor: F. Scott Taylor.
Assistant Sound Editor: Christopher Pinkston.
Sound Recordist: Gabriel Guy.
Scoring Mixer: Shawn Murphy.
Scoring Technician: Marc Gebauer.
Scoring Cue Mixer: Jay Selvester.
Scoring Crew: Jason Lloyd, Robert Wolff (uncredited).
Sound Re-Recording Mixers: David E. Fluhr, Christian P. Minkler.
Music Scoring Engineer: Wolfgang Amadeus.
Music Editors (Score): Jeff Carson, Jim Harrison.
Music Editors (Temp Score): Andrew Dorfman.
Song Music Editor: Earl Ghaffari.
Music Assistant: Jill Iverson.
Music Mixer: Nathaniel Kunkel.
Music Transcriptor: Frank Macchia.
Music Production Coordinator: Lydia Paweski.
Music Preparation: Booker White.
Lighting and Compositing: Arthur Argote, Daniel Fazel, Haskell Friedman, John Huikku, Mark Lefitz, Michael Leung, Robert L. Miles, David Tanner, Katie Tucker-Fico.
Digital Lighting and Compositing Artist: Richard Liukis.
Lighters: D. Wallace Colvard, Roger Huynh.
Compositor Artist: Casey Basichis.
Compositors : D. Wallace Colvard, Roger Huynh, Dan Read, Stephanie Taubert.
Digital Compositor : Scott Smith.
Digital Compositors (ILM): Angela Giannoni, Joseph Suen (uncredited).
Compositing Technical Director: Kevin Coyle.
Technical Director: Lauren Carr.
Senior Technical Directors: Tom Martinek, Ken Nielsen (uncredited).
Assistant Technical Directors: Sean Goldman, Claire Lawrence-Slater, Buddy Lewis.
Character Technical Directors: Anders J.L. Beer, Jesus Canal, Russell L. Smith.
Character Motion Technical Director: Ian J. Coony.
Stereo Technical Director: Daniel Zizmor.
CGI Artist : Rick Moore.
Production Accountant: Liza Breuninger.
Assistant Production Accountant: Frank William Knittel.
Visual Development: Matsune Suzuki.
Visual Development Artist: Karen deJong.
Foley Editor: Jeff Sawyer.
Foley Supervisor: Christopher Flick.
Foley Artist: Dan O'Connell.
Supervising ADR Editor: Thomas G. Whiting.
ADR Editor: Linda Folk.
ADR Mixer: Doc Kane.
ADR Mixer: Terri Douglas.
Dialogue Editor: Linda Folk.
Dialogue Engineer: James A. Sandweiss.
Score Recordist: Tom Hardisty.
Score Contractor: Sandy DeCrescent.
Sound Effects Editors: Adam Kopald, Jeff Sawyer.
Sound Technologist: James A. Sandweiss.
Sound Designer: Robert L. Sephton.
Special Effects Supervisor: Dale Mayeda.
Digital Production Supervisor: Joel Aron.
Lead Digital Artist: Matt Brumit.
Digital Artists: T.J. Burke, Mario Capellari, Peter Chesloff, Zachary Cole, Michael Cordova, Lisa Fisher, Branko Grujcic, Russell Koonce, Gregor Lakner, Jake Maymudes, Ricardo Ramos, Nelson Sepulveda, Howard Gersh (uncredited), W. Regan McGee (uncredited).
Digital Artists (ILM): Al Bailey, Colin Campbell, Ean Carr, Kai Chang, Jon Farmer, Benjamin Huber, Mike Jamieson, Sarahjane Javelo, Katrin Klaiber, Donna Lanasa, Todd Vaziri, Fran˝ois Lambert (uncredited), Misty Segura Barbour (uncredited).
3D Digital Artist (ILM): Janeen Elliott.
Digital Artist (ILM [Disney 3D Version]): Eric Voegels (uncredited).
Senior Software Engineers: Marlin Rowley, Terence Worley.
Senior Software Engineer (Shot Finaling Tools): Luis Artola.
Production Software Engineer: Vladimir Bogak.
Rendering Software Engineer: Ted Burge.
Visual Effects Associate Producer: Lori Arnold (uncredited).
Visual Effects Coordinator: Christine Castellano.
Visual Effects Coordinator (ILM): Kristopher Wright.
Visual Effects Supervisor: Bill Fadness, Steve Goldberg.
Visual Effects Editor: Lorelei David.
Visual Effects: Rob Bonstin, Michael Kaschalk.
Senior Character Modeler: Chris Cowan.
Character Modeler (Disney Feature Animation): John Butiu.
CG Modeler: Joe Whyte.
Modelers: Chris Keene, Hal Lewis, Matsune Suzuki.
Digital Model Painter: Catherine Craig.
CG Supervisor: Kevin Geiger.
Finaling Artists: Ronald Arredondo, Sean Eckols, Haskell Friedman, Earl Huddleston, John Huikku, Joan Kim Anastas, Mark Lefitz, Kelly McGraw, Wally Schaab, Chris Springfield.
Character Finaling Lead: Michael Kuehn.
Character Finaling Artists: Jon Aghassian, Virgilio John Aquino, Lauren Carr, Marianne Camille Gorzyca, Frank Hanner, Nicholas Sanger Hoppe, Kimberly Lorang, Vera Lanpher-Pacheco, Helen Tse.
Skinning Lead: Michael Kuehn.
Sequence Lead: Brian Leach.
Stereographer: Phil 'Captain 3D' McNally.
Digital Layout Artists: Allen Blaisdell, Rick Moore.
Digital Effects Artists: Myles Murphy, Russ Sueyoshi, Marlon West.
Digital Effects Artists (ILM): Maggie Oh, Jason Rosson.
Layout Department Software: Paul Newell.
Computer Graphics Supervisor: Kyle Odermatt.
Technical Supervisor: Eric Powers.
Senior Systems Administrator: Steven Seed.
Systems Administrator: Rik Bomberger.
Technical Support Lead: Tara Handy Turner.
Technical Support Engineers: Michael M. Fukumoto, Shon Georgie.
Avid Technical Support : Darrian M. James.
Technical Supporter: Dara McGarry.
Research and Development: Colin Davidson (uncredited).
Lighting Technicians: Amy Pfaffinger, Dan Read.
Camera Department Coordinator: Suzy Zeffren.
Software Developer: David A. Aguilar.
Graphics Software Developer: James P. Hurrell.
Software Project Manager: Heidi Marie Andersen.
Software Developer (Lighting and Rendering Tools): George Polchin.
Software Developer (Look Development Tools): Brett Achorn.
Software Developer (Production Pipeline Tools): Howard Wilczynski.
Software Developer (Shot Finaling Tools): Karl 'Krash' Goldshmidt, John Robert Perry.
Software Developers (XGen): Stephen D. Bowline, Ernest Petti, Thomas V. Thompson II.
3-D Layout Artists: Thomas Baker, Mark Henley.
Render I/O Technical Lead: James Colby Bette.
Opticals: Sara Bleick.
Titles: S.J. (Sara) Bleick.
Title Designer: Susan Bradley.
Technology Production Supporters: Brad Brooks, Letha L. Burchard, Mark R. Carlson, William T. Carpenter, James P. Hurrell, Kevin E. Keech, Kimberly W. Keech, Daniel C. Kim, Catherine Lam, Christopher D. Mihaly, Robert Spier, Joe Suzow.
Motion Capture Dancer: David Carmon.
Production Assistants: David J. Chung, Amy L. Clark, Audrey Geiger, Sarah Genevieve, Andrea Johnson, Tracy Larson, Nathan Massmann, Steve McIlwain, Erica Starks, Debbie Vercellino, Matthew Wilson.
Technology Crew: Tom Corrigan, Amindra Jayasinghe, Michael McClure.
Color Timer: Chris De La Guardia.
Avid Engineer: Noah Gift.
Assistant to Producer and Director: Susan Wawer.
Assistant to Associate Producer: Joanna Villamor.
Assistant to Vice-President of Production: Pascal Grapard.
Network Engineer: Aaron J. Greusel.
Post-Production Coordinator: Brent Hall.
Technical Engineer: Christopher D. Mihaly.
Vocal Contractor: Bobbi Page.
Songs Contractor: Reggie Wilson.
Digital Film Colorist: Timothy Peeler.
Texture Painter: Dan Read.
Manager of Technology: Jay Sloat.
Editorial Technician: Sean Someroff.
Training Manager: Walt Sturrock.
Digital Color Timing Supervisor: Bruce Tauscher.
Assistant Script Clearance Administrator: Connie Wang.
Orchestra Assembler: Robert Wolff.
Principal Media Engineer: Michael Zarembski.
Consultant (Character Movement): Lorin Eric Salm (uncredited).
Special Thanks: Michelle Spitz (Michelle Bochner), Doug Engalla, Tamara Khalaf, Jon Lucas, Scott Moore, Mark M. Tokunaga.
Special 3-D Visual Effects (3-D Version): Industrial Light & Magic.
Sound Post-Production: Buena Vista Sound Services.
Foley: One Step Up.
Title Design: Susan Bradley Film Design.
Prints: Technicolor.
Music Preparation: The Walt Disney Music Library.
Soundtrack Released By: Walt Disney Records.
Submit Additional Information:
Do you have anything to add to this page? Have we made any mistakes... or do you have any additional information about Chicken Little? If so, we would love to hear from you. Please send us a quick note with your additions or corrections to this page, and we will make the corrections as soon as possible!
Report Errors / Submit Additional Information
Cartoon Summary:
The Disney attempt to "CGI-Fy" and satirize a fairy tale, much in the vein of DreamWorks' Shrek. The story centers on Chicken Little's wildly active imagination and tendency to overreact. He causes an uproar in his town when he pronounces that "the sky is falling... (more)