Previous Cartoon | Next Cartoon
Titan A.E.
Titan A.E.
Titan A.E. (2000) Feature Length Theatrical Animated Film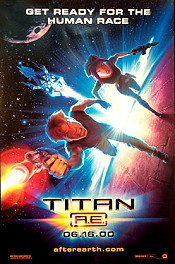 by Dave Koch
---
Post your Comments or Review
This page has been viewed 2530 times this month, and 11797 times total.
Unknown Tag: 'short_stud_crew'
Unknown Tag: 'short_voice_crew'
Unknown Tag: 'short_dir_crew'
Unknown Tag: 'short_prod_crew'
Unknown Tag: 'short_write_crew'
Unknown Tag: 'short_edit_crew'
Unknown Tag: 'short_music_crew'
2000
Fox Animation Studios, Blue Sky Studios, David Kirschner Productions
20th Century Fox Film Corporation
Feature Length Theatrical Animated Film
Cartoon Characters: Cale, Korso, Akima, Gune, Stith, Preed, Professor Sam Tucker, Tek, Queen Drei Chowquin, Firrikash, Po.
Vocal Talent: Matt Damon (Cale), Bill Pullman (Korso), Drew Barrymore (Akima), John Leguizamo (Gune), Janeane Garofalo (Stith), Nathan Lane (Preed), Ron Perlman (Professor Sam Tucker), Alex D. Linz (Young Cale), Tone Loc (Tek), Jim Breuer (The Cook), Christopher Scarabosio (Queen Drei), Jim Cummings (Chowquin), Charles Rocket (Firrikash, Slave Trader Guard), Ken Campbell (Po), Tsai Chin (Old Woman), Crystal Scales (Drifter Girl), David L. Lander (The Mayor), Thomas A. Chantler (Male Announcer), Elaine A. Clark (Citizen), Roy Conrad (Second Human), Leslie Hedger (First Human, additional voices), Roger L. Jackson (First Alien), Shannon Orrock (Female Announcer), Alex Pels (Soldier), Eric Schniewind (Alien), Stephen W. Stanton (Colonist).
Produced By Don Bluth, Gary Goldman, David Kirschner.
Executive Producer: Paul Gertz.
Associate Producer: Hans Bauer.
Music By Graeme Revell.
Music Supervisor: Glen Ballard.
Edited By Bob Bender, Paul Martin Smith, Fiona Trayler.
Casting: Marion Levine.
Production Designer: Philip A. Cruden.
Art Director: Kenneth Valentine Slevin.
Director Of Animation: Len Simon.
Directing Animators: Troy Saliba, John Hill, Robert Fox, Renato Dos Anjos, Edison Goncalves, Paul Newberry.
Director Of Digital Technology: Mark Weathers.
Sound Design: Christopher Boyes.
Production Sound Supervisor: Mark Server.
Picture Editors: Fiona Trayler, Bob Bender.
Music Editor: Joshua Winget.
PRE PRODUCTION
Conceptual Artists: Oliver Scholl, Bruce Zick, Steve Burg, Barry Jackson, Suzanne Lemieux Wilson, Simon Varela, Ron Cobb, Stephan Martiniere, Doug Henderson.
Storyboard Artists: Joseph Ekers, David Lux, Gabor T. Steisinger, Hank Tucker, Michael Ploog, Andy Friend.
Character Design: Wayne Barlowe, Louise Zingarelli.
Pre-Production Design: John Lakey.
Costume Designer: Kim Barrett.
Costume Illustrator: Lois DeArmond.
Additional Conceptual Art: Russell Chong, Vladimir Spasojevic, Yacine Elghorri, Rozalina Tchouchev, Leonard Robinson, Rae McCarson.
Color Key Styling: Paul X. X. Cheng, Zoe Evamy.
Character Layout: Chris Schouten, Kris Pearn.
Animation Color Styling Supervisor: Carmen Oliver.
Visual Development & Design: Gene Dieckhoner, Stephen Holt, Danny Taverna, David Hardy, Jun Lofamia, George Villaflore.
3D Draughtsman: Will Makra.
2D Digital Star Fields & Nebulae: D. Perricelli.
Production Managers: Colum Slevin, Ciaran Morris, Brenda McGuirk, Gerry Carty.
Assistant Director: Jason Ahon.
LAYOUT
Aritstic Supervisor: Anthony Christov.
Layout Artists: Nelson"Rey" Bohol, Troylan B. Caro, Daniel Hung, Yuan Chiang, Abraham "Abe" De Ocampo, Juan "Jo" Luna, Fred A. Reilly, Sinead Somers, Noly Zamora.
Coordinating Supervisor: Caroline Lynch-Server.
BACKGROUND
Artistic Supervisor: Rob Nason.
Assistant Supervisor: Dick Heichberger.
Background Artists: Winston B. Aquino, Jocelyn "Joy" D. Clemente, Phaedra Craig, John Devlin, Micah R. Gosney, Derek Holmes, Henry McGrane, David M. Rabbitte, Owen Rohu, Joseph M. Tangonan.
Digital Background Painter: Pio D. Ravago, III.
Coordinating Supervisor: Gary Busacca.
ANIMATION
Supervisor: Paul J. Kelly.
Character Animators: Kelly Baigent, Tobias Schwarz, Rafael Diaz Canales, Marco Plantilla, Maximillan Nepomuceno, Allan Fernado, Steve Cunningham, Michael Tweedle, Jean Kalilie, Helio Takahashi, Melvin Silao, Manuel Galiana, Joey Paraiso, Salvador "JoJo" Young, Hugo M. Takahashi, John Power, Dimitri Tenev, Robert Sprathoff.
Additional Character Animation: Sandra R. Keely, Debbie Gold, Ryan McElhinney, Nasos Vakalis, Michael Lahay, Jeff Varab, Barry Iremonger.
Assistant Animation: Jane Anderson, Roisin Hunt, Mike Hogue, Joseph Manifold, Darren Nicoll.
Coordinating Supervisor: Bernie Keogh.
Additional Animation: Yowza Animation, Inc.
SCENE PLANNING
Supervisor: Vincent Clarke.
Scene Planners: Derek Nielsen, Kip Goldman, Aran O'Reilly.
Continuity Supervisor: Cynthia A. Nason.
Assistant Supervisor: Deborah A. Peters.
Production Editorial Dialogue Editor: Scott B. Seymann.
Sound Effects Editor: Michael Ferdie.
Assistant Picture Editor: Jeff Snodgrass.
Editorial Assistant: Tom Wheeler.
Sound Reader: Ben Cohen.
3D ANIMATION FOX ANIMATION STUDIOS
Supervisor: Thomas M. Miller.
Directing Animators: Chris Kazmier, Mary F. Clarke-Miller, Charlie Breakiron, David Satchwell.
Senior Animators: David Munier, Mark A. Kauffman.
Animators: Guner Behich, Patricia Frazier, John P. Rand, Robert S. Clegg, Bil Van Ness, Mayo Tirado.
Junior Animators: Greg Galliani, Frances Kumashiro, Robert Kinkead, Charles Hokyo Lim.
Additional Animation: Kelly "Kel" Nelson.
Coordinating Supervisors: Tracy A. Butenko, Karri Lindamood.
3D Animation Ice Crystals & Wake Angels sequences: Persistence of Vision Digital Entertainment, Reality Check Studios.
Visual Effects Supervisor: David Paul Dozoretz.
Editor: Paul Martin Smith, G.B.F.E.
Co-Visual Effects Supervisor: Kory Jones.
Visual Effects Producer: Chandra Joy Hagopian.
Associate visual Effects Producer: Robert Wadell.
Digital Sequence Supervisors: Kevin Baillie, Ryan Tudhope.
Digital Artists: Chris Argueta, Moon Bae, Eric Fernandes, Dan Gregoire, Andrew Heimbold, Andrew Honacker, Barry Jackson, Euisung Lee, Alex Lindsay, Victor Navone, Greg Notzelman, Evan Pontoriero, David Summers, Paul Topolos, Blake Tucker, Steven Walker, Matt Ward, Gabe Watson, Jeff Wozniak.
Assistant Editor: Jim May.
Production Assistants: Mike Gagliano, Jennifer Lee, Willie Rivera, Kim F. Wilkes.
3D Animation Creation of the New World: Blue Sky Studios, Inc.
Director of Animation/Effects: Jan Carlee.
Digital Effects Producer: Christopher Scollard.
Digital Effects Coordinator: Lauren Price.
Lead Technical Director: Michael Eringis.
Senior Technical Director: Mitch Kopelman.
Technical Directors: Andrew Beddini, Christopher M. Burrows, Rob Cavaleri.
Senior Digital Artist: John Siczewicz.
Animator: Dan Whiting.
Modeler: Daniel Williams.
Editor: Tim Nordquist.
Production Assistant: Sara Rice.
Technical Assistants: Lisa Kalmanson, Ken Lee.
Executive Producer: Carol Laufer.
Production Programers: Andre Mazzone, Maurice Van Swaaij, Michael K. Reed, Dan "Danimal" Weeks.
3D Animation Additional CGI Animation & Effects: Rhonda Graphics.
Producer: Rhonda Sanders Olson.
Technical Director: Loren Olson.
Animators: Rick Rogers, Scot Olson.
SPECIAL EFFECTS ANIMATION
Artistic Supervisor: Peter Matheson.
Directing Animators: Deirdre Reynolds-Behan, Julian Hynes, Declan Walsh.
Animators: Leslie Aust, Edwin Bocalan, John Costello, Stephen Deane, Earl A. Hibbert, Sonnie Lagonera, Paul Morris, Raquel V. Omana, Angelito Ramos, Gorio Vicuna.
2D Digital Effects Artists: Brad Gayo, Jimmy Jewell.
Additional Special Effects: Giant Film Productions, Ltd.
CHARACTER ANIMATION
ROUGH INBETWEENS
Supervisor: Anne Murray-O'Craobhach.
Training Officer/Breakdown Artist: Sharon Morgan.
Rough Breakdown & Inbetween Artists: Craig Berry, Jade Jung-Ae Cheng, Nancy Cox, Michael Dunne, Christopher Elsner, Marco Giovannetti, John Hoffman, Cash Imutan, Roberto Islas, Dean Kawada, Niall Laverty, Grant C. Lounsbury, Jeff Lujan, John L. Morris, Jake Parker, Vikki Pena, Stephen Reid, Ed Rooney, Bruce Tinnin.
CLEAN-UP ANIMATION
Artistic Supervisor: Peter Donnelly.
Key Character Clean-Up Artists: Rosie Ahern, Cesar Avalos, Mickie Cassidy, Kevin Condron, Manny A. DeGuzman, Jeff Edwards, Alan Fleming, Mixola Flynn, Regner U. Frondozo, Shawn Gibson, Jojie J. Calingol Imutan, Jack J. Joseph, Ciara McCabe, Mark McLooughlin, Curt Spurging, Imelda Tolledo Mondala, David O'Brien, Terry O'Toole Jr., Joven Sampang, Wendo Van Essen, Rodrigo Q. Zafe, Jr.
Character Clean-Up Artists: Ochie Atienza Alferez, Victorina Belleza Fogarty, Manuelito Golipardo, Martin Carol, David Bocalan, Arnel Torres Cabanela, Greg M. Chin, Pearse Cullinane, Joel C. Cunanan, Narz Dela Rosa, Willie Bauto DeLeon, Scott Douthitt, Albert Pelayo Feliciano, Juliet Indonila Cabral, Jhun Burgos Licas, Richard G. Maginsay, Cesar S. Mondala, Enrico Dungao Paz, Alex Perez, Andrzej Piotrowsk, i Alberto M. Rodriguez, Joven Sampang, Raul Herrera Sibayan, Richard Simms, Gail Springsteen-Fraizer, Kenna Diane Vaughn, Rolando Flores Yago.
Coordinating Supervisor: Courtney Cook Doyle.
Assistant Special Effects Animation: Rich Contadino, Paul Fogarty, William J. Haas, Gary Ham, Greg Ham, Rory Hensley, William A. Kobylka, Chris Kurash, Jon Le Mond, Adriano S. Mondala, Jr., Amy L. Newman, Sorcha NiChuimin, Andee Ott, Robert J. Reed, Stephen P. Smyth, Melanie Walchek, Von Williams.
Special Effects Inbetweeners: Tatiana Kellert, Anita Martinez Tate, Ashley Mims, Tod Price.
Coordinating Supervisorů: Joy Carmeci.
DIGITAL CHECKING
Supervisor: Linda Fitzpatrick.
Animation Check: Carol Hannan, Jennifer Alton, Jeff J. Marshall, Lisa Maher, Crystal C. Mathews, Pete C. Kranjcevich.
Final Check: Jon J. Kerbaugh, Timothy Bergeron.
ANIMATION COLOR STYLING
Assistant Supervisor: Donal Freeney.
Stylists: Kathy Carter-Costello, Carrie Marino, Lyn Mulvany, Alex Mitchell, Gareth McKinney, Suzanne O'Reilly, Berenice Keegan, R. Scott Henricks, Shelly Leigh Burkhart.
COMPOSITING
Compositing Supervisors: Jeannette Maher-Manifold, Emmet Doyle.
Compositors: Joe Cop, Eric Ryan, Jason Salata, Barry Safley.
Compositing Assistant: Joey Ferstl.
DIGITAL SCANNING
Digital Scanning Supervisor: Frank Richards.
Key Processor: Marlon James Montgomery.
Scanner/Checker: Kenneth Vallee, Eric M. Ashenfelter.
DIGITAL PAINTING
Digital Painting Supervisor: Liam T. Hannan.
Assistant Supervisor: Kenneth J. Cioe.
Mark-Up Painter: Valerie Gately, Brien Manning.
Ink & Painters: Thuan Do, Julia Dungan, Laurie Engler, Matt Fischer, Anthony Gonzales, Darren Gorthey, Adam Lemisch, Derek Mann, Cesar Marquez, Jenny Neuburger, George O'Barts, Mollie Pena, Kendra Quinn, Giulio Sciorio, Elaine Starace, Stephen Vincent, David Wicklander, Karl Yu.
Ink & Paint Checking: Carrie-Ann Hall, Clifton L. Wegener.
PRODUCTION
Production Executive Assistants to Mr. Goldman: Serena Moon Lee, Fiona Byrne-Morris.
Assistant to Mr. Bluth: Mathias Dougherty.
Creative Consultants: Ben Edlund, Mireille Soria.
Subcontracting Coordinators: Meghan Mead, Debbie Vercellino.
Key Color Copier Operator: Jon Schmitt.
Storyboard Assembly Supervisor: James J. Stoyanof.
Storyboard Assembly: Sean Carney.
Publicity & Licensing Coordinator: Mary Busacca.
Animation Archivist: James Bluth.
SOUND
Sound Designer: Christopher Boyes.
Supervising Sound Editor: Matthew Wood.
Sound Editor: Michael Ferdie.
Sound Apprentice: Coya Elliott.
Temp Music Editor: Mark Jan Wlodarkiewicz.
Sound Recording Engineer: Brian Carrigan, Chris Fogel.
Sound Re-Recording Mixer: Gary Summers.
Submit Additional Information:
Do you have anything to add to this page? Have we made any mistakes... or do you have any additional information about Titan A.E.? If so, we would love to hear from you. Please send us a quick note with your additions or corrections to this page, and we will make the corrections as soon as possible!
Report Errors / Submit Additional Information
Cartoon Summary:
The year is 3028. Mankind has conquered space, and even though it was routine to travel to the farthest galaxies, humans always thought that Earth would be home. However, with mankind's new freedom comes new enemies, forcing Earth to prepare for an attack by the... (more)