Previous Cartoon | Next Cartoon
Ice Age
Ice Age
Ice Age (2002) Feature Length Theatrical Animated Film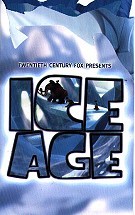 ---
Post your Comments or Review
This page has been viewed 76 times this month, and 25292 times total.
Unknown Tag: 'short_stud_crew'
Unknown Tag: 'short_voice_crew'
Unknown Tag: 'short_dir_crew'
Unknown Tag: 'short_prod_crew'
Unknown Tag: 'short_write_crew'
Unknown Tag: 'short_edit_crew'
Unknown Tag: 'short_music_crew'
2002
Blue Sky Studios, Twentieth Century Fox Animation
20th Century Fox
Feature Length Theatrical Animated Film
Cartoon Characters: Manfred, Sid, Diego, Soto, Zeke, Rhino, Start, Saber-Tooth Tiger, Dodo, Sloth, Glypto.
Vocal Talent: Ray Romano (Manfred), John Leguizamo (Sid), Denis Leary (Diego), Goran Visnjic (Soto), Jack Black (Zeke), Cedric the Entertainer (Rhino), Stephen Root (Rhino, Start), Diedrich Bader (Saber-Tooth Tiger), Alan Tudyk (Saber-Tooth Tiger, Dodo, Freaky Mammal), Lorri Bagley (Female Sloth), Jane Krakowski (Female Sloth), Peter Ackerman (Dodo, Freaky Mammal), P.J. Benjamin (Dodo), Josh Hamilton (Dodo, Glypto), Chris Wedge (Dodo, Scrat), Denny Dillon (Glypto), Mitzi McCall (Glypto), Tara Strong (Start).
Produced By Lori Forte.
Executive Producer: Christopher Meledandri.
Associate Producer: John C. Donkin.
Animated By James Campbell, Jaime Andrés Castañeda, Aaron J. Hartline, James Hundertmark, Dean Kalman Lennert, Nina Bafaro, Floyd Bishop Jr., Thomas Bisogno, Tom Bisogno, Galen T. Chu, Nick Craven, Marcelo Fernandes De Moura, Everett Downing Jr., Jeffrey Joe, Kompin Kemgumnird, Rodrigo Blaas Nacle, Simi Nallaseth, Dana O'Connor, Andreas Procopiou, Mika Ripatti, Scott Robideau, David J. Smith, David Torres, David B. Vallone, Joshua West, Dan Whiting.
Lead Animators: Mike Thurmeier, James Bresnahan.
Additional Animation: David Gallagher, Austin Lee, Gary Macarevich, Scott Smith, Jean Cullen De Moura, Tony Kluck, Dean Yeagle.
Written By Michael J. Wilson.
Screenplay: Michael Berg, Michael J. Wilson, Peter Ackerman.
Additional Story: James Bresnahan, Galen T. Chu, Doug Compton, Xeth Feinberg, Jeff Siergey, Mike Thurmeier.
Edited By John Carochan.
Assistant Editors: Shannon Carey, Dan Madden, James Palumbo.
First Assistant Editor: Anthony L. Jamison.
Associate Editor: Tim Nordquist.
Production Design: Brian McEntee.
Preproduction Supervisor: Jerry Davis.
Production Manager: Maria Criscuolo.
Assistant Production Manager, Animation: Billy Foster.
Assistant Production Manager, Animation: Lauren Prince.
Assistant Production Manager, Layout/Staging: Irka B. Seng-Bloom.
Assistant Production Manager, Lighting/Character Group: Samantha Berg.
Assistant Production Manager, Lighting/Effects: Anthony Nisi.
Assistant Production Manager, Production: Roburta Burroughs.
Assistant Production Manager, Production: Hugh Hitchens.
Assistant Production Manager, Story/Editoral: Laura V. Perrotta.
Production Coordinator, Digital Paint/Rendering: Sarah Rice.
Production Coordinator, Editorial: Deanna Pizzuti.
Production Coordinator, Layout/Staging: Chris Kuwata.
Production Coordinator, Lighting: Vanessa M. Ross.
Studio Manager: Laney Gradus.
Casting Associate: Meg Morman.
Casting, ADR Group: Bruce Winant.
Additional Casting: Alan Filderman.
Sequence Directors: Jan Carlée, Mark Baldo.
Story Consultants: David Silverman, Jon Vitti.
Character Designer: Peter DeSève.
Environmental Designer: Peter Clarke.
Set Dresser: Marcie Matsui.
Storyboard Artists: Enrico Casarosa, William H. Frake III, Tony Kluck, Moroni, Kevin O'Brien, Wilbert Plijnaar, Dan Shefelman, Ilya Skorupsky.
Lead Layout Artist: William H. Frake III.
Color Stylists: Greg Couch, Michael Rose, Daisuke 'Dice' Tsutsumi.
Color Timer: Jim Passon.
Workbook Artist: Todd Winter.
Production Supervisor, Technical Directors: Michael Feder.
Technical Director: Kirk Garfield.
3-D Layout Supervisor: Robert Cardone.
3-D Layout Artists: Jenifer Lee Gilchrist, Ken Lee, Kevin Thomason, Daniel Barlow, Steve Talkowski.
3-D Layout Artist: Ken Lee.
CG Character Animation: Tom Bisogno.
Character Animator: David J. Smith.
Character Materials Lead: Karl Herbst.
Character Materials: Keith Cormier, Lisa Kalmanson, Inkyong Irene Kim, Eric Maurer, Sandra Singler, Kristi Hansen Walvoord.
Additional Character Materials: Jodi Whitsel.
Modeling Supervisor: Mike Defeo.
Lead Modeler: Danny Williams.
Character Modeler: Pasha Ivanov.
Modeler: Frank Denota, John K. Dodelson, Jenga Zamani Mwendo, John Paine, Rachel Tiep-Daniels.
Modeling TA: Ursula Wing.
Character Texture Painters: Shaun Cusick, Ben Williams, Athena Xenakis.
Senior Digital Artist: John Siczewicz.
Digital Artist: Oktay Ahiska.
Digital Compositor: Jason Galeon.
Digital Effects: Keith Klohn.
Digital Paint Artist: David Mei.
Additional Digital Paint Artists: Athena Xenakis, Victor Banks.
Effects Animator: Dan Whiting.
Lead Compositor: Andrew Beddini.
Lighting Sequence Supervisors: Mitch Kopelman, Jodi Whitsel.
Master Lighting Lead: David Esneault.
Lighting: Rafael Castelblanco, Wooksang Chang, James Gettinger, Bryan Godwin, Fran Roberts, Zach Schläppi, Haji Uesato.
Matte Painter: Daisuke 'Dice' Tsutsumi.
Additional Matte Painter: Mike Knapp.
Senior Technical Director, Lighting Sequence Supervisor: Clifford Bohm.
Supervising Technical Assistant: Danielle Cambridge.
Technical Director: Christopher M. Burrows.
Systems Programmer: Dan Weeks.
Animation Production Supervisor: Leslie Schor-Bresnahan, David S. Peng.
Animation Technical Assistant: Justin R. Rotolo.
Effects Lead: Robert V. Cavaleri.
Effects: Alen Lai, Adam Burr, Kirk A. Garfield, Mitch Kopelman, Tim Speltz.
Effects TA: John A. Patterson.
Engineer: Bill Talbott.
Head Of Story: Yvette Kaplan.
Head Of Systems: Andrew Siegel.
Ice Age Baby: Merrick Arthur Baldo, Floyd Bishop III, Annabelle Rae Bresnahan, Joseph Domenic Cardone, Eric Daniel Cruz, Emma Eun Hee Cusick, Sophia Cullen De Moura, Paulina Sae Byul De Sève, Rachel Viola Fay, Zachary Dylan Fay, Eden Sophia Gallagher, Meghan Rose Garfield, Grace Aslinn Hitchens, Lydia Kristina Joe, Shannon Rose Keane, Peregrine Keegan Lennert, August Raphael Asch Mei, Anthony Michael Nisi III, Vincent Noh, Baby 'Ketchup' Nordquist, Yannah Elizabeth Nordquist, Sara Marie Polcari, Railyn Monét Rowley, Sofia Scarpa Saldanha, Julian Riley Thomson, Nina Lim Uesato, Emma Whiting.
Conductor: David Newman.
Orchestrators: Gregory Jamrok, Rebecca R. Liddle.
Scoring Consultant: Krystyna Newman.
Scoring Contractor: Sandy DeCrescent.
Vocal Contractor: Bobbi Page.
Sound Designer: Sean Garnhart.
Assistant Sound Editor: Bill Orrico.
Apprentice Sound Editor: Mark Richelo.
Dialogue Recordists: David Lucarelli, Carolyn Sauer, Chris Varekamp.
Dialogue Mixers: Weldon Brown, Scott Cresswell, Bill Higley, Robert Kessler, Roy Latham, Charlene Richards, George Thompson.
Music Editors: Richard A. Harrison, Joshua Winget.
Orchestral Scoring Recordist: John Rodd.
Scoring Mixer: John Kurlander.
Supervising Foley Editor: Steven Visscher.
Foley Editor: Frank Kern.
Foley Artist: Marko Costanzo.
Foley Mixer: George A. Lara.
ADR Editors: Albert Gasser, Kenton Jakub, Marissa Littlefield, Nicholas Renbeck.
Scoring Sound Designer: Marty Frasu.
Sound Effects Editors: Craig Berkey, Lewis Goldstein, Paul Urmson.
Sound Recordists: Tim Gomillion, Dennis Rogers.
Sound Re-Recording Mixers: D. M. Hemphill, Paul Massey.
Stage Engineer: Tim McColm.
Post-Production Supervisor: Kendall McCarthy.
Senior Developer: Trevor G. Thomson.
Research And Development Director: Carl Ludwig.
Senior Research Associates: Richard Hadsell, John Turner.
Research Associate: Michael K. Reed.
Software Development Manager: Maurice Van Swaaij.
Studio Manager: Laney Gradus.
Stage Crew: Tom Steel, Damon Tedesco.
Environmental Materials/Staging Lead: Michael Eringis.
Environmental Materials/Staging: Erik J. Borzi, Colin Hayes Thompson, Weera Tom Wichitsripornkul.
Environmental Materials/Staging TA: Alexander Adell.
Supervising Technical Director: Dave Walvoord.
Manager, Software Tools: Joe Higham.
Managing Technical Director: Michael J. Travers.
Technical Lead: Ross Scroble.
Lead Technical Animator: Mark Piretti.
Technical Animators: Justin Leach, Scotty Sharp.
Technical Assistant: Gary Graves.
Lead Composite/Render Wrangler: Aaron DiMunno.
Lead Desktop Systems Administrator: Elvin Jorge.
Desktop Systems Administrator: Melvin Ortiz.
Audio/Video Support Engineer: John Lajvort.
Chief Scientist: Eugene S. Troubetzkoy.
Composite/Render Wrangler: Nicholas Carne.
Unix Systems Administrators: Jack Ham, Bonnie Scott.
Pro Tools Technician: Thomas Graham II.
Production Executive, Ms. Forte: Stephanie Swengel.
Production Programmers: Pia Miniati, Marlin Rowley.
Production Programmer, Blue Sky Studios: André Mazzone.
Programmer, Applications: David Tesch.
Associate Programmer: Bruno Bowden.
Visual Development Artist: H.B. 'Buck' Lewis.
Additional Visual Development: Alexander Levenson, Mary Grandpré, Kelly Kimball, Amy Ning, Will Shefelman, Vinh Truong.
Supervising Accountant: Bob Gordon.
Production Accountant: Paul Ohrt.
Staff, Blue Sky Studios: Laura Bellantoni, Mona Falvey, Angela Fay, Brian A. Keane, Luis Peña, Daniela Polcari, Charles Leland Richardson, Anita Roper, Mariana Suarez, Joselly A. Torres, Jason Wasserman.
Marketing Coordinator: Linda Zazza.
Production Assistant, Animation: Sharon Mancuso.
Production Assistant, Art/Lighting/Effects: Jeremy Arambulo.
Production Assistant, Production: Joseph Marcello.
Production Assistant, Staging: Cresta Chamberlain.
Production Assistant, Story/Editorial: Alexander Gradet.
Production Assistant, Technical Direction: Cynthia Lynn Scott.
Negative Cutter: Gary Burritt.




Renderplex
Compaq

Title Opticals
Custom Film Effects

Music recorded at The Newman Scoring Stage
Twentieth Century Fox Studios

Music Mixed at M5 Studios

Sound Transfers
Sound One Corporation
Twentieth Century Fox Sound Department
Filmout
Cinesite Inc.

Sound Post-Production
C-5 Inc.

Telecine Transfers
Riot Manhattan

Foley Recorded at
C-5 Inc.

Sound Mixing
20th Century Fox Studios

Negative Cutting
Kona Cutting

End Titles
Scarlet Letters
Submit Additional Information:
Do you have anything to add to this page? Have we made any mistakes... or do you have any additional information about Ice Age? If so, we would love to hear from you. Please send us a quick note with your additions or corrections to this page, and we will make the corrections as soon as possible!
Report Errors / Submit Additional Information
Cartoon Summary:
A group of dysfunctional Pleistocene mammals discover the first American, Roshan, and take him along on their journey south. Roshan is a toddler.