Chicken Run
Chicken Run
Chicken Run (2000) Feature Length Theatrical Animated Film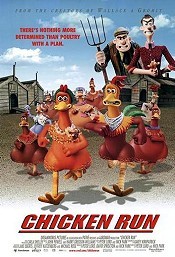 by Dave Koch
---
Post your Comments or Review
This page has been viewed 2098 times this month, and 9358 times total.
Unknown Tag: 'short_stud_crew'
Unknown Tag: 'short_voice_crew'
Unknown Tag: 'short_dir_crew'
Unknown Tag: 'short_prod_crew'
Unknown Tag: 'short_write_crew'
Unknown Tag: 'short_edit_crew'
Unknown Tag: 'short_music_crew'
2000
Aardman Animations, Allied Filmmakers, DreamWorks SKG
DreamWorks Distribution, Pathé, Tobis StudioCanal
Feature Length Theatrical Animated Film
Cartoon Characters: Rocky Rhodes the Rhode Island Red Rooster, Ginger, Mac, Mr. Tweedy, Babs, Mrs. Tweedy, Nick the Rat, Fetcher the Rat, Bunty, Fowler, Circus Man.
Vocal Talent: Phil Daniels (Fetcher), Lynn Ferguson (Mac), Mel Gibson (Rocky Rhodes), Tony Haygarth (Mr. Tweedy), Jane Horrocks (Babs), Miranda Richardson (Mrs. Tweedy), Julia Sawalha (Ginger), Timothy Spall (Nick), Imelda Staunton (Bunty), Benjamin Whitrow (Fowler), John Sharian (Circus Man), Jo Allen (Chicken), Lisa Kay (Chicken), Laura Strachan (Chicken).
Produced By Peter Lord, David Sproxton, Nick Park.
Executive Producers: Jake Eberts, Jeffrey Katzenberg, Michael Rose.
Line Producer: Carla Shelley.
Associate Producer: Lenny Young.
Animated By Will Hodge, John Pinfield, Andy Symanowski, Douglas Calder, Stefano Cassini.
Supervising Animator: Loyd Price.
Key Animators: Dave Osmand, Merlin Crossingham, Sergio Delfino, Suzy Fagan, Guionne Leroy, Darren Robbie, Jason Spencer-Galsworthy, Jay Grace, Seamus Malone, Ian Whitlock.
Additional Key Animators: Teresa Drilling, Jeff Newitt, Chris Sadler, Steve Box, Tom Gasek.
Additional Animators: Terry Brain, Gary Cureton, Mike Cottee, Michael Cash, Martin Davis.
Assistant Animators: Christina Vilics, Andy Fraser, Claire Billett, Bob Scott, Maria Hopkinson, Curtis Fell, Jo Fenton, Kim Keukeleire, David Bennett.
Trainee Assistant Animators: Francesca Ferrario, Andy Spilsted, Seth Watkins.
Additional Animation: Tobias Fouracre, Mike Booth.
Music By John Powell, Harry Gregson-Williams.
Additional Music: Steve Jablonsky, James McKee Smith, Geoff Zanelli.
Edited By Mark Solomon.
Production Manager: Harry Linden.
Directors of Phototgraphy: Triston Oliver, Frank Passingham.
Lighting Cameramen: Simon Jacobs, Andy Mack, Paul Smith.
Technical Director: Tom Barnes.
Production Designer: Phil Lewis.
Model Production Designer: Jan Sanger.
Casting: Patsy Pollock.
Re-Recording Mixer: Adrian Rhodes.
Supervising Sound Editors: Graham Headicar, James Mather.
Story
Storyboard Supervisor: David Bowers.
Storyboard Artist: Michael Salter.
Additional Storyboard Artists: Martin Asbury, Rejean Bourdages, Dan Lane, David Soren.
Story & Continuity Supervisor: Bridget Mazzey.
Story & Continuity Coordinators: Tara Cunnignham, Timothy Hogg.
Additional Story: Kelly Asbury, Cody Cameron, Randy Cartwright, Brenda Chapman, Jurgen Gross, Vicki Jenson, Robert Koo, Serguei Kouchnerov.
Storyreel: Sylvia Bennion, Mark Taylor, David Vinicombe.
Additional Dialogue: Mark Burton, John O'Farrell.
Script Consultant: Pete Artkin.
Modeling
Model Department Production Manager: Lizzie Spivey.
Deputy Production Designer: Anne King.
Design Team Supervisors: Kate Anderson, Virginia Mason.
Paint Design Supervisor: Polly Holland Mould.
Making Supervisor: Robert Horvath.
Multiples Supervisor: Graham G. Maiden.
Armature Design Supervisor: Somon Peeke.
Props Supervisor: Jane Kite.
Senior Costume Designer: Sally Taylor.
Design Team Leaders: Claire Drewett, Harriet Thomas.
Sculptors: Linda Langley, Lisa Newport.
Model Makers: Gill Bliss, Allan Burne, Gavin Jones, Diane Holness, Grant MacDonald, Lee Wilton, Kevin Wright.
Foam Technician: Elinor Weston.
Mouth & Beak Replacement Center: James Moore.
Costumes: Shane Dalmedo, Nicola O'Toole, Jane Whittaker.
Costumes Junior: Janine Chisholm.
Textiles Development: Jo Conrad.
Senior Painter: Michelle Freeborn.
Painters: Arlene Arrell, Peter Atkinson, Lorraine Mason, Ruth Mitchell, Cat Russ.
Senior Armature Designer: Kevin "Baby" Scillitoe.
Armature Designers: Andrew "Bloxy" Bloxham, Jon Frier, David Pedley.
Junior Armature Designers: Kyleigh Adrian, Phil Gray.
Mould Makers: "Slick" Jim Connolly, Matt Pilston.
Extra Large Scale Puppet Work: Mackinnon, Saunders Press.
Mould Coordinator: Helen Schell.
Press Moulders: Alison Evans, Marguerite "Mog" Fry, Tina Klemmensen, James Parkyn.
Mulitiples Modelmakers: Gideon Bohannon, Michael Hares, Claudia Hecht, Nigel Leach, Jemma Proctor, Mark Waters, Liz Watt.
Additional Model Makers: John Craney, Mick Hockney.
Puppet Coordinator: Sheila Clarkson.
Puppet Maintenance Coordinator: Rebecca Levine.
Puppet Wrangler: Kate Wadsworth.
Production Assistants: Louise Atkinson, Nada Backo.
Model Resources Manager: Kerry Evans.
Workshop Manager: John Adams.
Art Department
Art Director: Tim Farrington.
Additional Production Designer: Roger Hall.
Assistant Production Designer: Matt Perry.
Assistant Art Director: Trisha Budd.
Additional Art Director: Rosalind Shingleton.
Additional Assistant Art Director: Julie Philpot.
Layout & Visualisation: Darren Dubicki.
Graphic Artist: John Davey.
Set Designer: Alastair Green.
Draughtsperson: Joanne Smith.
CG Artist: Steven Blake.
Studio Set Coordinators: Martin Norie, Steve Priddle.
Senior Set Dressers: Maria Hopkinson, Lizzy New Bones, Manon Roberts.
Set Dressers: Justeen Bailey, Rachel Bowen, Kitty Clay.
Scenic Painter: John Fattorini.
Coordinator: Bee Arnoux.
Design Research: Paul Gough.
Production
1st Assistant Director: Fred de Bradeny.
Assistant Producer: Jacky Chrisp.
Assistant Production Manager: Ezra J. Sumner.
2nd Assistant Directors: Robert Hurley, Rich Priestley.
2nd Unit 2nd Assistant Director: Merriel Waggoner.
3rd Assistant Director: Will Norie.
Floor Assistant: Simeon Chard.
Additional 1st Assistant Director: Tony Tyrer.
Additional 3rd Assistant Director: Lisa Butler.
Production Runers: Richard "Beeky"Beek, Dan Gregory, James Heyworth, Adam Loretz, Pippa Mercer, Liam Owen, Victoria Spurgeon, Jennifer Thomas.
Camera
1st Assistant Camera: Robert Dibble.
Supervising Camera Assistant: Toby Howell.
Camera Assistants: Jon Gregory, Jeremy Hogg, Janet Legg, Beth MacDonald, Charles Coppin, g Richard Whiteford.
Junior Camera Assistants: Andy Mitchell, Churton Season.
Motion Control Operators: Linda Hamblyn, Willy Jason Marshall.
Assistant Motion Control Operator: Mathew Kitcat.
Motion Control Trainee: George Milburn.
Additional Camera Assistant: Malcolm Hadley.
Lighting
Supervising Gaffer: John Bradley.
Gaffer: Ian Jewels.
Best Boys: Richard "Tricky" Hosken, Adam "Turbo" Vernon.
Lighting Department Coordinator: Carl Hulme.
Senior Electrician: Andy Loran.
Electrician: Paul O'Bryan.
Additional Electricians: Tim "The Fletch" Fletcher, Jon "Rockin" Graves, Peter Sim.
Pre-Production Assistant: Kate Thomas.
Model Rigging
Armature & Rigging Supervisor: David "Del" Lawson.
Senior Riggers: Alan "Scratch"Scrase, Nick Upton.
Riggers: Alan Barrett, Andy Brown.
Assistant Rigger: Craig Atkinson.
Sets
Dance Sequence Dance Consulatnts: Jesse Newton, Ann Peskett, Graham Puckett, Katherine Wyatt.
Sets, Props, Pie Machine & Crate: Farrington Lewis.
Set Production Supervisor: Jon Minchin.
Set Supervisor & Lead Engineer: Jak Goodyear.
Set Production Coordinator: Libby Watson.
Team Leader, Sets & Pie Machine: Mike Applebee.
Team Leader, Sets & Crate: John Pealing.
Team Leader, Pie Machine: Roddy McDonald.
Lead Engineer, Pie Machine: Mark Plenderleith.
Team Leaders, Model & Props: Cathy Price, Jo Weeks.
Fabricators: Mike Bass, Andy Brown, Anthony Gould, Mike Gould, Mark Gunning, Mathew Healey, Patrick McGrath, Jes Par, Martin Rolfe, John Smith.
Modelmakers: Craig Atkinson, Claire Baker, Georgie Everard, Nancy Jones, Duncan Miller, Damian Neary, Lesley Osbourne, Bridget Phelan, Gavin Richards, Ed Sams, Clay Sounders, Lisa Scantlebury, John Smith, Richard Webber, Kathryn Williams, Ruth Wynne.
Head of Painting: Sue Black.
Senior Painter: Francesca Maxwell.
Pie Machine Painter: Mahali O'Hare.
Spray Shop: Terry Hathway.
Accounts Administrator: Tanya.
Booth Runners: Cliff Lewis, Cecily Pearce.
Additional Specialist Props, Vehicles & Multiple Armatures: Jeff Cliff.
Model Making: Nikki Armstrong, Lincoln Grove, Nick Hudson, Emma Jay, Robert Jose, John Wright.
Modelmaking: Richard Andrew, Steven Elford, Georgie Everad, Kenny Monger, Adrian Sims, Dave Weaver, Roger Whiter, Ann Wright.
Editorial
Associate Editor: Angharad Owen.
Additional Editing: Vicki Hiatt.
Additional Storyreel Editing: John Carnochan, David McCormick, Joke Van Wijk.
Film Editors: Robert Francis, Tamsin Parry.
Film Conform Editor: Jo Bale.
Assistant Editor: Andrew Ward.
2nd Assistant Editor: Yvonne Davies.
Editorial Production Assistant: Adrian Shipp.
Track Breakdown: Jane Hicks, Hilary Wyatt.
Projectionist & Engineer: Roger Sharland.
Projectionist: Zbigniew "Spish" Trzaska.
Additional Editorial Support: Ben Renton, Claus Wehlisch.
Technical
Senior Electronics Development Engineer: Allan Yates.
Electronics Development Engineer: John Morrissey.
Mechanical Development Engineer: Alan Gregory.
Electrical Engineer: Bob Gregory.
Systems Engineer: Neil Baker.
Technical Resources Coordinators: Katherine Mann, Chiara Minchin.
Video & Mechanical Engineer: John Oaten.
Engineer & Wireman: Kevin Yates.
Avid Support: Malcolm Smele, Andy White, Mike Thorne.
Steenbeck Support: Lew Gardiner.
Production Assistants
Assistant to Peter Lord and Nick Park: Ali Cook.
Assistant to David Sproxton: Ngaio Mackintosh.
Assistant to Michael Rose: Julia Hardy.
Assistants to Carla Shelley: Sarah Brazier, Helen Sargent.
Assistant to Jake Eberts: Irene Lyons.
Assistants to Jeffrey Katzenberg: Cynthis Park, Holly Von Praagh.
Assistant to Mel Gibson: Doug Weaver.
Additional Assistants: Julie Imboden, Christy Yellen.
Researcher: Veronica Pollard.
Sound
Sound Effects Editors: Graham Headicar, Danny Hambrook.
Foley Effects Editor: James Mather.
Dialogue Editor: Tim Hands.
Assistant Sound Effects Editor: Lee Maturine.
Assistant Foley Editor: Sam Southwick.
Assistant Dialogue Editors: Dan Laurie, Simon Price.
Additional Re-Recording Mixer: Mike Prestwood Smith.
Assistant Re-Recording Mixers: Mathew Gough, Howard Bargroff, Stuart Hilliker.
Foley Recording Mixer: Ted Swanscott.
Foley Recording Assistant: Terry Isted.
Foley Artists: Diane Greaves, Ben Jones, Jack Stew.
Dubbing Engineer: Steve Hancock.
Sound Recording: De Lane Lea Studios, London.
ADR Voice Casting: Brendon Donnison, Lips Inc.
Music
Music Supervisor: Marylata E. Jacob.
Score Recorded and Mixed By: Nick Woolage.
Score Recorded & Mixed At: Abbey Read Studios, London.
Score Conducted By: Harry Gregson-Williams, Gavin Greenaway.
Supervising Music Editor: Richard Whitfield.
Temp Music Editor: Dina Eaton.
Additional Redording: Alan Meyerson.
Recorded At: O'Henry Sound Studios.
Additional Music: James McKee Smith, Geoff Zanel.
Music Preparation: Tony Stanton.
Orchestra and Vocal Contractor: Isobel Griffiths.
Music Production Services: Gretchen O'Neal, Media Ventures, Santa Monica.
Post Production
Post Production Supervisor: Mike Solinger.
Post Production Executive: James Beshears.
Title Design: The Picture Mill Film.
Opticals & Preview Assembly: Cine Image.
Offline Auto-Conform: Steve Boag.
Optical Coordinator: Martin Bullard.
Optical Printer: Charles Green.
Negative Cutter: Jason Wheeler.
Colour Timer: Peter Hunt.
Senior Laboratory Liaison: Paul Swann.
Digital
Digital Visual Effects: The Computer Film Company.
Executive Producer: Sharon Reed.
Visual Effects Producers: Rachael Penfold, Drew Jones.
Digital Visual Effects Supervisor: Paddy Eason.
Co-Digital Visual Effects Supervisor: Mark Nelmes.
Supervising CG Animator: Dominic Parker.
Visual Effects Line Producer: Fiona Chilton.
Senior Compositing Artists: Jon Thum, Adrian de Wet.
Compositing Artists: Mark Nettleton, Alex Payman, Gavin Toomey.
CG Animator: Richard Clarke.
Digital Paint Artists: Ian Fellows, Robert Hall Trainee.
Digital Paint Artist: Sule Bryan-Hurst.
Visual Effects Editorial: Tabitha Dean, Roz Lowrie, Natasha Wilkinson.
Assistant Coordinators: Verity Grantham, Dominic Sidoli.
Master Graded: Digital Lab at CFC.
Producer: Jan Hogevold.
Digital Grading: Tom Debenham.
Data Support: Darrel Griffin.
Scanning and Recording: Julia Egerton, Adam Glasman, Merrin Jensen, Scott Marriott, Steve Tizzard.
Research & Development: Steve Chapman, Oliver James, Dave Scott.
Submit Additional Information:
Do you have anything to add to this page? Have we made any mistakes... or do you have any additional information about Chicken Run? If so, we would love to hear from you. Please send us a quick note with your additions or corrections to this page, and we will make the corrections as soon as possible!
Report Errors / Submit Additional Information
Cartoon Summary:
Rocky the rooster and Ginger the chicken decide to rebel against the evil Mr. and Mrs. Tweedy, the farm's owners. Rocky and Ginger lead their fellow chickens in a great escape from the murderous farmers and their farm... (more)