Previous Cartoon | Next Cartoon
Space Jam
Space Jam
Space Jam (1996) Feature Length Theatrical Animated Film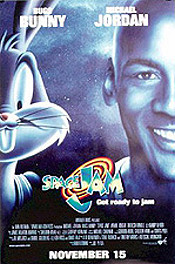 by Dave Koch
---
Post your Comments or Review
This page has been viewed 726 times this month, and 11887 times total.
Unknown Tag: 'short_stud_crew'
Unknown Tag: 'short_voice_crew'
Unknown Tag: 'short_dir_crew'
Unknown Tag: 'short_prod_crew'
Unknown Tag: 'short_write_crew'
Unknown Tag: 'short_edit_crew'
Unknown Tag: 'short_music_crew'
1996
Uli Meyer Features, Warner Bros. Animation, Courtside Seats Productions, Northern Lights Entertainment, Character Builders, Charles Gammage Animation, Rees-Leiva, Spaff Animators, Stardust Pictures
Warner Bros.
Feature Length Theatrical Animated Film
Cartoon Characters: Bugs Bunny, Elmer Fudd, Daffy Duck, Tazmanian Devil, Bull, Swackhammer, Bert, Herbie, Marvin Martian, Porky Pig, Tweety, Sylvester, Yosemite Sam, Foghorn Leghorn, Granny, Pepé le Pew, Lola Bunny, Nerdluck Pound, Nerdluck Blanko, Nerdluck Bang, Nerdluck Bupkus, Nerdluck Nawt, Sniffles, Monstar Bupkus, Monstar Ban, Monstar Nawt, Monstar Pound, Monstar Blanko, Announcer, Charles the Dog.
Live-Action Cast: Michael Jordan, Stan Podolak, Juanita Jordan, Manner 'Mooky' Washington, Marcus Jordan, Jasmine Jordan, Larry Bird, Bill Murray, James Jordan, Charles Barkley, Patrick Ewing, Muggsy Bogues, Larry Johnson, Shawn Bradley, Ahmad Rashad, Del Harris, Vlade Divac, Cedric Ceballos, Jim Rome, Paul Westphal, Danny Ainge, Jordan Housekeeper, Alonzo Mourning, A.C. Green, Charles Oakley, Derek Harper, Jeff Malone, Anthony Miller, Sharone Wright.
Vocal Talent: Billy West (Bugs Bunny, Elmer Fudd), Dee Bradley Baker (Daffy Duck, Tazmanian Devil, Bull), Danny DeVito (Swackhammer), Bob Bergen (Bert, Herbie, Marvin Martian, Porky Pig, Tweety), Bill Farmer (Sylvester, Yosemite Sam, Foghorn Leghorn), June Foray (Granny).
Produced By Daniel Goldberg, Steven Paul Leiva, Joe Medjuck, Ivan Reitman.
Executive Producers: David Falk, Ken Ross.
Co-Producers: Sheldon Kahn, Curtis Polk, Gordon Webb.
Animation Producers: Jerry Rees, Steven Paul Leiva.
Associate Producer, Animation: Dennis Edwards.
Line Producer, Animation: Richard Todd Sullivan.
Animated By Margot Allen, Claire Armstrong, Stephen Baker, Richard Baneham, Dave Boudreau, Dan Boulos, Spike Brandt, Mark Broecking, Adam Burke, Alberto Campos, Ronaldo Canfora, Claire Cantlie, Jennifer Cardon, Tod Carter, Luc Chamberland, Michael Chavez, Stan Chiu, Jesse Cosio, Alain Costa, Denis Couchon, Greg Court, James Davis, Murray Debus, Jeff Etter, Stuart Evans, Jerry Forder, Stephan Franck, Morgan Ginsberg, Scott Glynn, Heidi Guedel, Chris Hauge, Magnus Hjerpe, Richard Jack, Leon Joosen, Hon-Sik Kim, Sean Leaning, Paul Lee, Holger Leihe, Tom Lock, Lee McCaulla, Kevin McDonagh, Jacques Muller, Mike Nguyen, Michael S. Nickelson, Cynthia Overman, Clive Pallant, Wendy Parkin, John Perkins, Scott Petersen, Marco Piersma, Jens Pindal, Tom Riggin, Mitch Rose, Michael Schlingmann, Andrew Shortt, Andrea Simonti, Sharon Smith, Kevin Spruce, Neal Sternecky, Paul A. Stone, Mike Swindall, Vladimir Todorov, Daniela Topham, Tony Tulipano, John Tynan, Jan Van Buyten, Jim Van der Keyl, Darren Vandenburg, Duncan Varley, Andreas Von Andrian, Daniel Wagner, Simon Ward-Horner, Dave Wasson, J. C. Wegman, Andreas Wessel-Therhorn, Pete Western, Larry D. Whitaker Jr, Mark Williams, John D. Williamson, Vincent Woodcock, Chris York, Shane Zalvin.
Directors of Animation: Bruce W. Smith, Tony Cervone.
Supervising Animators: Niel Boyle, Chuck Gammage, Jim Kammerud, Uli Meyer, Jeff Siergey, Dave Spafford, Rob Stevenhagen, Bruce Woodside.
Lead Animators: Dino Athanassiou, Roberto Casale, Paul Chung, Shane Doyle, Gary Dunn, Martin Fuller, Dean Roberts, Dan Root, Brian Smith.
Assistant Animators: Martyn Jones, Marianne McCarney R. Jensen, Deborah Abbott, Todd Cronin, Lui Jauregui, Paul Mota, Ken Morrissey.
Music By James Newton Howard.
Song: Busta Rhymes.
Song, "I Believe I Can Fly": R. Kelly.
Edited By Sheldon Kahn.
Associate Editor: Mark Solomon.
Assistant Editors: Jennifer Dolce, Daniel R. Padgett.
Apprentice Editor: Brad E. Wilhite.
Director of Photography: Michael Chapman.
First Assistant Camera: Steve Adcock, Jamie Barber, Vern Nobles.
Camera Operator: Frank Perl, Bill Roe.
Additional Photographer: Jon Mentzer.
Casting: Janet Hirshenson, Jane Jenkins.
Casting Assistant: Amy McIntyre.
Production Designer: Geoffrey Kirkland.
Production Designer, Animation: Fred Cline.
Art Director: David Klassen.
Animation Art Director: Bill Perkins.
Set Decorator: Jennifer Williams.
Costume Designer: Marlene Stewart.
Assistant Costume Designer: Lisa Lovaas.
Production Manager: Melissa Kurtz.
Assistant Production Manager: Mitchell Ferm, Leslie Hough, Kate Skarritt.
Unit Production Manager: Gordon Webb.
Storyboard Artists: Kurt Anderson, Rich Arons, Celia Coppock, Skip Jones, Alex Mann, Linda Miller, Fergal Reilly, Harry Sabin, David Smith, Kieth Sparrow, Joe Suggs, Kirk Tingblad.
Layout Artists: Tass Darlington, Dan Fausett, Paul Hardman, Davy Liu, Daniel McHugh, Ennis McNulty, Roy Naisbitt, Don Reich, Chris Scully, Lisa Souza, Robert St. Pierre, Mark Swann, Craig Voigt, Todd Winter.
Background Supervisor: William Dely.
Background Artists: Catherine Brockhouse, Gerald Cook, Paul Dilworth, James Finn, Greg Gibbons, Julie Gleeson, Natasha Gross, Annie Guenther, Peter Meorhle, Andy Phillipson, Mansoor Shams, Gary Sycamore, Lucy Tanashian-Gentry, Nadia Vurbenova, Claire Wright, Raymond Zibach.
Senior Character Animator: Vladimir Todorov.
Key Assistant Animator: Bonnie Brantley.
Effects Animators: Actarus Ahmed Aksas, Graham Bebbington, Jon Brooks, Peter Brown, Steve Burch, Janet Cable, Lynette Charters, Korey Coleman, John Cousen, John Dillon, Marie Doran, Ricardo Echevarria, Sari Gennis, Barry Goff, Mick Harper, Earl A. Hibbert, Walt Holcombe, John Huey, Colin Hughes, Janice Inouye, Debora Kupczyk, Simon Leech, Craig Littell-Herrick, Steve McDermott, Mark Naisbitt, Les Newstead, Khai Nguyen, Constantin Nicov, Volker Pajatsch, Antonio Palermo, Susan Pfeiffer, Alan Pickett, David Pritchard, Panagiotis Rappas, Barnaby Russel, Anna Saunders, Paul Smith, Gary Sole, Simon Swales, Heather Tailby, Eusebio Torres, Mac Torres, Dan Turner, Gabriel Valles, Tim Walton, Martin Wansborough, Paul West.
Set Designers: Marco Rubeo, Glenn Forbes, Chris Grantz.
Production Illustrator: Sherman Labby.
Property Master: Sean Mannion.
Assistant Property Master: Julie Sexsmith.
First Assistant Director: Austin McCann.
Second Assistant Director: Pamela Cederquist.
Second Second Assistant Director: Elizabeth Herbert.
DGA Trainee: Wilfred J. Killian.
First Assistant Director, Second Unit: Bob Wilson.
Second Assistant Director, Second Unit: Michael Neuman.
Rigging Gaffer: Glenn Corbett.
Scene Planner: Kolja Erman.
Script Supervisor: Morgan.
Ink And Paint Manager: Rhonda L. Hicks.
Location Managers: Ira Stanley Rosenstein, George McDowell Agnew.
Final Checker: Stevan King.
Head Of ADA: James C.J. Williams.
Production Coordinators: Andrew Francis Fenady, Martin Wiseman.
Assistant Production Coordinators: Bernadette J. Gallardo, Robert Wayne Vaupel.
Additional Assistant Production Coordinator: Amanda Scarano.
Systems Administrators: Rik Bomberger, John Duino.
Technical Supervisor: Freddie Vaziri.
Technical Supervisor, Animation: Fraser MacLean.
Technology Manager: Bruce Hatakeyama.
Technical Support: Keith Kobata.
Digital Effects Producer: Alex Bicknell.
Digital Effects Supervisor, Cinesite: Carlos Arguello.
3D Coordinator: Carole Cowley.
Animation Effects Supervisor: Marc Ellis.
CGI Character Animator: Michael Kory.
Computer Graphics Animators: Tim Ketzer, Pepe Valencia.
CGI Effects Animator: Kevin Oakley.
Composite Supervisor: Doug Tubach.
Compositors: Dan Levitan, Nelson Sepulveda.
Computer Special Effects: Raymond C. King.
Computer Stadium Designer: Pepe Valencia.
Conceptual Art Department: Amnon David.
Digital Producer: Michael S. Pryor.
Data Engineer: Brian Gee.
Digital Animator: Robb Gardner.
Digital Artists: Joe Dubs, Matt Johnson, Roger Kupelian, Dylan Robinson, Pat Tubach, Damon Crowe, Dawn Gates.
Digital Compositors: Abra Grupp, Mark Michaels, Mark Nettleton, John E. Sasaki, Kevin Lingenfelser, Nicki Wakefield, Nicole Herr.
Digital Final-Check: David Valera.
Digital Matte Artist: Charles Darby.
Live Action Visual Effects Producer: Pamela Easley.
Miniatures: Evan Jacobs, Jon Warren.
Motion Tracking Supervisor: Cristin Pescosolido.
Production Manager, Cinesite: Gil Gagnon.
Sequence Supervisor, Cinesite: Sue Rowe.
Production Assistant, Cinesite: Wayne Holt.
Rotoscope Supervisor: James Valentine.
Systems Administrator: Derick Tortorella.
Visual Effects: James Hathcock.
Visual Effects Composite Artist: Gregory D. Liegey.
Visual Effects Coordinators: Steve Dellerson, Kevin Elam, Chris Del Conte.
Visual Effects Editors: Shawn Broes, Christer Hokanson.
Visual Effects Production Supervisor: Helen Ostenberg Elswit.
Visual Effects Producers: Aaron Dem, Scott Dougherty, Carole Cowley.
Visual Effects Supervisors: Ed Jones, James Lima.
Special Effects Coordinator: Darrell Pritchett.
Special Effects, First Unit: Brian Tipton.
Special Effects Cleanup: Kauffman Todd.
Effects Animator: Ryan Jeremy Woodward.
Unit Publicist: Michael Battaglia.
Visual Development Artist: Vladimir Spasojevic.
Production Staff: Andrea Chowdhury, Jon Gunn, Brent Hall.
Stunt Co-Ordinator: Bob Bralver.
Stunts: Hubie Kerns Jr., Barbara Anne Klein.
Sound Designer: Michael Geisler.
Sound: Roger Daniell, Oscar Mitt.
Production Sound Mixers: Gene Cantamessa, James LaRue.
Boom Operator: Raul A. Bruce.
Supervising Dialogue Editor: Curt Schulkey.
Executive In Charge Of Music: Gary Le Mel.
Music Supervisor: Ken Ross.
Supervising Music Editor: Jim Weidman.
Orchestra Contractor: Sandy DeCrescent.
Orchestrators: Jeff Atmajian, Brad Dechter, James Newton Howard.
Score Mixer: Shawn Murphy.
Supervising Sound Editor: Mark Mangini.
Sound Editor: Elliott Koretz.
ADR Editor: Curt Schulkey.
Original Dialog Mixer: Carlos Sotolongo.
Sound Effects Editor: Geoffrey G. Rubay.
Sound Re-Recording Mixers: Gary Bourgeois, David Campbell, John Reitz, Gary Alexander, Jim Fitzpatrick, Gregg Rudloff.
Payroll Accountant: Steven Butensky.
Production Assistants: Jennifer Taback, Peter Vogel, Jennifer Webb.
Assistant to the Associate Producer: Chrisie Russell.
Assistant to Mr. Tippe: Lisa Furst.
Assistant to Joe Medjuck: Susan Seferian.
Assistant to Mr. Pytka: Colleen Clancy.
Basketball Coordinator: Nathaniel Bellamy Jr.
Construction Accountant: Kirsten Anderson.
Submit Additional Information:
Do you have anything to add to this page? Have we made any mistakes... or do you have any additional information about Space Jam? If so, we would love to hear from you. Please send us a quick note with your additions or corrections to this page, and we will make the corrections as soon as possible!
Report Errors / Submit Additional Information
Cartoon Summary:
Swackhammer, owner of the amusement park planet Moron Mountain is desperate get new attractions and he decides that the Looney Tune characters would be perfect. He sends his diminutive underlings to get them to him, whether Bugs Bunny & Co. want to go or not.... (more)