Previous Cartoon | Next Cartoon
Mononoke Hime
Mononoke Hime
English Title: Princess Mononoke
Mononoke Hime (Princess Mononoke, Princess Ghost) (1997) Feature Length Theatrical Animated Film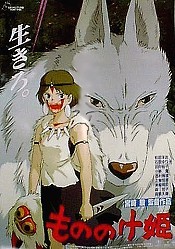 ---
Post your Comments or Review
This page has been viewed 17 times this month, and 4765 times total.
Unknown Tag: 'short_stud_crew'
Unknown Tag: 'short_voice_crew'
Unknown Tag: 'short_dir_crew'
Unknown Tag: 'short_prod_crew'
Unknown Tag: 'short_write_crew'
Unknown Tag: 'short_edit_crew'
Unknown Tag: 'short_music_crew'
1997
Studio Ghibli, Tokuma Shoten, Dentsu, Nippon Television Network
Toho, Miramax Films
Feature Length Theatrical Animated Film
Cartoon Characters: Prince Ashitaka, San The Princess Mononoke, Lady Eboshi, Jiko B˘, Moro, K˘uroku, Gonza, Toki, Oracle, Okkoto.
Vocal Talent: Y˘ji Matsuda (Prince Ashitaka), Yuriko Ishida (Princess Mononoke), Yűko Tanaka (Lady Eboshi), Kaoru Kobayashi (Jiko B˘), Akihiro Miwa (Moro), Masahiko Nishimura (K˘uroku), Tsunehiko Kamijoe (Gonza), Sumi Shimamoto (Toki), Mitsuko Mori (Oracle), Hisaya Morishige (Okkoto).
English Version: Billy Crudup (Prince Ashitaka), Claire Danes (Princess Mononoke), Minnie Driver (Lady Eboshi), Billy Bob Thornton (Jigo Bou), Gillian Anderson (Moro), Keith David (Okkoto).
Edited By Hayao Miyazaki, Takeshi Seyama.
Assistant Editors: Kyoko Mizuta, Mako Tamura, Megumi Uchida.
Original Story: Hayao Miyazaki.
Art Directors: Kazuo Oga, Naoya Tanaka, Nizo Yamamoto, Satoshi Kuroda, Youji Takeshige.
Associate Producer: Seiji Okuda.
Advertising Producers: Chihiro Tsukue, Fumiyo Sasada, Mariko Kato, Masaru Tsuchiya, Masaru Yabe, Michiyo Koyanagi, Mieko Hara, Mika Watanabe, Morikazu Wakizaka, Naoto Okamura, Nozomi Fukuda, Shigeto Arai, Yusuke Tomoda.
Assistant Director: Hiroyuki Ito, Koji Aritomi, Masakatsu Ishizone.
Color Design: Michiyo Yasuda.
Color Key: Kanako Moriya, Masayo Iseki, Naomi Mori.
Background Art: Hiroaki Sasaki, Hisae Saito, Junichi Taniguchi, Kiyomi Oota, Kyoko Naganawa, Masako Osada, Naomi Kasugai, Noboru Yoshida, Ryoko Ina, Sadayuki Arai, Sayaka Hirahara, Seiki Tamura.
Animation Supervisor: Kitaro Kousaka, Masashi Ando, Yoshifumi Kond˘.
Key Animation: Atsuko Otani, Atsuko Tanaka, Eiji Yamamori, Hideaki Yoshio, HIroko Minowa, Hiroshi Shimizu, Ikuo Kuwana, Katsuya Kondo, Kenichi Konishi, Kenichi Yamada, Kenichi Yoshida, Makiko Futaki, Mariko Matsuo, Masaaki Endou, Masako Shinohara, Masaru Matsuse, Megumi Kagawa, Michio Mihara, Noriko Moritomo, Sachiko Sugino, Shinji Otsuka, Shinsaku Sasaki, Takehiro Noda, Takeshi Inamura, Toshio Kawaguchi, Tsutomu Awada, Yoshinori Kanada.
CG: Masafumi Inoue, Mitsunori Kataama, Yoshinori Sugano, Yoshiyuki Momose.
Inbetween / Clean-up Animation: Komasa, Akihiko Adachi, Akihiko Uda, Akiko Teshima, Alexandra Weihrauch, Atsuko Matsushita, Atsushi Tamura, Chiharu Haraguchi, Daisuke Nakayama, David Encinas, Emiko Iwayanagi, Eriko Shibata, Hana Kikuchi, Hiroko Tetsuka, Hiroko Yasutome, Hiromasa Yonebayashi, Hiromi Furuya, Hiromi Nishikawa, Hisako Yaji, Kaori Fujii, Kazuko Hirai, Kazuko Shibata, Keiko Nakaji, Keiko Tomizawa, Keiko Watanabe, Keiko Yozawa, Kiyoko Makita, Koujirou Tsuruoka, Kumiko Ohta, Kumiko Tanihira, Kuri Sawa, Makiko Suzuki, Manabu Kawada, Mariko Suziki, Masae Tanabe, Masae Tomino, Masako Sakano, Masayo Fujikura, Maya Fujimori, Mayu Yazawa, Mayumi Ohmura, Mayumi Yamamoto, Mineko Ueda, Minori Noguchi, Misuzu Kurata, Miyoko Shikibu, Morihiko Yano, Natsuko Iimori, Natsuko Watanabe, Noriko Odaka, Reiko Mano, Rie Kondo, Rie Niidome, Rie Shimizu, Ritsuko Shiina, Sachiko Kobayashi, Seiko Azuma, Shin Itagaki, Shinobu Mori, Shinobu Tsuneki, Sumie Nishido, Tamami Yamada, Yayoi Toki, Yoko Nagashima, Yoko Toju, Yoshie Hayashi, Yukari Yamaura, Yukie Sako, Yumiko Kitajima.
Ink & Paint: Akiko Aihara, Akiko Ono, Atsushi Kodama, Chie Harai, Chiemi Miyamoto, Chiyomi Morisawa, Eiichi Suzuki, Emiko Motohashi, Eriko Ishikawa, Fumiko Oda, Fumiko Taira, Hiroko Otsuk, Hiromi Tsuchiya, Hisashi Nabetani, Junko Kanauchi, Junko Miyakawa, Junko Nagaoka, Kaori Anmi, Kaori Ishikawa, Kaori Yajima, Kaoru Morita, Kaoru Nakagama, Kazue Urayama, Kazuhiro Hirabayashi, Kazuko Kurosawa, Kazuko Tsunoda, Kazuko Yamada, Kazumi Ouchi, Kazuo Kobayashi, Keiko Goto, Keiko Sasaki, Keiko Sato, Kimiko Hatano, Kimiyo Okunichi, Kinuyo Maehara, Kiyomi Fujihashi, Makiko Ota, Mari Hitokurai, Mariko Shimizu, Masako Osumi, Megumi Matsuo, Michiyo Iseda, Mihoko Irie, Mito Ozaki, Miyoko Yoshida, Naomi Anzai, Naomi Atsuta, Naomi Takahashi, Nobuko Watanabe, Reiko Daigo, Sachiko Funasaki, Sayuri Nagashima, Sayuri Takagi, Shizuka Ishiguro, Sigeko Akanuma, Sonoe Sakano, Sumiko Furuya, Tae Tochihara, Tatsumi Yukiwaki, Tomoko Totsuka, Tomoko Yamamoto, Tomomi Tenma, Toshiko Iwakiri, Toyomi Nishimura, Trace-machine, Wakako Sugiyama, Yoriko Asai, Yoshiko Igarashi, Yoshimi Nishiwaki, Yukie Nomura, Yumiko Kimura, Yuriko Katayama, Yuriko Kudo.
Digital Ink & Paint: Akira Sugino, Hiroaki Ishii, Kanako Takahashi, Keiichiro Hattori, Makiko Sato, Megumi Ishido, Yuki Murata, Yukiko Kakita, Yumiko Shimoe.
Animation Check: Hitomi Tateno, Katsutoshi Nakamura, Kazuyoshi Onoda, Masaya Saito, Rie Nakagome.
Special Effects: Kaoru Tanifuji, Kumiko Taniguchi, Masahiro Murakami, Tomoji Hashizume, Toyohiko Sakakibara.
Special Art Effects: Yoshikazu Fukutome.
Recording & Sound Mixing: Shuji Inoue.
Recording Assistant: Masahiro Fukuhara.
Music Recording: Hiroya Ishihara, Kenji Furukawa.
Music Mixing: Makoto Morimoto, Masayoshi Okawa.
Music Production: Kazumi Inaki, Toru Takigawa, Yukio Yamashita.
Orchestra Conductor: Hiroshi Kumagai.
Digital Optical Recording: Noboru Nishio.
Optical Recording: Futoshi Ueda.
Dialogue Recording: Mitsuharu Kanei, Nobutaka Hirooka, Rie Nishijima, Tatsuya Ikeba, Yuki Yasoshima.
Theme Song Arrangement: Joe Hisaishi.
Theme Song Composition: Joe Hisaishi.
Theme Song Lyrics: Hayao Miyazaki.
Theme Song Performance: Yoshikazu Mera.
Soundtrack CD Production: Tomoko Okada.
Sound Effects: Muchihiro Ito.
Sound Effects Assistant: Takahisa Ishino.
Sound Effects Production Support: Kazuhiko Ikai, Motoi Watanabe, Shigeru Tokida.
Sound Effects Compilation Support: Takao Kato, Tsunahiro Yamamura.
Sound Mix Assistant: Makoto Uchida, Tsukuru Takagi, Tsutomu Asakura.
Audio Director: Kazuhiro Wakabayashi.
Assistant Audio Director: Kei Mayama.
Chief Executive Producer: Yasuyoshi Tokuma.
Production Manager: Toshiyuki Kawabata.
Production Committee: Akio Ichimura, Daisuke Kadoya, Eiko Fujitsu, Hidehiko Takei, Junko Ito, Kako Nomoto, Kazuaki Ito, Minoru Muroi, Mitsuyoshi Katsurada, Noboru Tsukahara, Nobuhisa Sakata, Noritoshi Aoyagi, Ryoichi Fukuyama, Seiji Urushido, Shigeru Kobayashi, Shogo Komagata, Shokichi Arai, Shozo Katsuta, Sue Fujimoto, Takaya Noda, Tomoki Horaguchi, Tomoko Kamiya, Tsutomu Otsuka, Yoshiko Nagasaki, Yushin Soga.
Production Desk: Kazuyoshi Tanaka, Tomoaki Nishigiri.
Production Administration: Shinsuke Nonaka, Yuichiro Mochizuki.
Production Assistant: Kenichiro Suzuki, Kenji Imura, Koji Otsuka, Takahiro Yonezawa.
Camera Supervisor: Atsushi Okui.
Camera: Junji Yabuta, Tamaki Kojo, Wataru Takahashi.
Film Development, Digital Film I/O: Hideo Tsuji.
Film Development, Optical: Masaharu Sekiguchi.
Film Development, Technical Cooperation: Mikio Mori.
Film Development, Timing: Hiroaki Hirabayashi.
Film Preview Production: Hiroko Hanamoto, Keiichi Itagaki.
Titles: Kaoru Mano, Yukari Yoshida.
Special Media Advisor: Masaya Tokuyama.
Special Media Support: The Yomiuri Shimbun.
Publishing Development: Yukari Tai.
Technical Cooperation: Mamoru Murao, Roy Evans, Shigeharu Kitamura, Yoshiro Saito.
Public Relations: Minako Nagasawa, Tamami Yamamoto.
Overseas Promotion: Haruyo Moriyoshi, Keiji Hamada, Stephen Alpert.
Merchandising Development: Koichi Asano, Tomomi Imai.
Internet Coordinator: Noriko Ishimitsu.
Film Preview Production: Gal Enterprise.
Production: Dentsu Inc., NTV, Studio Ghibli, Tokuma Shoten.
Production Committee: Dentsu Inc., NTV, Studio Ghibli, Tokuma Shoten.
Production Studio: Studio Ghibli.
Main Animation Studio: Studio Ghibli.
Key Animation: Telecom Animation Film.
Supporting Animation: Anime Torotoro, Group Donguri, Oh production, Studio Cockpit, Studio Takuranke.
Inbetween / Clean-up Animation: Telecom Animation Film.
Ink & Paint: Anime House, Hadashi Pro, IM Studio, Monsieur Onion, Peacock, Studio Ad, Studio Killy, Studio OM Aomori Works, Studio OZ, Toei Animation, Trace Studio M.
Digital Ink and Paint: Chromacolour International Ltd., Naigai Carbon Ink, Stac.
Music Production: Studio Ghibli, Wonder City.
Music Recording: AVACO Creative Studios, Wonder Station.
Music Performance: Tokyo City Philharmonic Orchestra.
Recording & Mixing: Tokyo T.V. Center.
Audio Recording: Omnibus Promotion.
Dialogue Recording: AVACO Creative Studios, MIT Studio.
Sound Effects Production Support: VOX.
Sound Mixing: Omnibus Promotion, Tokyo T.V. Center.
Soundtrack CD Production: Tokuma Japan Communications.
Sound Effects Compilation Support: Aichi-ken Horai-cho, Masamune Kogei, Tokyo Kita-ku Archery League.
Special Media Support: The Yomiuri Shimbun.
Advertising: TOHO.
English Adaptation: Neil Gaiman.
English Voice Direction: Jack Fletcher.
English Translation: Haruyo Moriyoshi, Ian MacDougall, Steve Alpert.
English Executive Producer: Bob Weinstein, Harvey Weinstein, Scott Martin, Yasuyoshi Tokuma.
Associate Producer: Diana Tauder.
Effects & Foley Editor: Dan Edelstein, Gerald Donlan, Warren Shaw.
Assistant Sound Editor: Charlotte Stebbs, Steve Swartz.
Re-Recording Mixing: Dominick Tavella.
ADR Engineers: Ernie Sheesley, James Twomey.
ADR Script Consultant: Jack Fletcher.
ADR Editor: Ernie Sheesley.
English Apprentice Editor: Benu Bhargara.
English Theme Song Adaptation: Neil Gaiman.
English Theme Song Performance: Sasha Lazard.
English Theme Song Translation: Steve Alpert.
Production Assistants: David Beron, Eric Lewis, Laurie Bean, Lisa Carlon.
Submit Additional Information:
Do you have anything to add to this page? Have we made any mistakes... or do you have any additional information about Mononoke Hime? If so, we would love to hear from you. Please send us a quick note with your additions or corrections to this page, and we will make the corrections as soon as possible!
Report Errors / Submit Additional Information
Cartoon Summary:
A prince is infected with an incurable disease by a possessed boar/god. He is to die unless he can find a cure to rid the curse from his body. It seems that his only hope is to travel to the far east. When he arrives to get help from the deer god, he finds... (more)