Previous Cartoon | Next Cartoon
Majo No TakkyŻbin
Majo No TakkyŻbin
English Title: Kiki's Delivery Service
Majo No TakkyŻbin (Kiki's Delivery Service, Witch's Delivery Service) (1989) Feature Length Theatrical Animated Film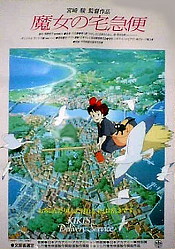 ---
Post your Comments or Review
This page has been viewed 3530 times this month, and 10870 times total.
Unknown Tag: 'short_stud_crew'
Unknown Tag: 'short_voice_crew'
Unknown Tag: 'short_dir_crew'
Unknown Tag: 'short_prod_crew'
Unknown Tag: 'short_write_crew'
Unknown Tag: 'short_edit_crew'
Unknown Tag: 'short_music_crew'
1989
Studio Ghibli, Nippon TV Network, Tokuma Shoten
Toei Animation, Buena Vista (U.S.)
Feature Length Theatrical Animated Film
Cartoon Characters: Kiki, Ursula, Jiji, Osono, Tombo, Madame, Barsa, Okino (Kiki's Father), Kokiri (Kiki's Mother).
Vocal Talent: Minami Takayama (Kiki, Ursula), Rei Sakuma (Jiji), Keiko Toda (Osono), Kappei Yamaguchi (Tombo), Haruko Kato (Madame), Hiroko Seki (Barsa), Koichi Miura (Okino), Mieko Nobusawa (Kokiri), Haruko Kato (RŰ-fujin), YŻko Kobayashi (Young Witch), KŰichi Yamadera, Masa SaitŰ YŻko Maruyama, YŻko Tsuga Tsuga, Yuriko Fuchizaki, Kikuko Inoue, Mika Doi, Akio 'tsuka.
English Version: Kirsten Dunst (Kiki O'Connell), Phil Hartman (Gigi), Tress MacNeille (Osono), Matthew Lawrence (Tombo), Janeane Garofalo (Ursula), Edie McClurg (Barsa), Debbie Reynolds (Madame), Jeff Bennett (Kiki's Father), Kath Soucie (Kiki's Mother), Pamela Segall (Ket), Corey Burton (Radio Announcer), Debi Derryberry (Snobby Witch), Chika Sakamoto, Eddie Frierson, Sherry Lynn, Matt K. Miller.
Produced By Hayao Miyazaki, Toru Hara.
Executive Producers: Mikihiko Tsuzuki, Morihisa Takagi, Yasuyoshi Tokuma
Associate Producers: Toshio Suzuki.
Animated By Shinji Otsuka, Yoshifumi Kondo, Masaaki EndŰ, Atsuko Fukushima, Makiko Futaki, Akiyoshi Hane, Akiko Hasegawa, Tashiyuki Inoue, Ai Kagawa, Yoshinori Kanada, Toshio Kawaguchi, Kouji Morimoto, Noriko Moritomo, Toshiya Niidome, Yoshiharu Sato, Masahiro Sekino, Sachiko Sugino, Chie Uratani, HirŰmi Yamakawa, Natsuyo Yasuda, Atsuko 'tani.
Written By Hayao Miyazaki.
Based on the Book By: Eiko Kadono.
English Treatment: John Semper Jr, Jack Fletcher.
Music By JŰ (Joe) Hisaishi.
Edited By Takeshi Seyama.
Assistant Editor: Hiroshi Adachi.
Original Creator: Eiko Kadono.
Art Director: Hiroshi Ohno.
Character Design: Katsuya Kondo.
Advertising Producer: Masaya Tokuyama.
Assistant Director: Sunao Katabuchi.
Color Design: Michiyo Yasuda, Yuriko Katayama.
Background Art: Hidetoshi Kaneko, Kazuo Ebisawa, Kazuo Oga, Ken Tokushige, Kenji Kahiyama, Kiyoko Kanno, Kiyomi Oota, Kumiko Ono, Kyoko Naganawa, Midori Chiba, Miyuki Kudo, Satoshi Kuroda, Toshiharu Mizutani, Yoko Nagashima, Yuji Ikehata, Yuko Matsuura, Yutaka Ito.
Harmony Process: Noriko Takaya.
Animation Director: Katsuya Kondo, Shinji Otsuka, Yoshifumi KondŰ.
Key Animation: Akiko Hasegawa, Atsuko Fukushima, Atsuko Otani, Chie Uratani, Hiroomi Yamakawa, Hiroshi Watanabe, Koji Morimoto, Makiko Futaki, Masaaki Endou, Masako Shinohara, Megumi Kagawa, Natsuyo Yasuda, Noriko Moritomo, Sachiko Sugino, Toshio Kawaguchi, Toshiya Niidome, Toshiyuki Inoue, Yoshiharu Sato, Yoshinori Kanada, Yoshiyuki Hane.
In-Between Animation: Aki Yamagata, Akihiko Nomura, Akihiro Yuki, Akiko Ishii, Akiko Matsushima, Akiko Teshima, Akiko Yamaguchi, Akio Watanabe, Ako Takano, Eiichiro Hirata, Emiko Iwayanagi, Etsuko Ishiwari, Etsuko Shino, Hideaki Maniwa, Hiroki Ikehata, Hiroko Tezuka, Hiroyuki Kanbe, Hiroyuki Morita, Hitoshi Kagiyama, Ichiro Izuki, Kasumi Hara, Katsumi Hiroe, Katsusuke Konuma, Kazumi Okabe, Keiichi Suwada, Keiko Nagai, Keiko Watanabe, Kiyoko Makita, Koichi Taguchi, Koji Ito, Kumiko Ohtani, Machiko Niiya, Machiko Shin'ya, Makoto Koga, Masahiko Adachi, Masahiro Hamamori, Masako Higashi, Masako Sakano, Masayuki Shibuya, Mayumi Ohmura, Nagisa Miyazaki, Naoko Takenawa, Ninji Takahashi, Nobuhiro Hosoi, Nobuko Sato, Rie Fujimura, Ritsuko Shiina, Riwako Matsui, Ryo Suzuki, Setsuya Tanabe, Shiro Shibata, Sumie Nishido, Suzuko Mano, Takao Maki, Takuya Iinuma, Tatsuji Narita, Tatsuya Tanabe, Tazuko Fukutsuchi, Toshihiro Hamamori, Yoshie Hayashi, Yoshie Kawahashi, Yoshimi Kanbara, Yu Ito, Yuka Endo, Yukari Yamaura, Yuko Aoyama, Yumi Kawachi, Yurie Sudo, Yuriko Saito.
Animation Check: Hitomi Tateno, Yasuko Tachiki.
Ink & Paint: Chieko Omachi, Eiko Fukuma, Eiko Hirokiri, Fumiko Ito, Harumi Machii, Hideko Sato, Izumi Maeno, Junko Yoshikawa, Kazue Hiranuma, Kazumi Kobayashi, Mariko Konuma, Masami Nishizaka, Masuko Sugamuma, Mayumi Watanabe, Michiko Nishimaki, Michiko Shibata, Michiyo Iseta, Mieko Asai, Mieko Nakano, Mika Tanifugi, Mioori Sugawara, Miyoko Oka, Naomi Takahashi, Nobuko Watanabe, Norichika Iwakiri, Reiko Aonuma, Reiko Yoshida, Ritsuko Osaki, Rumi Fukaya, Taeko Oumi, Tatsuko Kubota, Toshiko Tawara, Tsutomu Muta, Yoko Tanida, Yukari Tajima, Yukari Yokoyama, Yukimi Toyonaga, Yuriko Kudo.
Ink & Paint Check: Ikuyo Kimura, Noriko Ogawa, Teruyo Tateyama, Yuki Hisada, Yumi Furuya.
Special Effects: Kaoru Tanifuji, Kunji Tanifuji.
Director of Photography: Juro Sugimura.
Camera: Hiroaki Edamitsu, Hiroshi Tamura, Hisao Kazemura, Juro Sugimura, Jyosaku Nishiyama, Kenji Akazawa, Satoshi Arakawa, Toru Kobayashi, Yasuhiro Shimizu, Yasuyoshi Hayama, Yutaka Tamura.
Photography: Junichi Ochiai (Still Painting).
Production Committee: Akiji Ota, Akira Kaneko, Atsushi Miura, Hiroshi Tojo, Hiroyuki Kato, Michio Yokoo, Munayoshi Yokoyama, Seiji Okuda, Takeo Mutai, Toshio Tsuboike, Yasuharu Urushido, Yoshifumi Kitanoguchi.
Planning: Hideo Ogata, Iwai Seto, Tatsumi Yamashita.
Production Coordination: Yoko Umemura.
Production Manager: Eiko Tanaka.
Production Desk: Hirokatsu Kihara, Toshiyuki Kawabata.
Production Assistant: Hiroyuki Ito, Tomoaki Nishigiri, Toshitaka Hayami, Yuji Kitazawa.
Producer Assistant: Toshio Suzuki.
Recording Supervisor: Naoko Asari.
Recording Assistant: Shoichi Tamaasa.
Music Director: Isao Takahata.
Sound Effects: Kazutoshi Sato.
Sound Effects Assistant: Hironori Ono, Norio Kobayashi.
Sound Engineer: Shuji Inoue.
Dialogue Editing: Fujio Yamadai.
Symbol: Akiko Hayashi.
Titles: Akira Michikawa, Kaoru Mano.
Background Studios: Studio Fuga.
Ink & Paint Studios: Domusha, IM Studio, Kyoto Animation, Ryu Production, Studio Fantasia, Studio Killy, Studio OZ, Toy House, Trace Studio M.
Camera Studio: Studio Gallop.
Laboratory: Toei Chemical Industry.
Production: Studio Ghibli.
Production Committee: NTV, Tokuma Shoten, Yamato Transport.
Production Assist: Animage Editorial Department, Group Fudosha.
Recording Studio: Tokyo T.V. Center.
Recording Assist: Telescreen.
Supporting Animation: Anime Torotoro, DOGA Productions, Nakamura Production, Oh production, Studio Hibari, Studio Muku.
Supporting Entity: Dentsu Inc.
Technical Support: Continental Far East Inc., Mikio Miro, Stac, Taiyo Shikisai.
Theatrical Distribution: Toei Animation.
English Adaptation: Jack Fletcher, John Semper.
English Voice Direction: Jack Fletcher.
English Recording & Sound Mixing: Dean Zupancic, Terry Porter.
English Sound Effects Editing: Bill Komar.
English Music Arrangement: Paul Chihara.
English Theme Song Performance: June Angela.
English Music Editing: Bill Komar.
English ADR Consultant: Miyoko Miura.
English ADR Editor: Ernie Sheesley.
English ADR Engineer: Ernie Sheesley.
2nd ADR Engineer: James Twomey.
English Production Assistant: Chris Brady, David Beron, Laurie Bean, Lydia Quidilla, Mark Caballero.
Submit Additional Information:
Do you have anything to add to this page? Have we made any mistakes... or do you have any additional information about Majo No TakkyŻbin? If so, we would love to hear from you. Please send us a quick note with your additions or corrections to this page, and we will make the corrections as soon as possible!
Report Errors / Submit Additional Information
Cartoon Summary:
Kiki has just turned 13. That is an important milestone in a witch's life, for once a witch turns 13, it is time for her to go out and find a city to settle in for a year to complete her witch's study by using her magical powers. But Kiki is poor with potions and... (more)