Previous Cartoon | Next Cartoon
Despicable Me 2
Despicable Me 2
Despicable Me 2 (2013) Feature Length Theatrical Animated Film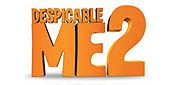 by Dave Koch
---
Post your Comments or Review
This page has been viewed 4464 times this month, and 12342 times total.
Unknown Tag: 'short_stud_crew'
Unknown Tag: 'short_voice_crew'
Unknown Tag: 'short_dir_crew'
Unknown Tag: 'short_prod_crew'
Unknown Tag: 'short_write_crew'
Unknown Tag: 'short_edit_crew'
Unknown Tag: 'short_music_crew'
2013
Universal Studios, Illumination Entertainment
Universal
Feature Length Theatrical Animated Film
Cartoon Characters: Gru, Lucy, Eduardo/El Macho, Margo, Agnes, Edith, Dr. Nefario, Floyd, Silas, Antonio, Jillian, Shannon, Kevin the Minion, Bob the Minion, Stuart the Minion, Minions, Evil Minions, Italian Waiter, Arctic Lab Guards.
Vocal Talent: Steve Carell (Gru), Kristen Wiig (Lucy), Benjamin Bratt (Eduardo/El Macho), Miranda Cosgrove (Margo), Elsie Fisher (Agnes), Dana Gaier (Edith), Russell Brand (Dr. Nefario), Ken Jeong (Floyd), Steve Coogan (Silas), Moises Arias (Antonio), Nasim Pedrad (Jillian), Kristen Schaal (Shannon), Pierre Coffin (Kevin the Minion, Bob the Minion, Stuart the Minion, Additional Minions, Evil Minions), Chris Renaud (Additional Minions, Evil Minions, Italian Waiter), Nickolai Stoilov (Arctic Lab Guards).
Music By Heitor Pereira.
Edited By Gregory Perler.
Casting: Carla Hool.
Additional Casting: Carla Hool.
Production Designer: Yarrow Cheney, Eric Guillon.
Art Director: Eric Guillon.
Set Designers: Olivier Adam, Christoph Charriton, Paul Mager, Loïc Rastout.
Color Design: Clément Griselain, Sergio Casas.
Storyboards: Wilbert Plijnaar.
Props: Philippe Tilikete.
Production Supervisor: Jean Luc Florinda.
Art Production Supervisor: Clare Brooks.
Story Consultant: Mike Reiss.
Story Supervisor: David Rosenbaum.
Story Artists: Ian Abando, Didier Ah-Koon, Eric Favela, Fabrice Joubert, Mike Kim, Habib Louati, Christophe Lourdelet, David Lux, Steve Moore, Matthew Nealon, Mark O'Hare, Wilbert Plijnaar.
Additional Story Artists: Eric Delbecq, David Feiss, Martin Fuller, John Holmquist, Cameron Hood, Glenn McCoy, Adam Van Wyk.
Matte Painters: François Belliart, Guillaume Benamout, Jean-Denis Coindre.
Layout Production Supervisors: Wassila Lmouaci, Jessica Meunier.
Rough Layout Supervisor: Régis Schuller.
Layout Lead: Guy-Laurent Homsy.
Layout Artists: Damien Bapst, Maxime Devanlay, Romain Durr, Julien Hassenforder, Maxime Labate, Pauline Motard, Frédéric Peci-Evesque.
Final Layout Supervisor: Valerie Gabriel.
Final Layout Artists: Victor Fleury, Vincent Lemoigne, David Suarez.
Animation Production Supervisor: Céline Roz-Locatelli.
Animation Coordinator: Thomas Laffin.
Animation Directors: Bruno Dequier, Pierre Leduc.
Animation Supervisor: Laurent de la Chapelle.
Supervising Animators: Pierre Avon, Nicolas Bauduin, François-Xavier Bologna, Jean Hemez, Julien Soret, Emmanuel Vergne.
Character Production Supervisor: Marléne Thomas.
Character Designers: Carter Goodrich, Eric Guillon.
Additional Character Designers: Maël Gourmelen, Paul Mager, Jérémie Moreau, Chris Renaud, Philippe Tilikete.
Character Animators: Steve Alves, Hichem Arfaoui, Salem Arfaoui, Benoit Bargeton, Arnaud Berthier, Cécile Brossette, Daniel Callaby, Antoine Collet, Simon Cuisinier, Luc Degardin, Jonathan del Val, Patrick Delage, Christophe Delisle, Vincent Ehrhart-Devay, Guillame Dhont, Axel Digoix, Pierre-François Duhamel, Damien Duprat, Audrey Fobis, Gabriel Gelade, Nicolas Gibut, Jean-Charles Gonin, Adeline Grange, Benoit Guillaumot, Basile Heiderscheid, Guillaume Hérent, Silke Jäger, Sebastien Kunert, Vincent Le Ster, Vincent Lemaire, Adrien Soyty Liv, Gaël Matchabelli, Mathieu Menard, Gwénolé Oulc'hen, Yohan Pelladeaud, Yung Pham, Boris Plateau, Patrick Pujalte, Claude Ricros, Alexandre Ronco, Laurent Rossi, Ludovic Roz, Gaël Sabourin, Corentin Sacré, Ludovic Savonnière, Alexandre Li Xiaoguang, Damien Zeelen.
Character Modeling Supervisor: Jérôme Gordon.
Character Modelers: Frédéric Alves-Cunha, François Bordez, Marc Antoine Cesari, Katarina Djordjevic, David Fourrage, David Galante, Mathieu Gautier, Laurent Guittard, Kevin Herbrich, Guillaume Rajaona.
Character Rigging Supervisor: Mathieu Le Meur.
Character Rigging Leads: Nicolas Combecave, David Liebard, Eric Skjold Mauhourat, Mathieu Trintzius.
Character Riggers: Hervé Arphi, Frédéric Bruna, Nimoul Bun, Claudine Desperoux, Jin Kabore, Aurélie Lagneau, Eric Hao Nguy, Tony Phé, Pierre-André Pérucaud.
Character Surfacing Supervisor: Adrien Borzakian.
Character Surfacing: Anne Coulet, François Debonnet, Jérémie Droulers, Ben Fournet, Sarah Matuszak.
Supervising Crowd Animator: Elisabeth Patte.
Crowd Animators: Benjamin Tussiot, Pierre Bottai, Brice Chevillard, Moïse Essame, Antoine Kinget, Paul Lavau, Anaïs Mallégol, Quentin Max, Eddy Okba, Remi Parisse, Clémentine Tronel.
Character Hair And Fur Supervisor: Olivier Luffin.
Fur And Hair Development: Nathalie Bonnin, Emmanuelle de Amézaga, Romain Grillon, Jimmy Laplaige, Frédéric Mainil.
Set Designers: Olivier Adam, Christophe Charriton, Loïc Rastout.
Set Dressing Supervisor: Axelle De Cooman.
Set Dresser: Laura Giardini.
Set Modeling Supervisor: François Launet.
Set Surfacing Supervisor: Fabien Polack.
Sets And Props Production Supervisor: Alexandra Skinazi-Francart.
Sets And Props Modelers: Frank Clarenc, Thibault Collonges, Grégory Foret, Hortense Goyard, Elodie Hickson, Aurélien Hulot, Jérémy Mamo, Ludovic Ramière, Gilles Roman, Angela Smaldone, Nicolas Valade, Cyril Thauvain.
Sets And Props Rigging Lead: Guillaume Boudeville.
Sets And Props Riggers: Nicolas Brice, Jean-Marc Imele.
Sets And Props Surfacing Lead: Virginie Taravel.
Sets And Props Surfacing: Nicolas Coppolani, Hélène Galtier, Vanessa Lamblet, Maxime Leduc, Pierre Lopes, Titouan Perrot, Delphine Potevin, Quentin Vandenbongaard.
Lighting Coordinator: Charles Seignolle.
Lighting Supervisor: Nicolas Brack.
Lighting Technical Director: Jérôme Arthuis.
Lighting Assistant Technical Director: Laperdrix Julien.
Lead Lighting Artists: Lionel Cuendet, Selim Draïa, Sophie Guillois, Thierry Noblet, Max Tourret, Damien Viatte.
Lighting Artists: Vincent Blanqué, Démian Boude, Cédric Burkarth, Florent Cadel, Jérôme Cordier, Thomas Dairain, Bertrand De Becque, Christopher Brejon de Lavergnée, Ephraïm Drouet, Benoit Fournol, John Hreich, Elodie Labbe, Yannick Lecoffre, Catherine Lee, Romain Silva Macedo, Mickael Mandonnet, Jean-Pierrick Muggianu, Victor Pajot, Olivier Prigent, Julien Rocchi, Loïc Salmon, Arnaud Servouze, Arnaud Tisseyre, Anthony Voisin.
Senior Animation Production Supervisor: Joy Poirel.
Senior Finaling Production Supervisor: Delphine Le Roch.
Finaling Production Supervisors: Rafaël Curulla, Matthieu Skrovec.
Character Effects Production Supervisor: Allison Cussigh.
Character Effects Supervisor: Milan Voukassovitch.
Character Effects Animation Leads: Uriell Priser, David Rodrigues.
Character Effects Animators: Richard Adenot, Tamouze Arnaout, Jérémy Barrial, Yann Bertothy, Matthieu Bijaoui, Alice Bouchier, Alexis Bourgoin, Antoine Brémont, Jim Coudroy, André Delphin, Fred Din-Ebongue, Benoit Drevet, Sylvain Duroyon, Guillaume Gay, Didier Gros, Vincent Haumont, Denis Hénon, Gwendoline Lebnouj, Fabrice Lau-Tim-Ling, Gaétan Louët, Vincent Minelli, Gabriel Nguyen, Stéphane Pierrisnard, Benjamin Quinet, Fabien Rixens, Thomas Robillard, Kenny Rosset, Haian Sun, Grégory Tallec, Frédéric Valz-Gris, Jérémy Waulter.
Character Effects Set Up: Josselin Jallut, Mathieu Pibouleau, Romain Revert, Sébastien Stoianov.
Compositing Supervisors: Céline Allègre, Marion Roger, Charles Seignolle, Laetitia Yung.
Lead Compositing Artists: Florian Bestel, Lise Fischer, Stéphanie Machuret, Laurianne Proud'hon, Matthieu Rouxel, Lynda Tranchier.
Compositing Artists: Thomas Assié, Romain Blanchet, Bastien Brenot, Bertrand Breuze, Solène Collignon, Clément Darbois, Clément Delatre, Fabien Félicité-Zulma, Florian Girardot, Mickael Goussard, Erwin Gresser, Tristan Hocquet, Sébastien Klein, Marc Largier, François Le Bastard, Érwann Le Fadu, Jonathan Lecroart, Loïc Lecygne, Grégory Lenain, Philippe Lucini, Claire Mandel, Rémi Martin, Vincent Martin, Thomas Mothe, Anne-Sophie Palermo, Maxime Poron, Julien Roger, Isabelle Roussel, Marine Samyn, Guillaume Staerk, Julien Trouchet, François Turquety, Florian Velasco, Kevin Willmering.
Computer Graphics Supervisor: Bruno Chauffard.
Computer Graphics Co-Supervisor: Boris Jacq.
Assistant Computer Graphics Supervisors: David Pellé, Quentin Ricci.
Effects Production Supervisor: Amélie Peyrache.
Effects Supervisor: Milo Riccarand.
Effects Animators: Djelloul Bekri, François-Xavier Boussard, Eric Carme, Steven Dupuy, Arnaud Godin, Arash Habibi, Jean-François Héreng, Jérôme Héreng, Mathieu Jordan, Adrien Lourdelle, Omar Meradi, Mathieu Negrel, Michael Parker, Simon Pate, Romain Privat de Fortunié, Geoffrey Reynaud, Sébastien Rossi, Nicolas Zborowska.
Stereo Compositing Supervisor: Benoit Philippon.
Stereo Supervisor: John RA Benson.
3D Character Development: Michael Defeo.
First Assistant Editor: Paris: Andrew Walton.
First Assistant Editor: U.S.: Dave Cory.
Associate Editors: Gilad Carmel, Claire Dodgson.
Second Assistant Editor: Fanny Bouquard.
Editorial Production Supervisor: Alex Dowding.
Editorial Coordinators: Céline Le Barbenchon-Virgile, Tyler Werrin.
Color Timer: Jim Passon.
Colorists: Jason Hanel, Julien Badoil, Sergio Casas, Grégory Georges, Clément Griselain, Colin Stimpson.
Colorist Assistant: Luis Silva.
Digital Intermediate Assistant Producer: Laura Holeman.
Digital Intermediate Editor: Curtis Lindersmith.
Digital Intermediate Producer: Eileen Godoy.
Imaging Scientist: Matthew Tomlinson.
Digital Editorial Support: Danny Caccavo, Ryan J. Frias, Bonnie Wild.
Conductor: Nick Glennie-Smith.
Orchestrator: Ladd McIntosh.
Music Contractor: Peter Rotter.
Music Preparation: Booker White.
Music Editor: Slamm Andrews.
Assistant Mixing Engineer: Christian Wenger.
Composers, Additional Music: Bobby Tahouri, Anthony Willis.
Composer Assistants: Cameron Hotchkis, Ted Reedy.
Composer Assistants: Azeo Torre, Sebastian Zuleta.
Original Songs And Themes: Pharrell Williams.
Score Mixing Engineer: Alan Meyerson.
Score Recordist: Kevin Globerman.
Scoring Crew: Tim Lauber, Denis St. Amand, Tom Steel.
Vocal Contractor: Jasper Randall.
Supervising Sound Editor: Dennis Leonard.
Sound Recordist: Kevin Bolen.
Sound Effects Editors: Jon Borland, E.J. Holowicki, Mac Smith.
Assistant Sound Editor: Quianbaihui Yang.
ADR Mixer: Doc Kane.
ADR/Dialogue Supervisor: Bjørn Ole Schroeder.
Foley Supervisor: E. Larry Oatfield.
Foley Recordist: Dan Randall.
Foley Artists: Ronni Brown, Sean England.
Foley Editors: Erik Foreman, Frank Aglieri-Rinella.
Foley Mixer: Tony Eckert.
Sound Re-Recording Mixers: Tom Johnson, Gary Rizzo.
Additional Sound Re-Recording Mixers: Christopher Barnett, Christopher Scarabosio.
Assistant Sound Re-Recording Mixers: Zach Martin, James Spencer, Stephen Urata.
Digital Audio Transfer: Marco Alicea, John Countryman, Michael Levine.
General Production Coordinator: Ed Corcoran.
Head Of Production: IMG: Christelle Balcon.
Head Of Research And Development: Philippe Delorme.
Head Of Technology: Bruno Mahé, David Guedj, Sean Lee, David Leroux, Anthony Neel, Michel Roy, Joe Stevano, Mostafa Yacoubi.
Recruiting Supervisor: Jean-Jacques Benhamou.
Render Supervisor: Thomas Foncelle.
Script And Recording Supervisor: Brett Hoffman.
Senior Executive, Illumination Mac Guff: Jacques Bled.
Technology Production Supervisor: Camille Chaine.
Supervising Technical Director: Etienne Pêcheux.
Technical Directors: Cédric Chapeleau, Dorian Février, Laurent Hubert, Loic Huss, Flavio Perez, Eric Placoly, Olivier Schmitt.
Technical Manager: Christopher Asselin.
Pipeline Supervisor: Pierrick Brault-Vandame.
Senior Pipeline Technical Directors: Damien Bellantan, Emmanuel Prévot.
Pipeline Technical Directors: Pascal Chandelier, Julien Depoortere, Henri Desous, Matthieu Gouin, Alexandra Hoff, Juliette Tresal-Mauroz.
Software Developers: Frédéric Cros, Mélissa Faucher, Julien Frantz, Marc Girou, Thierry Lauthelier, Ludovic Lefève-Gourmelon, Benoit Lepage, Geoff Levner, Sébastien Masino, Thomas Métais, Baptiste Sansierra, Alexandre Verlhac.
Render Wranglers: Sylvain Blérol, Ilyas Chodkiewicz, José-Maria Perez.
Additional Production Team: Mike Barry, Connie Nartonis Thompson, Rory Phillips.
Engineering Services: James Austin, Brian Long.
Sweatbox Coordinator: Daniel Bitton.
Dialect Coach: Julie Adams.
Assistants to Chris Meledandri: Lynley Bird, Rachel Feinberg, Katie Kirnan.
Assistant to Janet Healy: Laure Gauthier.
Production Assistants: Matthew Kauth, Kelly Lake.
Interns: Christoffer Andersen, Floriane Deal, Marianna Ferrante, Géraldine Gaston, Guillaume Lemaire, Thomas Pierre, Hadrien Sirot, Flavien Toullec, Stine Sæthre.
Finance Director: Julien Sabourdin.
Financial Controller: Gary Wohlleben.
Finance Department: George Hiro Herrmann, Julie Virgile.
Accounting Controller: Lawrence Bendelac.
Accounting Department: Axel Bourgeon, Valérie Dompnier, Humberto Meza Jr., Carlos Rocadas.
Special Thanks: Eric Garandeau, Chihiro Kameyama, Daniel Pool-Kolb, Igor Primault, Agnès Reaul.
Submit Additional Information:
Do you have anything to add to this page? Have we made any mistakes... or do you have any additional information about Despicable Me 2? If so, we would love to hear from you. Please send us a quick note with your additions or corrections to this page, and we will make the corrections as soon as possible!
Report Errors / Submit Additional Information
Cartoon Summary:
Gru, his adorable girls, and the Minions are back in this comedy blockbuster where this super-dad finds himself balancing fatherhood with his secret agent role in the... (more)