Previous Cartoon | Next Cartoon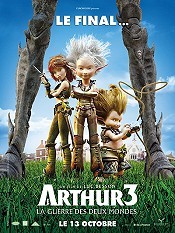 Arthur et la Guerre Des Deux Mondes
Arthur et la Guerre Des Deux Mondes
English Title: Arthur 3: The War of the Two Worlds
Arthur et la Guerre Des Deux Mondes (Arthur 3: The War of the Two Worlds) (2010) Theatrical Cartoon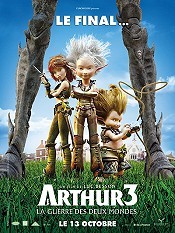 ---
Post your Comments or Review
This page has been viewed 37 times this month, and 937 times total.
Unknown Tag: 'short_stud_crew'
Unknown Tag: 'short_voice_crew'
Unknown Tag: 'short_dir_crew'
Unknown Tag: 'short_prod_crew'
Unknown Tag: 'short_write_crew'
Unknown Tag: 'short_edit_crew'
Unknown Tag: 'short_music_crew'
2010
Europa Corp., Avalanche Productions, Apipoulaï
EuropaCorp. Distribution
Theatrical Cartoon
Cartoon Characters: Armand, Rose (Arthur's Mother), Maltazard, Sélénia, Archibald, Le roi, Darkos, Granny, Prince Bétamèche, Darkos, Guerrier bogo matassalai.
English Version: Selenia, Granny, Arthur, Prince Betameche, Darkos, Rose (Arthur's Mother), Emperor Maltazard, Armand, Graffiti Artist, Archibald, Dr. Stitch, George Lucas, Douglas (Fireman), M.
Vocal Talent: Jean-Paul Rouve (Armand), Frédérique Bel (Rose [Arthur's Mother]), Gérard Darmon (Maltazard), Mylène Farmer (Sélénia), Michel Duchaussoy (Archibald), Jacques Frantz (Le roi), Marc Lavoine (Darkos), Frédérique Tirmont (Granny), Cartman (Prince Bétamèche), Raphaël Bascoul-Gauthier (Darkos), Mendy Laurent (Guerrier bogo matassalai).
English Version: Selena Gomez (Selenia), Mia Farrow (Granny), Freddie Highmore (Arthur), Jimmy Fallon (Prince Betameche), Iggy Pop (Darkos), Penny Balfour (Rose [Arthur's Mother]), Lou Reed (Emperor Maltazard, Robert Stanton (Armand), Mike Powers (Graffiti Artist), Ron Crawford (Archibald), Steve Routman (Dr. Stitch), Cooper Daniels (George Lucas), Antony Hickling (Douglas [Fireman]), Richard Davis (M).
Directed By Luc Besson.
First Assistant Director: Stéphane Gluck.
Second Assistant Directors: Vanessa Djian, Nicolas Quéré.
Third Assistant Directors: Emmanuelle Fourault, Lucie Gratas.
Assistant Director: Roger Delattre.
Animated By Frédéric Boulin, Nicolas Candido, Julien Duval, Daphnée Hong, Eric Joubin, Laurent Launes, Boris Plateau, David Rouxel, Jeremy Soudjoukdjian, Jérémy Taburet, Zhipeng Xing, Pavade Yoane, Donan Yossi.
Senior Animation Director (BUF): Yann Avenati.
Animator Lead (BUF): Frédéric Boulin.
Senior Animators (BUF): Julien Aulas, Frédéric Boulin, Thomas Devorsine, Bruno Etchepare, Yann Lagoutte, Benjamin Mulot, Boris Plateau, Ekkarat Rodthong, Mourad Simoussa.
Animators (BUF): Sebastien Bacchia, Christophe Bellet, Julien Boudou, Victor Gornes, Jean-Marie Marquet, Thierry Noguera, Fabien Paillisse.
Character Animator: Herve Anceau.
Lead CG Animators (BUF): Ludovic Chailloleau, Thibault Debeurme, John Hreich, Aline Lemaire, Isabelle Perin-Leduc, Clement Richard.
Co-Lead CG Animators (BUF): Julien Belloteau, Cédric de la Forest Divonne, Fabien Legal, Rémi Martin, Jérôme Rouvelet, Richard Villatobas, Damien Zeelen.
Animation Sequence Supervisors (BUF): Emmanuel Margoux, Marc Phoutharath.
Character Color Supervisor: Tricoire Sebastien.
Edited By Lyssia Le Gall, Nadine Makris (Assistant Editors).
Color Timer: Jimmy Christophe.
Colorist: Fabien Pascal.
Cinematography: Thierry Arbogast.
First Assistant Camera: Vincent Richard.
Second Assistant Camera: Maud Lemaistre, Claire Pierrard.
Additional Second Assistant Camera: Mathilde Cathelin.
Making-Of Camera: Rachid Dhibou.
Still Photographers: Magali Bragard, Daniel Smith.
Steadicam Operator : Loïc Andrieu.
Gaffer: Laurent Héritier.
Film Processing: Aziz Abil.
Grip: Laurent Martin.
Electrician: Victor Abadia.
Casting: Todd M. Thaler.
Production Design: Hugues Tissandier.
Art Director: Gilles Boillot.
Assistant Art Directors: Carine Demongueres, Anne Pelosi.
First Assistant Decorator: Arnaud Roth.
Costume Design: Olivier Bériot.
Makeup Artist: Aya Yabuuchi.
Special Makeup Effects Artist: Christophe Chabenet.
Hair Stylist: Alexandra Bredin.
Production Manager: Camille Courau.
Production Manager (BUF): Cynthia Mourou.
Production Manager (Segments): Leila Smith.
3D Production Manager (BUF): Najat Younsi.
Unit Manager: Claude Delfour.
Assistant Unit Managers: Erwan Hiernard, Vivian Loiseau.
Supervising Sound Editor: Guillaume Bouchateau.
Sound Editor: Loïc Gourbe.
Sound Designer: Alexis Place.
Sound (Live Segments): Martin Boissau.
Sound Re-Recording Mixers: Matthieu Dallaporta, Didier Lozahic.
Dubbing and Re-Recording: Studio DNA.
Voice Editor: Adrien Arnaud.
Dialogue Editor: Antoine Baudouin.
ADR Recordist: Christophe Danvin.
ADR Assistant Recordist: Jérémy Babinet.
Foley Engineer: Guillaume Bouchateau.
Assistant Foley Artist: Florian Penot.
Boom Operator (Live Segments): Damien Berger.
Special Effects: Les Versaillais.
Special Effects Technician: Noel Chainbaux.
Special Effects Contact Lenses: Kevin Carter.
3D SFX Supervisor (BUF): Arash Habibi.
Visual Effects Producers: Caroline Audebert, Antoine Marbach.
VFX Production Managers (BUF): Marie Balland, Edouard Valton.
Visual Effects Coordinator: Nathalie De Bernardinis.
Visual Effects Coordinator (BUF): Nicolas Nepveu.
Senior VFX Supervisor (BUF): Olivier Cauwet.
Visual Effects Supervisor (BUF): Cyril Tchernomordik.
On Set Visual Effects Supervisor (BUF): Yann Avenati.
Visual Effects Artists: Chadi Abo, Nasser Abo, Benoit Bonachera, Thibault Bunoust, Tim Lebon, Quentin Sur.
Visual Effects: Aurelien Faure, Rami Hage, Catherine Lee, Pierrick Mahieu.
VFX TD (BUF): Clement Renaudin.
CG VFX Supervisor (BUF): Xavier André.
CG Visual Effects Editor (BUF): Isabelle Capgras.
Assistant CG Visual Effects Editor (BUF): Mélanie Moulin.
CG VFX Leads (BUF): Romain Bavent, Audrey Ferrara, Mickael Girod, Cyrille Sicard, Sebastien Vergnon.
BUF Video Capture Camera Operators and Visual Effects Photographers: Gaspard Audouin, Edgar Becourt, Thomas Busuttil, Florent Chedreau, Joseph Crosland, Souleymane Dicko, Arthur Fevrier, Thomas Fontaine, Emmanuel Paulin, Dennis Shultz.
On Set Visual Effects Photography Supervisors (BUF): Christophe Bernard, Benoit Houtin, Laurent Panissier.
Lead Lighter (BUF): Arnaud Tisseyre.
Senior Lighter: Julien Buisseret.
3D Lighting Lead (BUF): Baptiste Henry.
Lead 3D Lighting (BUF): Xavier Allard, Anne-Sophie Bertrand, Florent Cadel, Damien Delrue, Alexandre Lagallarde, Martin Reneleau.
3D Lighting Supervisors (BUF): Anne-Sophie Palermo, Michel Samreth.
CG Lighting Supervisor (BUF): Raphael Zito.
Senior Artists (BUF): Christophe Andréi, Frederic Barbe, Djelloul Bekri, Julien Bolbach, Stephane Bourdageau, Sylvain Crombet, Benoit Delozier, Jeff d'Izarny, Boris Duong, Pascal Etangsale, Yoel Godo, Mickael Goussard, Tristan Hocquet, François Jumel, Jean-Louis Kalifa, Jonathan Lagache, Fabrice Lagayette, Yann Le Corre, Natasha Leroux, Anthony Liant, Anh Tu Mai, Nicolas Maillard, Francis Polvé, Nicolas Schneider, Hervé Thouement, Mathilde Tollec, David Verbeke, Christophe Zito.
CG Artists (BUF): Arnaud Allenet de Doncell, Herve Anceau, Frederic Bajou, Paul Belot, Thomas Berkane, Loic Beslay, Nicolas Boulaire, Franck Boutry, Jonathan Carré, Chris Casadei, Cédric Chapeleau, Romain Charoy, Ganael Chevallier, Martin Claude, Cyril Clavaud, Vincent Coni, Edgar de Araujo, Justine Demoulin, Jonathan Deniard, Michael De Nicolo, Lionel Di Scala, Fabien Dumas, Julien Duval, Eric Ennis, Jerome Evelette, Nicolas Evrard, Christophe Feuillebois, Jérôme Foucout, Thibault Gauriau, Nicolas Gauthier, Cristina Gomes, Elodie Hak, Michael Haussmann, Audrey Henneton, Daphnée Hong, Mickael Jaffrain, Nicolas Jambois, Thomas Jore, Eric Joubin, Malik Kaizane, Virginie Kernel, Rudy Laplasse, Maxime Laurent, Korentin Legallou, Matthieu Lezis, Frederic Liebgott, Audrey Limet, Xavier Loebl, Mikael Lynen, Alexandre Magre, Pierrick Mahieu, Laurent Menu, Yann Moalic, Maxime Neko, Fabrice Nianzou, Nicolas Novali, Thomas Ognibene, Marie-Catherine Osmy, Guillaume Palegie, Yoan Pavade, Alice Pépujol, Yohann Perchoc, Victor Phrakornkham, Louis-Daniel Poulin, Simon Reynaud, Ugo Riaboukine, Alexandre Ribeiro, Miguel Ribeiro, Romain Rico, Benoit Roekens, Steve Savarin, Bruce Sicard, Kusan Soulinthavong, Quentin Sur, Jérémy Taburet, Florent Taisne, Nicolas Terriere, Julien Thebault, Julien Trouchet, Antoine Trouillet, Bruce N'Gueyen Van Lan, Christophe Vazquez, Florian Velasco, François Vico, Ludovic Voltaire, Zhipeng Xing, Jimmy Zedouar, Amir Zellal.
Digital Artists: François Bonnière, Mickael Goussard, Michael Havart, Thomas Lefebvre, Simon Magnan, Helene Ourabah, Camille Paleni, Kenny Rosset, Dimitri Uradovskiy.
Digital Artists (BUF): Francois Boudaille, Marc-Antoine Bressand, Germain Cuvelle, Frederic Fourier, Aurelien Fuentes, Sylvain Gremion, Marc Lamorille, Renaud Louvet, Emmanuel Mouillet, Nolwenn Rimbault, Eric Toubal.
Digital Artist (BUF): Sirius Buisson.
Digital Effects Artist: Sebastien Corne.
Digital Effects Artists (BUF): Mickael Girod, Romain Vallee, Sebastien Vergnon.
Lead City Background Artist (BUF): Benoit Houtin.
CG Director (BUF): Pierre Buffin.
Senior CG Supervisor (BUF): Stephane Naze.
CG Set Supervisor (BUF): Laurent Panissier.
CG Set Co-Supervisors (BUF): François Bonnière, Gregory Ginsburger.
CG Interns (BUF): Raphael Arqueros, Jean Carlier, Alexandre Chaudret, Florian Garnier, Arnaud Grelaud, Franck Jeffredo, Thien Co Pham Ke, Remi Levallois, Marion Petegnieff, Rosita Soares.
Director of 3D Production (BUF): François-Xavier Aubague.
3D SFC Co-Supervisor (BUF): Sandrine Lurde.
3D Set-Up Co-Supervisors (BUF): Francois Boudaille, Anguerran Lagallarde.
System Administrator (BUF): Pierre Fauquembergue.
System Administrator Assistants (BUF): Vincent Batoufflet, Fabien Charbonnier, Florent Chedreau, Maxime Guillet.
General Services (BUF): Danilo Bautista, Robert Chupeau.
Production Coordinators (BUF): Audrey-Anne Bazard, Maxime Delorme, Anne Destrade, Delphine Lasserre, Antoine Ormieres, Agnes Rama, Hélène Saint-Riquier, Julie Verweij.
Render Farm Supervisor: Jerome Samson.
Render Farm Team (BUF): Celia Bchir, André Doan, Steven Dugamin, Florian Grolier, Nicolas Labbe, Joachim Loubeau, Jean-Louis Nikiema, Laurent Pierrat, Romain Puybasset, Julien Tagodoe, Jocelyn Vincent, Ramy Zaouai.
Research and Development Manager (BUF): Xavier Bec.
Research and Development Engineer (BUF): Christophe Verspieren.
Security (BUF): Berto, Willy Euphemie, Vicente Gregori, Nour-Ddin Hamdi, Matthieu Obolo.
Technical Director: Daniel Borenstein.
Pre-Production (BUF): Dorothée Brondes, David Fayo, Vanesse Simon (as Simon Vanesse), Olivia Sklower.
Legal Services (BUF): Thomas Buffin.
Lab Supervisor: Michel Caffa.
Shoot Operator (Conformation and Mastering): Camille Chaine.
Human Resources Director (BUF): Hind Charpentier.
Human Resources Assistant (BUF): Anne-Laure Tarabeux.
Luster Project Manager: Nicolas Daniel.
Restore Supervisor (BUF): Guillaume Desbois.
Reception (BUF): Yayi Nboh Duplessis, Gilles Ferte.
Software Engineers (BUF): Michael Forot, Benoit Gadreau, Sylvain Germain, Stephanie Goix, Laure Guicherd, Anne-Gaelle Jolly, David Lesage, Massimiliano Piscozzi, Clement Rambach, Romain Sunier, Arnaud Trouvé.
Matte Supervisor (BUF): Rami Hage.
IT and Video Services: Romain Matuszac.
DI Colorist: Yves Le Peillet.
Assistant Colorist (Digital Factory): Rodney Musso.
Color Timing: Rémi Gualino.
Textures and Mapping Supervisor (BUF): Tricoire Sebastien.
Textures and Mapping Co-Supervisor (BUF): Olivier Prigent.
Negative and Scans Editor: Florence Bonnet Rivet.
Lipsync (BUF): Barbare Weber Scaff.
Stunt Coordinator: Cyril Raffaelli.
Assistant Stunt Coordinator: Frederick Renard.
Stunts: Karl E. Landler, Gabriel Mercier, Yoni Roch.
Production Accountant: Kristina Colic.
Production Accountant (BUF): Cristina Riva.
Production Accounts Assistant: Karine Caumeil.
Production Accounting Assistant (BUF): Chloé Guillou.
Submit Additional Information:
Do you have anything to add to this page? Have we made any mistakes... or do you have any additional information about Arthur et la Guerre Des Deux Mondes? If so, we would love to hear from you. Please send us a quick note with your additions or corrections to this page, and we will make the corrections as soon as possible!
Report Errors / Submit Additional Information
Cartoon Summary:
Maltazard, the Evil M, is now seven feet tall and evolving among the humans, causing terror wherever he goes. His goal is simple: forming an army of giant henchmen and ruling over the universe. Meanwhile, Arthur is still a Minimoy, and thus in a state where he's... (more)