Previous Cartoon | Next Cartoon
Rango
Rango
Rango (2011) Feature Length Theatrical Animated Film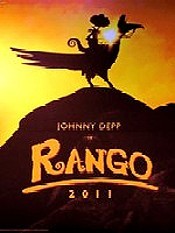 by Dave Koch
---
Post your Comments or Review
This page has been viewed 3034 times this month, and 13165 times total.
Unknown Tag: 'short_stud_crew'
Unknown Tag: 'short_voice_crew'
Unknown Tag: 'short_dir_crew'
Unknown Tag: 'short_prod_crew'
Unknown Tag: 'short_write_crew'
Unknown Tag: 'short_edit_crew'
Unknown Tag: 'short_music_crew'
2011
Blind Wink, GK Films, Nickelodeon Movies, Industrial Light & Magic (ILM)
Paramount Pictures
Feature Length Theatrical Animated Film
Cartoon Characters: Rango, Lars, Beans, Priscilla, Mayor, Roadkill, Rattlesnake Jake, Doc, Merrimack, Mr. Snuggles, Balthazar, Spirit of the West, Bad Bill, Ambrose, Wounded Bird, Waffles, GordyPapa, Joad, Cousin Murt, Curlie Knife Attacker, Rodent Kid, Angelique, Buford, Elgin, Delilah, Maybelle, Señor Flan - Mariachi Accordion, Lucky, Elbows, Bonnie, Jedidiah, Ezekiel, Lasso Rodent, Chorizo, Spoons, Parsons, Rock-Eye, Hazel Moats, Kinski, Stump, Clinker, Lenny, Boseefus, Dirt Kid, Furgus, Hitch, Boo Cletus, FrescaMiss, Daisy, Sergeant Turley, Crevice, Slim, Lupe - Mariachi Violin, Melonee, Sod Buster.
Vocal Talent: Johnny Depp (Rango, Lars), Isla Fisher (Beans), Abigail Breslin (Priscilla), Ned Beatty (Mayor), Alfred Molina (Roadkill), Bill Nighy (Rattlesnake Jake), Stephen Root (Doc, Merrimack, Mr. Snuggles), Harry Dean Stanton (Balthazar), Timothy Olyphant (Spirit of the West), Ray Winstone (Bad Bill), Ian Abercrombie (Ambrose), Gil Birmingham (Wounded Bird), James Ward Byrkit (Waffles, GordyPapa, Joad, Cousin Murt, Curlie Knife Attacker, Rodent Kid), Claudia Black (Angelique), Blake Clark (Buford), John Cothran Jr. (as John Cothran) (Elgin), Patrika Darbo (Delilah, Maybelle), George DelHoyo (Señor Flan - Mariachi Accordion), Maile Flanagan (Lucky), Charles Fleischer (Elbows), Beth Grant (Bonnie), Ryan Hurst (Jedidiah), Vincent Kartheiser (Ezekiel, Lasso Rodent), Hemky Madera (Chorizo), Alex Manugian (Spoons), Mark "Crash" McCreery (Parsons), Joe Nunez (Rock-Eye), Chris Parson (Hazel Moats, Kinski, Stump, Clinker, Lenny, Boseefus, Dirt Kid), Lew Temple (Furgus, Hitch), Alanna Ubach (Boo Cletus, FrescaMiss, Daisy), Gore Verbinski (Sergeant Turley, Crevice, Slim, Lupe - Mariachi Violin), Kym Whitley (Melonee), Keith Campbell (Sod Buster).
Directed By Gore Verbinski.
First Assistant Director: Adam Somner.
Second Assistant Director: Ian Calip.
Produced By Gore Verbinski, Graham King, John B. Carls.
Co-Producers: David Shannon, Adam Cramer, Shari Hanson.
Consulting Producer: Mark Bakshi.
Executive Producer: Tim Headington.
Animated By Marc Beaujeau, Alex Cannon, Mickael Coedel, Frédéric Côté (as Fred Cote), Chuck Duke, Nick Fredin, Josh Kent, Atsushi Kojima, Eric Leong Mun Fai, Barry Lim, Bradley Lorimer, Michael Lum, Jason Malinowsky, Michael Midlock (as Mike Midlock), Jess Morris, Johnny Spinelli, Travis Tohill, Chi Chung Tse, Jeff Vacanti, Edward Zhou.
Animators (ILM): Jeremy Cantor, Marco Foglia, Jean-Denis Haas, Tim Harrington, Jason Ho, Chansoo Kim, Stephen King, Alexander K. Lee, Cedric Lo, Shawn Miller, Greg Towner.
Animation Director (ILM): Hal T. Hickel (as Hal Hickel).
Associate Animation Supervisor: Kevin Martel.
Technical Animation Supervisor: Virgine d'Annoville.
Animation Coordinator: Flannery Huntley.
Lead Animators: Charles Alleneck, Derrick Carlin, Maia Kayser, Andy Wong.
Lead Animator (ILM): Shawn Kelly.
Character Animator (ILM): Makoto Koyama.
Layout Artist: Alex Cannon.
Rough Layout Lead: Gerald McAleece III.
Rough Layout Artist: David Brickley.
Pre-Visualization Supervisor: Alex Cannon.
Story Artist: Josh Hayes.
Character Rigger: Tracy Nicole Irwin.
Creature Technical Director (ILM): Dave Lo.
Music By Hans Zimmer.
Composers (Additional Music): Tom Gire, Dominic Lewis, Adam Peters, John Sponsler.
Additional Music (Rattlesnake Jake's Music, the Mayor's Music, Holy Spigot Music): Geoff Zanelli.
Musician: Bryce Jacobs.
Music Editor: Peter Oso Snell.
Assistant Music Editor: Jeannie Lee Marks.
Music Editor (Temp Tracking): Brett Pierce.
Music Scoring Mixer: Alan Meyerson.
Music Production Services: Steven Kofsky.
Supervising Orchestrator: Bruce Fowler.
Orchestration Coordinator: Lori Chavez.
Orchestra Contractor: Peter Rotter.
Score Coordinator: Andrew Zack.
Additional Score Recordings: Greg Vines.
Technical Score Engineer: Nick Delaplane.
Sample Development: Sam Estes.
Studio Manager (Remote Control Productions): Czarina Russell.
Soundtrack: Anti-Records, Epitaph Records.
Edited By Craig Wood.
First Assistant Editor: Simon Morgan.
Assistant Editor: Joel Griffen.
Additional Editors: Tom Barrett, Wyatt Jones.
Apprentice Editor: Matt Todaro.
Digital Intermediate Online Editor: Alex Romano.
Additional Online Editor: Salvatore Catanzaro.
Color Timer: Jim Passon.
Colorist: Stefan Sonnenfeld.
Casting: Denise Chamian.
Casting Associate: Angela Demo.
Casting Assistant: Krysti Charron.
ADR Voice Casting: Holly Dorff.
Production Design: Mark "Crash" McCreery.
Production Managers: Carol Norton, Adam Somner.
Associate Production Managers (ILM): Joseph Bell, Stacy Bissell, Daniel Cavey.
Production Supervisor: Gary Kout.
Post-Production Supervisor: Richard Stirling.
Post-Production Executive: Ben Rosenblatt.
Supervising Art Director: John Bell.
Storyboard Artists: James Ward Byrkit, David Gosman, Anthony Leonardi III.
Conceptual Artist: James Carson.
Concept Artist: David Shannon.
Property Master: Kris Peck.
Assistant Property Master: Brad Good.
Construction Coordinator: Michael Diersing.
Illustrator: Jim Martin.
Supervising Sound Editor: Addison Teague.
Assistant Supervising Sound Editor: Mac Smith.
Sound Designer: Peter Miller.
Sound Mixer: Lee Orloff.
Sound Utility: Mike Anderson.
Sound Re-Recordist: Dan Sharp.
Sound Re-Recording Mixer: Paul Massey.
Development Sound Supervisor: Sean Massey.
Sound Effects Editor: Adam Kopald.
ADR Recordist: Philip Young.
ADR Mixer: Robert Edwards.
Supervising Foley Editor: Steve Slanec.
Foley Editor: Dee Selby.
Foley Recordist: Sean England.
Dialogue Editor: Mac Smith.
Boom Operators: Jeffrey A. Humphreys, Brian Robinson.
Visual Effects Assistant Editor: Scott Wesley Ross.
Visual Effects Coordinators: Cynthia Crimmins, Rachel Galbraith, Karen Kelly.
Visual Effects Supervisor: John Knoll.
Visual Effects Supervisor (ILM): Tim Alexander.
Visual Effects Lead (ILM): Francois Antoine.
Visual Effects Technical Director (ILM): Dan Bornstein.
Visual Effects Artists: Bekah Baik, Branko Grujcic, Scott Mease, Erik Shepherd, Dong Yeop Shin.
Visual Effects: Michael Gaiser, John Kilshaw, Bastiaan Koch (as Philip Koch), Mark "Crash" McCreery.
Visual Effects (ILM): Emile Edwin Smith, Shaun Stephenson.
Visual Effects Production Assistant: Jennifer Duncan.
Senior Technical Director: Tom Martinek.
Senior Technical Directors (ILM): Florent Andorra, Bernard O. Ceguerra.
Technical Directors: Andy Garcia, Tim Gibbons.
Technical Directors (ILM): Jeremy Bloch, Robb Gardner, Natapon Huangsakuncharoen, Jaewook Lee, Mike Marcuzzi, Ryan Martin, Rango.
Assistant Technical Directors (ILM): Charmaine Chan, Wajid Raza.
Technical Director (Cloth Simulation): Nikhil M. Anand.
Lighting Technical Directors: Siau Yene Ang, Bora Dayioglu, Steven Quinones-Colon.
Lighting Technical Directors (ILM): Frankie Kwak, Roger Lee, Siyu Song, Marlon Sutherland, Graeme Tung, Vong Yonghow.
Lighting Technician: Alejandro J. Castillo.
Lighting Sequence Supervisor (ILM): Akira Orikasa.
Senior Digital Artist: Sean Schur.
Lead Digital Artist: Lee Uren.
Digital Artists: Sebastian Feldman, Brian Flynn, Trevor Hazel, Maung Maung Hla Win, Jaime Jasso (uncredited), Justin Kosnikowski, Kimberly Lashbrook, Bruce Powell, Paul Sharpe, Andre Surya, Lionel Taillens, Tim Teramoto, Nick Woo.
Digital Artists (ILM): Henry Kwok Ho Chan, Paul Giacoppo, Melissa Lin, Mark Nettleton, Michael Rich, Kieran Tether, Johan Thorngren, Teh-wei Yeh.
Digital Effects Artists: Grzegorz Jonkajtys.
Digital Matte Artists (ILM): Brenton Cottman, Zoltan Pogonyi.
Lead Digital Matte Painter: Bryant Terrell Griffin.
Matte Painter: Joe Ceballos.
Matte Painter (ILM): Eric J. Dima-ala.
Digital Production Supervisor: Michael Bauer.
Digital Modeler: Frank Gravatt.
Compositing Leads: Peter Chesloff, Tory Mercer.
Lead Compositor (ILM): Chad Taylor.
Digital Compositors: Ben O'Brien, Jason Porter, Florian Strobl.
Digital Compositor (ILM): Abishek Nair.
Layout Supervisors (ILM): Colin Benoit, Nick Walker.
Layout Artist: Talmage Watson (uncredited).
Sequence Supervisors: David Gottlieb, Robert Hoffmeister.
Sequence Supervisors (ILM): Mathieu Boucher, Steve Braggs, Matt Brumit, Jeff Grebe, François Lambert, Todd Vaziri, Scott Younkin.
Computer Graphics Sequence Supervisor: David Meny.
Texture Painter: Jamie Bowers.
Texture Artist: Sun Chung.
Texture Artist (ILM): Martin Murphy.
Software Developer (Dynamics): Stephen D. Bowline (uncredited).
Modelers: Ken Bryan, Yap Hon Wui, Richard Matsushita.
Character Lead (ILM): C. Michael Easton.
Technical Assistants: Nino Ellington, Jeremy Therrien.
Gatekeeper (ILM): Dan Enstrom (as Daniel Enstrom).
Department Manager (ILM Singapore): Jessica Fernandes.
Associate Creature Supervisor (ILM): Brian Paik.
Creature Lead: Scott Jones.
Creature Rigger: Patrick Taylor.
Lead Creature Technical Director (ILM): Eric Wong.
Creature Technical Directors: Kelvin Chu, Maurizio Giglioli, Karen Halliwell, Nikita Patel, Alexandra Weir.
Creature Technical Directors (ILM): Quentin Auger, Gem Ronn Cadiz, Chase Cooper, Jing Cui, Wanghua Huang, Laura Killmaster, SeungHun Lee, S. Scott Parrish, Christian Saenz, Henri Tan, Renita Taylor, Jim Van Allen, John Van Der Zalm.
Creature Development Technical Director (ILM): Vicky McCann.
Creature Development: Robert Kosai, Keiji Yamaguchi.
Creature Modeler: Patrick Gagné.
Creature Modelers (ILM): Krishnamurti Costa, Can Tuncer.
Effects Lead: Willi Geiger.
Lead Viewpainter (ILM): Justin Holt.
Technical Production Supervisor: Jason Smith.
Technical Support: Robert Molholm.
Technical Manager of Global Production (ILM): David Zbriger.
Virtual Studio: Spencer Reynolds (uncredited).
R&D Developer: Julien Cohen Bengio.
CG Artist (ILM): Tu Le.
Virtual Cinematography: Mike Sanders.
Lead Virtual Camera Operator: Matt Neapolitan.
Environment Supervisor: Andrew Proctor.
Environment Artist (ILM): Kevin Page.
Lead Environment Technical Director: Dan Wheaton.
Stunt Coordinator: Keith Campbell.
First Assistant ("B" Camera): Peter Geraghty.
Gaffer: Patrick Hoeschen.
Best Boy Grip: John D. Miller.
Driver (Mr. Depp): Buck Holland.
Transportation Coordinator: Michael Sean Ryan.
Production Assistants: John Bartnicki, Richard Itskovich, Tien Nguyen.
Set Production Assistant: Lindsey Jayne Boyd.
Production Coordinator: Chrysta Marie Burton.
Assistant Production Coordinator: Elizabeth Galloway.
Production Legal: Laura Caulfield.
Production Secretary: Dan Uruttia.
Stand-In: Kevin Collins.
Visual Consultant: Roger Deakins.
Assistant (Producer): Vincent Defebo.
Assistants (Mr. Depp): Stephen Deuters, Nathan Holmes.
Cast Assistant (Ray Winstone): Bea S. Rembeczky.
Key Set Staff Assistant: Matt Miller.
Dialect Coach: Jessica Drake.
Clearance Administrator: Jay Floyd.
Production Accountant: Patrick R. Siembieda.
Payroll Accountant: David Hickey.
First Assistant Accountant: Jennifer Lobban.
Second Second Assistant Accountant: Linda Griffis.
Main Title Producer: Unjoo Lee Byars.
Main and End Titles Designer: Henry Hobson.
Choreographer: JoAnn Fregalette Jansen.
Set Medic: B.J. Smith.
Typographer: Manija Emran (uncredited).
Special Effects: Industrial Light & Magic (ILM).
Catering: Chef Robért Catering.
Digital Intermediate: Company 3.
Digital Marketing Asset Management: Digital Media Services (DMS).
Travel and Accommodation (Post-Production Mix): Mediacom 24-7.
Avid HD Editing Equipment Provided By: Pivotal Post.
End Titles: Scarlet Letters.
Submit Additional Information:
Do you have anything to add to this page? Have we made any mistakes... or do you have any additional information about Rango? If so, we would love to hear from you. Please send us a quick note with your additions or corrections to this page, and we will make the corrections as soon as possible!
Report Errors / Submit Additional Information
Cartoon Summary:
A comedy-adventure that takes moviegoers for a hilarious and heartfelt walk in the Wild West. The story follows the comical, transformative journey of Rango, a sheltered chameleon living as an ordinary family pet while facing a major identity crisis. After all,... (more)