Report a Problem With Lady, Play Your Mandolin!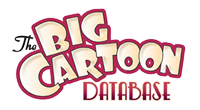 Report a Problem
---
To report an error in
Lady, Play Your Mandolin!
, please select the problem you noticed, supply any additional information needed, and press the submit button.
Please be aware that this form is only for the submission of errors or additional information to this entry; any other use, such as submitting reviews, trivia questions or requests for videos or DVD's will be deleted unanswered. If you have such questions as these, please submit them to our
cartoon forum
.
Please Elaborate on the Problem: