A Big Thanks!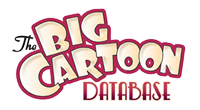 To Those Who Have Helped Us Out!
---
A compilation of this type is impossible to do alone. There are many sources we have tapped to get this information online, and to those many people who have helped us in the project, we say thanks.
We could not have done it without you. At the risk of forgetting someone, we would like to thank the following people who have helped us in compiling this DataBase.
Our goal is to make this DataBase even stronger, more complete, and with fewer errors. If you notice any mistakes, please let us know! And if you have any information on a cartoon- one cartoon or thousands- please
let us know
so we can include it here!
Those who have helped
Danny Antonucci/a.k.a. Cartoon Inc.
Aros.Net and Dennis King
John Canemaker
George Chialtas
Scott Child, for Keeping BCDB on the web and running
Ruth Clampett, Michelle, John Murphy and Carol Nishi
Constance "Eilonwy" Cochran
Art Davis
Marc (and Alice) Davis
Orvo Davis
David Feiss
Will Friedwald
Dan Fioella
Fred Grandinetti, Official Popeye Fan Club
Dan Grekov
Ollie Johnston
Robert Patrick, Steve Felton and Linda Jones at Linda Jones Enterprises (OK, Chuck, too.)
Audrey Jones, for Keeping BCDB on the web and running
Ward Kimball
Lisa Koch
Juan F. Lara (Doctoral Candidate, Disney Fan and Nice Guy!)
Ken Layton in Olympia, Wash.
Linda and the Unofficial Lassie Site
Art Leonardi
Scott MacQueen at Library Restoration, Walt Disney Pictures and Television
Bruce McGee
Lisa McLain/Acme Animation
Sandy Thome, Daryl Maxwell and Bill Melendez at Bill Melendez Productions.
Ethan Minovitz- Thanks are not enough! Go E-Man!
Gary Miereanu, Walt Disney TV Animation
Tom Minton
The Movies & TV World Showcase Galleries
Tim O'Day
Chris O'Hare and David Elden at Collingwood O'Hare Entertainment.
Paul F. Anderson/Persistence of Vision
Robin III
Stanley Ralph Ross- Batwriter and YES- Voice Talent! Thanks, Ballpoint...
Craig King from Ruby-Spears Productions
Rodinei Campos da Silveira (from São Paulo, Brazil)
Irv Spence
Dave Smith
Hugh Smith, Web Administrator Extraordinaire
Frank Thomas
In Closing
While these people- and many others- have given tirelessly of their time and information, and mistakes and omissions are purely ours. We have made every effort to make this list as complete as possible. But sometimes the information is just unavailable, or in conflict with other resources. We have made our best effort to choose the best source, but those choices have been ours, and thus the responsibility ours.
Various books have also been used for reference material including Looney Tunes and Merrie Melodies by Jerry Beck and Will Friedwald (it doesn't get better than that one, folks!), The History of Animation by Charles Solomon, Hanna Barbera Cartoons by Michael Mallory, The Encyclopedia of Disney Characters by John Grant, My Life In Toons by Joe Barbera, Chuck Amuck and Chuck Redux by Chuck Jones, and many others.
Of course, this list would be impossible without the thousands of men and women who made the cartoons we have listed here, and whose time and effort we are here to commemorate. So to those whose names we know, and the many more whose names we don't, this DataBase is Dedicated to you!
Finally, we would be remiss to not thank the technical people who have helped us get this list online. Alex Krohn is responsible for writing the software that brings the data to you. You can visit him and check out his many scripts at Gossamer Threads. You will be glad you did! Also, a special word of thanks to Jerry the Widgetz and Pugdog.