Dastardly and Muttley and Their Flying Machines Episode Guide -Hanna-Barbera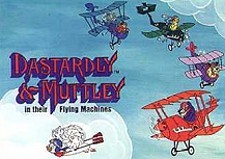 Another spin-off from
Wacky Races
(
The Perils of Penelope Pitstop
was the first), Dastardly and Muttley somehow traveled back in time to star in this World War I-era comedy. Interestingly enough, the antagonists were the principal characters this time around.
Not to be outshone by his human counterpart, Muttley had his own two-and-a-half-minute
segment
in which he fantasized in a Walter Mitty-type fashion about being the hero of the war.
Also notable was the show's theme song, "
Stop That Pigeon
," which repeated those three words over and over, until they must have been in the heads of every viewer. Many people grew up thinking that the song's title was actually the name of the show.
Hanna-Barbera
This page has been viewed 4 times this month, and 15,212 times total.
Dastardly and Muttley and Their Flying Machines Show Segments:
Dastardly and Muttley and Their Flying Machines TV Episode List :
Dastardly And Muttley And Their Flying Machines (Series) Hanna-Barbera Studios

featuring Dastardly, Muttley, Klunk, Zilly, General, Yankee Doodle Pigeon

Dastardly And Muttley And Their Flying Machines (Series) BCDB Rating: (4.8/5 stars from 5 users.)
1