Big Cartoon DataBase: Add a Cartoon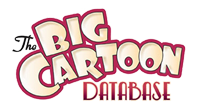 We appreciate you taking the time to add to the DataBase!
Please do not use this form to update an existinbg cartoon- just go to that cartoon and click on the "Report Errors / Submit Additional Information" associated with every cartoon listing.
But to add a new cartoon, just completely fill out the form below, and we'll add your cartoon as soon as possible.