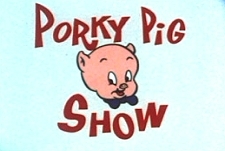 Each episode featured Porky at his stuttering best, constantly being harassed by Daffy Duck, Gogo the Dodo or some other annoying character who could really infuriate Porky. But each episode ended the same way, with Porky struggling to get out the immortal words, "That's all folks."
The Porky Pig Show TV Episode Guide :
The Porky Pig Show

-

1964


Warner Bros.

featuring Porky Pig, Daffy Duck, Bugs Bunny, Tweety, Sylvester, Foghorn Leghorn, Pepé Le Pew.

There have not yet been any votes for "The Porky Pig Show". Vote Now!