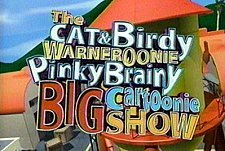 This show featured repeated episodes from
The Sylvester & Tweety Mysteries
,
Pinky, Elmyra & the Brain
,
Animaniacs
and a few golden age Bugs Bunny and Daffy Duck shorts sprinkled in for flavor. Originally an hour long program, after four episodes Bugs, Daffy, Tweety and Sylvester were dropped, and the show shortened to only one half-hour in length. There were 19 half-hour episodes produced and the sho was popular enough for a second season in 2000. The following year, the show was mixed up again, now showing only
Animaniacs
and
Tiny Toon Adventures
, and took on the new name
The Cat & Bunny Warneroonie Super Looney Big Cartoonie Show
.
The Cat and Birdy Warneroonie Pinky Brainy Big Cartoonie Show TV Episode Guide :
The Cat And Birdy Warneroonie Pinky Brainy Big Cartoonie Show - 1999
Warner Bros. Television Animation... featuring Sylvester, Tweety, Granny, Bugs Bunny, Daffy Duck, Pinky, Elmyra, Brain, Wakko, Yakko, Dot

The Cat And Birdy Warneroonie Pinky Brainy Big Cartoonie Show There have not yet been any votes for "The Cat And Birdy Warneroonie Pinky Brainy Big Cartoonie Show". Vote Now! 21