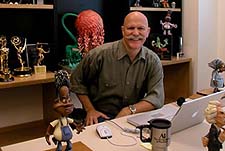 Will Vinton Associates has always been associated with stop-motion animation. In fact, the term "claymation" was first used to describe Vinton's process in a 17-minute behind-the-scenes documentary... the term was later trademarked by Vinton.
As the studio expanded, and started producing feature-length films, outside investors were sought. One investor was Phil Knight (of Nike fame). In 2002, Knight became the majority shareholder in the studio and ousted Vinton. Vinton retaliated for being dropped from his namesake studio and sued for ownership of his name. In 2005 Will Vinton Studios was renamed
Laika Entertainment
and Vinton opened his own
Will Vinton's Free Will Entertainment
in Portland, Oregon.
Will Vinton Associates was based in U.S.A..


Will Vinton Associates Studio Directories Cartoon Series:
Will Vinton Associates Studio :